China Moves Toward Becoming Dominant Player on Northern Sea Route
Publication: Eurasia Daily Monitor Volume: 16 Issue: 87
By: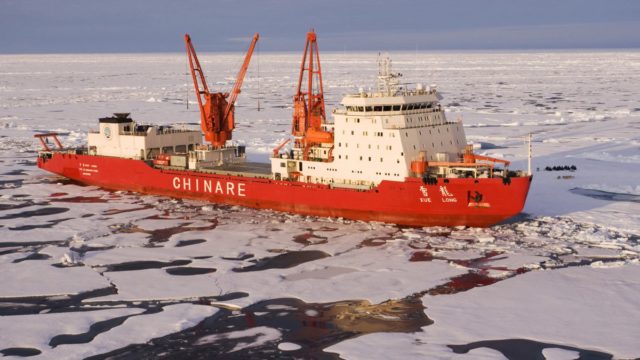 Three developments since early June 2019 call attention to China's unrelenting efforts to become the dominant player on the Northern Sea Route (NSR)—the increasingly ice-free Arctic waterway along Russia's northern coast, and the main segment of the longer Northeastern Passage, linking Asia and Europe. First, China launched its first domestically produced icebreaker for sea trials. Other such vessels are in the works, which will enable Beijing to shepherd ships in the Arctic without having to rely on Russian icebreakers (Arms-expo.ru, June 6). Second, in St. Petersburg, Russian and Chinese companies signed an accord making China an increasingly important supplier of liquefied natural gas (LGN) carriers and other transit ships for this route (Novatek.ru, June 7, 2019; Kommersant, September 4, 2018). And third, port officials in Scandinavia are more and more looking to China for the development of infrastructure that will allow for the dramatic expansion of Chinese-European trade (The Barents Observer, June 7, 2019). Meanwhile, Russia and the United States are reacting to these developments in revealingly different ways.
Moscow has generally welcomed these moves because Russian leaders have concluded that only with Chinese funding can the Northern Sea Route achieve the level of trade Vladimir Putin has called for. Moreover, Russian officials believe that joint involvement with Beijing on that route will solidify the alliance between the two countries. Maksim Akimov, Russia's first deputy prime minister, for example, said last month that the NSR can become a second, water-based "silk road" and would only bring the two countries closer together. His remarks were echoed by other Moscow officials, suggesting that Russia is unconcerned about Chinese expansion in the Arctic. Moreover, Andrey Denisov, Moscow's ambassador in Beijing, was clear about the fact that Russia cannot afford to develop the Arctic by itself and must rely on Chinese involvement (Arctic.ru, May 29; Rueconomics.ru, May 17).
Washington, in contrast, has opposed both Russian pretensions to control the NSR as well as the expansion of Chinese interests and activities there. Russian experts, like Aleksandr Pilyasov of the Moscow Center for Economics of the North and the Arctic, say that "the United States dreams of taking sovereignty over this most important logistical route away from Russia" (Rueconomics.ru, May 30). And a few weeks ago, US Secretary of State Michael Pompeo effectively vetoed China's desire to become a full member of the Arctic Council—Beijing is already an observer to that body—in the name of defending the interests of the existing Arctic powers, including Russia and the United States (Vestifinance.ru, May 6).
But as diplomats say, China is creating and exploiting "facts on the ground" that call into question the positions of both Moscow and Washington. On the one hand, China is sending more ships along the NSR with each passing year and developing infrastructure for them far from their home ports. And it is doing so without that much reference to the Russians. This independence of action has become increasingly possible as the ice pack has receded and the need decreases for ships to stay close to or within the existing Russian exclusive economic zone (EEZ) or to rely on Russian navigation devices or icebreakers to make the passage (Svobodnaya Pressa, August 14, 2013).
And on the other hand, China is becoming a de facto Arctic power even if the US is still able to block its official designation as such. Beijing is building more ships and icebreakers and establishing more port facilities and transshipment points in the Russian and Scandinavian north in order to expand its role in the Arctic. Such moves, of course, should not surprise anyone. After all, the whole point of the NSR (beyond its role of supplying small populations in the Russian High North not linked to the rest of the country by rail or highway, and thus protecting Russia's territorial integrity) was to link Chinese producers and consumers with their European counterparts.
The impact of this rise of China in a region few had expected it to contest so soon has been dramatically different in Washington and Moscow. For the US, China's increasing links with Europe undercut Washington's current efforts to use tariffs to compel a change in Beijing's trade behavior but do not, in and of themselves, challenge the United States in a place where it had long felt it has a droit de regard. Consequently, Washington may be discomfited by this; but it is certainly not threatened by it in any existential way.
The challenge that China's rise in the Arctic poses to the Russian Federation, in contrast, is existential. If there, as in the development of the Russian Far East, Moscow is compelled to assume the role of a junior partner, ever more Russians will be outraged. Some will likely demand that Moscow seek to limit Chinese involvement; although how that might be achieved is less than clear if President Putin's goal of boosting Arctic shipping to 80 million tons by 2024 is to be achieved. But for that reason and because the Kremlin sees no alternative for the present, the Northern Sea Route is rapidly becoming more a Chinese project than a Russian one—a fact Moscow and other international capitals will have to acclimate to if they want their trade to increase as well (Mnr.gov.ru, March 13, 2019).