China Relocating Heavy Enterprises to Kyrgyzstan
Publication: Eurasia Daily Monitor Volume: 13 Issue: 114
By: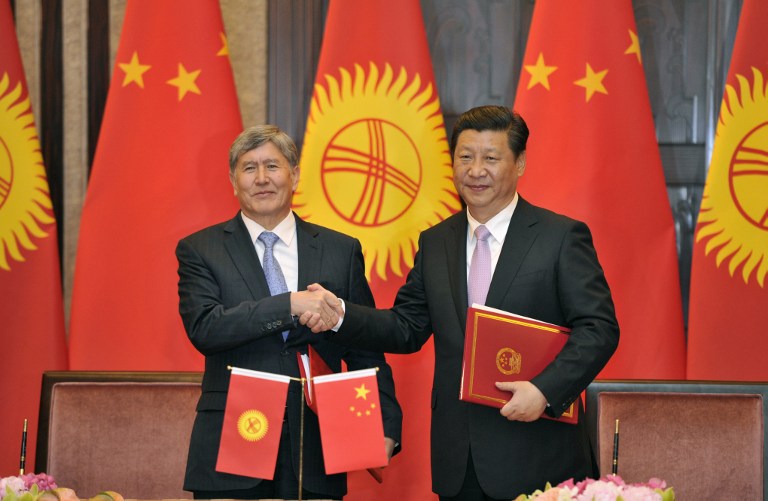 Beijing and Bishkek have started negotiations on relocating 40 Chinese factories and plants to Kyrgyzstan. While Kyrgyzstan's government says that this will help reindustrialize the country, there are concerns in Kyrgyz society that such plans will exacerbate Chinese expansion domestically.
The government in Bishkek has already announced the names of short-listed Kyrgyzstani companies that China will take over. "These are companies in need of investment. Some of them are at risk of bankruptcy. They will receive new equipment, and their facilities will be fully renovated. We will also protect Kyrgyzstan's interests, putting forward conditions, such as that 80 percent of employees should be Kyrgyz citizens, minimize environmental damages, etc." noted Deputy Economics Minister Almaz Sazbakov (Tazabek.kg, May 28).
Bishkek itself initiated this deal, proposing to China to relocate some of its excess production lines to the Kyrgyz Republic, in the framework of the Silk Road Economic Belt initiative. The issue was first raised during Prime Minister Temir Sariev's official visit to China in December 2015 (Zanoza.kg, May 27, 2016). Kyrgyzstan's Ministry of Economics highlighted Kyrgyzstan's beneficial domestic conditions for Chinese direct investment, including a liberal legal framework, a favorable tax system, cheap electricity and cheap labor. In addition, the ministry predicted that the relocated Chinese factories would boost tax revenues and create new jobs in Kyrgyzstan (Azattyk.kg, May 27).
Beijing gave its official approval on relocating Chinese enterprises to the country during the visit of Foreign Minister Wang Yi to Bishkek, on May 22, 2016. Wang met with Kyrgyzstani President Almazbek Atambaev and was awarded the Order of "Danaker" for his contribution to strengthening bilateral relations as well as for China's role in the successful construction of the "Kemin" and Datka" hydropower plants in Kyrgyzstan. "For the last three years, we have witnessed a sharp improvement in bilateral relations with China. Both Kyrgyzstan and China need stability and prosperity. You are real friends, none of our demands [escape] your attention," Atambaev declared (24.kg, May 23).
However, while the government has maintained a positive tone, most members of Kyrgyzstan's parliament have expressed skepticism about accepting the Chinese production facilities. Among the main reasons are fears of ecological damage, vulnerability stemming from corruption in Kyrgyzstan, as well as predictions of an increase of illegal immigration. Concerns about illegal migrants from China have been regularly voiced in the parliament. One Kyrgyzstani lawmaker declared, in 2012, that "when you go to Kara-Balta city, you have a feeling that you are in Urumchi [the capital of China's westernmost province of Xinjiang]." Reportedly, at the time, about 350 Chinese migrants were working in this city, where an oil refinery owned by the Junda China Petrol Company is located (Azattyk.kg, September 7, 2012).
The perception of China's expansion raises deep concerns in Kyrgyz society. According to a report by the International Crisis Group (CIG), China is rapidly acquiring natural resources, including coal, oil, natural gas and precious metals across Central Asia (Crisisgroup.org, February 27, 2013). Some politicians, activists and media outlets in Kyrgyzstan have thus been calling for a halt to Chinese migration into the country. In 2014, activists from the "New Generation Coalition" movement organized protests against Kyrgyzstan's immigration policy, saying that it does not stop illegal migrants from entering the country, and most Chinese workers are paid higher wages than local people (Kloop.kg, June 26, 2014). Illegal immigration and Chinese expansion have become particularly sensitive issues in Kyrgyzstan. And their politicization could lead to further public discontent, protests, production stoppages at Chinese plants inside Kyrgyzstan as well as acts of sabotage, such as cutting electricity to these factories. Opposition parties may try to build up their support by exploiting this anger and fear. Slogans such as "We will not allow the plunder of our homeland," and "Stop Chinese expansion!" could be likely to surface during the next election season (Nezavisimaya Gazeta, May 26, 2016).
The Kyrgyz Republic maintains an annual quota of 13,500 foreigners allowed to come and work in the country; 85 percent of these guest laborers are Chinese migrants. However, some unofficial sources indicate that perhaps around 300,000 illegal migrants from China are working in the country (Dem.kg, May 26). One of the main concerns is that despite promises about new employment opportunities, relocated Chinese companies might bring and hire only Chinese people.
Junda China Petrol Company's oil refinery in Kara-Balta (northern Kyrgyzstan) already provides a negative precedent for this. The initial agreement concerning the Junda refinery in Kara-Balta dictated that 20 percent of the plant's employees would come from China, while 80 percent of the workforce would be filled by locals. However, the recently reached final agreement allows the facility to hire 50 percent Chinese workers (Azattyk.kg, June 2). Moreover, Chinese investors faced many difficulties in setting up the refinery. Their first attempt to launch the enterprise ended, in late January of 2014, with demonstrations and production shut-downs. And despite promises of an economic breakthrough for Kara-Balta residents, the plant is not meeting expectations (24.kg, April 23, 2014).
Apart from economic interests, Kyrgyzstan will have to ensure that Chinese companies comply with local environmental laws. China is notorious for its pollution, caused by decades of mostly unfettered expansion of light and heavy industry; pollution levels can exceed by 20 times the safe allowable limits set by the World Health Organization (WHO). After numerous hazardous smog alerts in Beijing and across China, the central government has pledged to improve the country's air quality. First, China issued a National Air Pollution Action Plan, which aims to promote clean energy use and curtail heavily polluting industrial sectors (Xinhua, September 12, 2013). Then, on July 6, 2015, China's Communist Party leadership adopted a document on how to promote an "ecological civilization" (China Dialogue, July 6, 2015).
Specifically, China wants to build an "ecological civilization" at home by transferring chemical, steel and other heavy production plants to other countries. For example, Chinese authorities are trying to move steel plants out of Hebei province, one of the top ten most polluted regions in China (China Daily, January 18). According to some experts, after "imposing" the Silk Road Economic Belt program on neighboring countries, the Chinese government saw an opportunity to discuss the relocation of these enterprises to its foreign partners, thus holding onto its production capacity while improving domestic air quality (Nezavisimaya Gazeta, May 13, 2015). Hungry for investment and the promise of jobs, many of China's neighbors, including Kyrgyzstan and Russia, have been open to receiving these factories. But clearly, such deals are sparking wide discontent within these societies (see EDM, April 28).