China Strengthens Its Hand in Kazakhstan After Xi Jinping's Visit
Publication: Eurasia Daily Monitor Volume: 10 Issue: 164
By: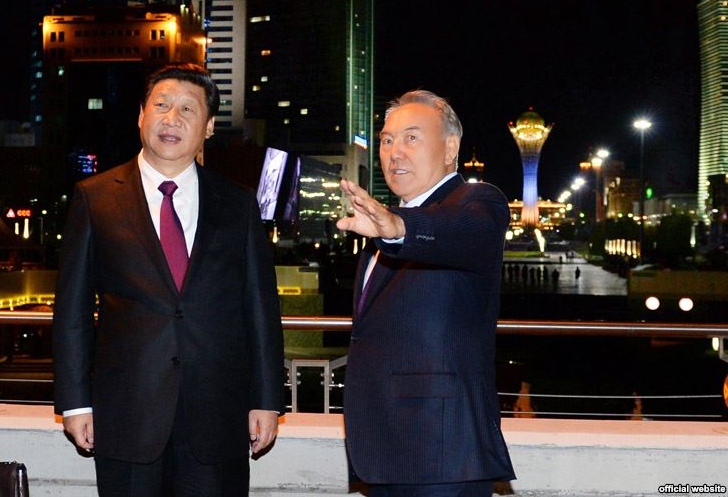 On September 6–8, Chinese President Xi Jinping paid an official visit to Kazakhstan, amid his ten-day journey across Central Asia that had previously taken him to Turkmenistan where gas production at the world's second-largest gas field was inaugurated. Xi Jinping's visit to the Kazakhstani capital came several months after President Nursultan Nazarbayev had already greeted his Chinese counterpart in Beijing following the latter's orchestrated accession to the presidency. While this latest meeting between Presidents Nazarbayev and Xi was hailed on both sides as further evidence of the two countries' constantly developing bilateral partnership, it also served to announce a string of new achievements (Rg.ru, September 6; News.nur.kz, April 6).
On the political front, Kazakhstan and China signed a declaration on the development of comprehensive strategic cooperation, with Nazarbayev qualifying the Chinese dimension as a priority area for his country's foreign policy. In his turn, during a lecture at the Nazarbayev University, Xi unveiled Beijing's proposal to establish a new regional framework undergirding the so-called Great Silk Road diplomacy. Whereas the United States government previously put forward a similar idea, focusing on the reconstruction of war-torn Afghanistan and increased cooperation among neighboring countries in both Central and South Asia, China's approach is pragmatically limited to the five post-Soviet "stans" (Zakon.kz, KazInform, September 7).
Encompassing such key steps as reinforcing the regional political dialogue, creating road infrastructure, facilitating cross-border trade, intensifying money flows and bridging cultural differences, the Great Silk Road speech represents China's first attempt to structure its relations with Central Asia in a strategic way. Unlike Washington, Beijing prefers to avoid any linkages to either Afghanistan or Pakistan, focusing instead on a limited number of feasible goals unrelated to hard security issues but covering trade, energy and mutual understanding. At the same time, this strategic outlook differs from that of Russia, whose Central Asian connection is primarily based on bilateral exchanges characterized by recurrent ups and downs. Whereas, China is invariably viewed as a privileged partner by all the five regimes, including the reclusive Turkmenistan. Given Kazakhstan's political and economic weight in the region, it is most likely to become the core of China's refurbished diplomacy aimed at ensuring stable long-term relations in select priority fields.
The economic side of Xi Jinping's visit to Astana was the key success of Chinese diplomacy. Kazakhstan's KazMunaiGaz oil and gas company and the China National Petroleum Corporation (CNPC) signed on September 7 a formal agreement concerning the purchase by Beijing of a 8.33-percent stake in the Kashagan oilfield. Moreover, China has agreed to cover half of Kazakhstan's future investment expenditure related to the exploitation of this giant deposit on the Caspian Sea. While the Middle Kingdom remains excluded from oil and gas operations at Kazakhstan's two other strategic deposits, Tengiz and Karachaganak, its victory over India in the Kashagan affair opens a new chapter in Chinese-Kazakhstani energy relations (News.nur.kz, September 7).
Nursultan Nazarbayev further confirmed that the Chinese government would provide assistance in the construction of the fourth oil refinery in the country, in addition to the ones located in Atyrau, Pavlodar and Shymkent, where costly modernization is underway. Earlier, Kazakhstan's Ministry of Oil and Gas had already hinted at the possibility of downscaling Russia's share in the refining of Kazakhstani crude oil, against the backdrop of an unending spat with Moscow regarding the tricky issue of energy trade within the trilateral Customs Union. Finally, Nazarbayev and Xi inaugurated the Beyneu-Bozoy-Shymkent pipeline, which will carry 6 billion cubic meters of natural gas from the Caspian Sea to Xinjiang across Kazakhstan's southern provinces. Thus, Kazakhstan's contribution to the overall gas supplies to China via the Central Asia–China gas pipeline, including segments built in Turkmenistan and Uzbekistan, will grow substantially in the next few years (Sim.kz, September 11; Interfax.ru, September 7).
On a broader scale, China's economic cooperation with Kazakhstan has increasingly been on the rise. In 2012, the bilateral trade turnover increased by 12.5 percent, reaching $24 billion. On his April 2013 visit to Beijing, Nazarbayev famously said that the two countries were planning to bring this figure up to $40 billion by 2015. This intention was recently confirmed by the Kazakhstani and Chinese leaders, and Xi's two-day stay in Kazakhstan has already yielded concrete results in this direction. Thus, Astana and Beijing signed 22 contracts worth over $30 billion, covering not only energy, agriculture, transport and education, but also space cooperation where Russia still enjoys absolute preeminence. Also, to Moscow's dissatisfaction, Kazakhstan's political elites are increasingly oriented toward neighboring China, which minimizes the risks of future instability in the Kazakhstani-Chinese relations in the post-Nazarbayev era (Today.kz, September 7; Newskaz.ru, April 6).
Whereas China enjoys the support of Kazakhstan's current leadership and is likely to maintain the favorable status of a privileged foreign partner in the years to come, its positive image among the country's population is far from consensual. Earlier, in mid-August 2013, the Kazakhstani industry ministry's proposal to simplify visa rules for Chinese tourists traveling on organized tours led to heated debates about Beijing's unchecked strategic ambitions. Although the foreign ministry promptly denied the possibility of liberalizing the existing visa regime with China, a group of local activists promised to stage protests against Chinese "expansionism." More recently, the governor of the Eastern Kazakhstan region, Berdibek Saparbayev, suggested leasing unused cropland to Chinese farmers, quickly triggering numerous criticisms from various public associations. In December 2009, a similar proposal already drew to the streets of Almaty dozens of Kazakhstani nationalists protesting their government's purported plan to grant over 1 million hectares of arable land to China on lease terms (News.mail.ru, August 13; Tengrinews.kz, August 12; Time.kz, September 7; Zakon.kz, December 12, 2009).
Therefore, while China's rapid rise in Kazakhstan may be strongly favored by the latter's elites, it is increasingly seen as a threat to the country's sovereignty by its own population. This trend warns powerfully against any precipitous steps on China's behalf, so that Beijing is likely to keep on treading cautiously.