China-U.K. Relations Grow More Strained Over Huawei and Hong Kong
Publication: China Brief Volume: 20 Issue: 15
By: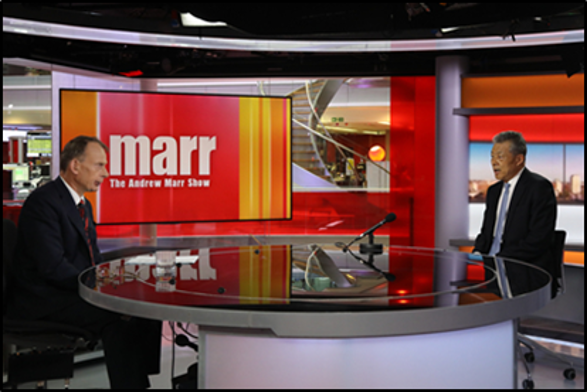 Introduction
In October 2015, People's Republic of China (PRC) President Xi Jinping visited the United Kingdom at the request of Queen Elizabeth II, marking the first time that the PRC head of state had done so in ten years. In the lead-up to the visit, both Chinese and British officials had publicly acknowledged the significance of this meeting, calling it a "golden era" in relations between the two countries. Five years on, U.K.-China relations remains steady, but there are increasing signs of tension in the relationship. Rising controversies over Huawei's role in 5G infrastructure, and Beijing's actions to suppress opposition in Hong Kong—as well as tensions over the origins of the coronavirus pandemic—lie at the heart of this downturn in relations.
Huawei and "A Dark Day for China-U.K. Relations"
Unlike the United States, the United Kingdom initially welcomed business opportunities with the Chinese telecommunications giant Huawei, one of the world's primary 5G companies—and furthermore, expressed confidence in the security of Huawei networks. British Foreign Secretary Dominic Raab stated in January that it was "because of the work of the Huawei Cyber Security Evaluation Centre Oversight Board, established by [the National Cyber Security Centre], that we know more about Huawei, and the risks it poses, than any other country in the world." Raab further noted that the United Kingdom has examined "the issue of how to maintain network security and resilience over many months and in great technical detail… We would never take decisions that threaten our national security or the security of our Five Eyes partners" (U.K. Government, January 28). [1]
Zhongxing Telecommunications Equipment Corporation (ZTE) and Huawei are two of the world's largest Chinese telecom companies, and together hold an estimated 40 percent of the world's 5G market—thereby wielding tremendous power to shape how the world uses current and future 5G technology (U.S. Department of Justice, February 6). Reliance on this next-generation technology from a single Chinese company (or two state-controlled companies acting in a cooperative manner) has raised security concerns in a number of European countries (China Brief, February 1, 2019; China Brief, September 26, 2019). In mid-July, the U.K. government reversed course on the decision to purchase Huawei equipment: the new directive will ultimately prohibit use of the Chinese firm's equipment effective December 31, 2020, and it calls for the removal of all of the company's equipment from British 5G networks by year's end 2027 (U.K. Government, July 14).
Not only was this decision a major setback to China's "Digital Silk Road" (数字丝绸之路, Shuzi Sichou zhi Lu)—an element of the Belt and Road Initiative (BRI) established in 2013, with the aim of expanding China's role in the international telecommunications sector—but it is also a development that could severely hinder future U.K.-China relations. Beijing has called this action by the U.K. government "a wrong decision," and has further described it as a microcosm for the entire U.K.-China relationship: "The issue of Huawei is not just about how the U.K. sees and deals with a Chinese company… It is about how the U.K. sees and deals with China" (PRC Embassy in the U.K., July 22). In an exclusive interview with the BBC's Andrew Marr Show, Liu Xiaoming (刘晓明), the PRC's Ambassador to the United Kingdom, called the move "a very bad decision," and "a dark day for China-U.K. relations" (PRC Foreign Ministry, July 20).
Allegations of Chinese Cyber Hacking in Britain
In addition to issues posed by telecommunications security, PRC-based actors have also allegedly been involved in recent hacks against U.K. transportation companies. EasyJet announced in a May 2020 statement that it was "the target of an attack from a highly sophisticated source" and that the "email address[es] and travel details of approximately 9 million customers were accessed" (EasyJet press release, May 19). Two anonymous sources with knowledge of the investigation into the EasyJet hack told Reuters that the hacking method and techniques suggested the involvement of Chinese hackers. The sources also noted that the same group of hackers had recently targeted other airlines (Reuters, May 19). Despite these allegations, U.K. officials have expressed a desire "to keep space and cyberspace from becoming virtual and actual battlegrounds" (U.K. Government, August 3; U.K. Government, February 25).
Growing Points of Contention Over Hong Kong and Human Rights
Days ahead of Xi's visit in 2015, U.K. Foreign Secretary Philip Hammond met in London with Hong Kong Chief Executive C.Y. Leung (梁振英), who at the time was making his first official visit to Great Britain since 2012. The two officials discussed trade issues, and the concept for Hong Kong to be an "international gateway to mainland China and Chinese investment in the U.K." (U.K. Government, October 15, 2015). Hammond articulated that the United Kingdom was "fully committed" to supporting Hong Kong in its way of life and traditional freedoms. Some high-ranking Chinese officials, including PRC Ambassador to the United Kingdom Liu Xiaoming, however, expressed concern regarding any mentions of human rights being raised during Xi's trip: Liu stated publicly that raising the issue of human rights would offend Xi and harm U.K.-China relations (SCMP, October 15, 2015).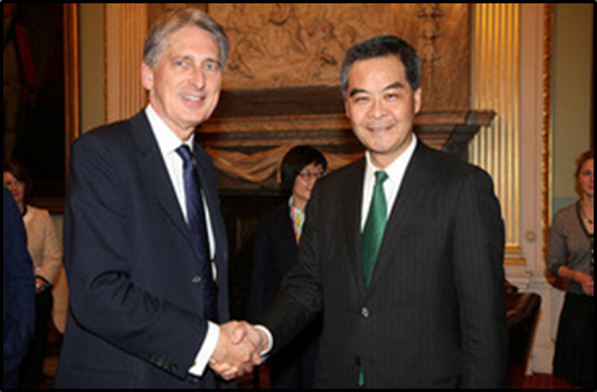 Today, the United Kingdom's stance on Chinese human rights issues has clearly shifted. In June, Prime Minister (PM) Boris Johnson publicly addressed the political unrest in Hong Kong, which first emerged in spring 2019 over Beijing's decisions to impose new legal measures on Hong Kong that would curtail the territory's traditional freedoms and dramatically erode its autonomy (China Brief, June 26, 2019; China Brief, July 29). "If China proceeds," Johnson said, "this would be in direct conflict with its obligations under the [Sino-British] joint declaration, a legally binding treaty registered with the United Nations… Britain would then have no choice but to uphold our profound ties of history and friendship with the people of Hong Kong." PM Johnson offered to grant up to three million Hong Kong residents the right to relocate to the United Kingdom and ultimately gain citizenship (U.K. Government, June 3). U.K. officials, leading an effort on behalf of 28 national governments, have also recently raised the issue of human rights in both Hong Kong and Xinjiang with the United Nations Human Rights Council (U.K. Government, July 23).
Although Johnson articulated firm words towards China, the resident of 10 Downing Street reiterated his desire to uphold strong relations: "Britain does not seek to prevent China's rise; on the contrary we will work side by side on all the issues where our interests converge, from trade to climate change. We want a modern and mature relationship, based on mutual respect and recognizing China's place in the world" (U.K. Government, July 3).
The Potential Impacts on Chinese Investments in the United Kingdom
Beijing has noted—and apparently taken umbrage at—recent British actions and the change in diplomatic tone. On July 22, Ambassador Liu described "blatant interference from the British government in Hong Kong affairs" and accused it of "recklessly flinging slanders at and discredit[ing] China, bilaterally and multilaterally" on the topic of Xinjiang. He further stated that "China is carefully evaluating the repercussions of the U.K.'s words and actions. We will take all necessary means and measures to safeguard the safety as well as the legitimate and lawful rights and interests of Chinese businesses and institutions in the U.K." (Chinese Embassy in the U.K., July 22).
Liu's last comment could be taken as a veiled threat to curtail Chinese investments in Great Britain. Chinese private and state-owned enterprises (SOEs) have both made significant investments in the United Kingdom in recent years: for example, China Investment Corporation (CIC), the PRC's sovereign wealth fund, purchased Thames Water (London's primary water supply company) in 2012. Analysts at the time estimated the deal to be worth between 600 million to 700 million pounds (792.6 million to 924.7 million U.S. dollars) (Reuters, January 20, 2012). Two other major deals followed in September 2015: a 1.9 billion pound (2.5 billion dollar) guarantee for financing the Hinkley Point nuclear plant, a deal that would reportedly create more than 25,000 jobs (U.K. Government, September 24, 2015; U.K. Government, September 21, 2015); and an 800 million pound (1.1 billion dollar) deal to enlarge Manchester's "Airport City" and build high-speed rail projects (U.K. Government, October 13, 2013; U.K. Government, September 25, 2015).
Although many of these deals are complete, other potential Chinese investments remain under negotiation. In mid-July, for example, the Chinese social media platform TikTok dropped out of negotiations to create an overseas operations headquarters in the United Kingdom, a move that likely nullified 3,000-plus jobs (The Guardian, July 19). Furthermore, U.K. lawmakers reportedly want to re-examine the Hinkley Point C Nuclear Plant deal, for a variety of potential issues (The Telegraph, July 25).
The Future of U.K.-China Relations
At an HSBC Chinese New Year event in January 2020, Ambassador Liu Xiaoming stated that "The U.K. is now China's largest investment destination and the second largest source of investment in the [European Union]." China-U.K. bilateral trade reached $86 billion in 2020 (China Daily, January 31). However, relations have since soured to the point that, in July, Liu told a group of Chinese businesses in the U.K. that the relationship between the two countries has "difficulties and [is] suffering serious setbacks." According to Liu, Chinese investment facilitates positive change in the United Kingdom by creating employment opportunities, boosting tax revenue, and improving industries; however, if China were to decrease business activity in the country, then surrounding communities would be financially and economically impacted (PRC Embassy in the U.K., July 23).
In a 2018 speech, Chancellor of the Duchy of Lancaster David Lidington described U.K.-China relations by stating that "China has a major role to play in so many critical issues that affect the U.K. and the world at large… while it is true that the U.K. and China haven't always seen eye-to-eye on everything, we recognize that, like all friends, our relationship is strong enough to express disagreement—and that is something to be valued and cherished" (U.K. Government, April 11, 2018). These sentiments, now more than ever, are likely to be tested as the controversies surrounding human rights in China and telecommunications infrastructure in Britain grow even sharper.
Taylor Butch is a contributing analyst to the Asia Pacific Desk at Wikistrat, a foreign affairs analyst with the consulting firm Duco, and a freelance writer. His writing has been featured in international media outlets to include Asia Times, The Diplomat, Real Clear Defense, The Jerusalem Post, and The Huffington Post. He is a graduate of Elizabethtown College and King's College London.
Notes
[1] The "Five Eyes" refers to an intelligence-sharing relationship between the governments of the United States, United Kingdom, Canada, Australia, and New Zealand.