China-Uganda Relations: Closer is Not Necessarily Better
Publication: China Brief Volume: 13 Issue: 1
By: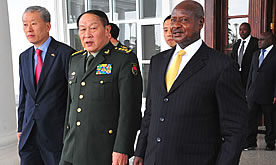 The long-delayed, Chinese-funded Entebbe expressway in Uganda once again is running into delays as government funds are insufficient to compensate the citizens who will lose their land to the highway. Although construction began only last month, Entebbe claims it has only sufficient funds to buy the land for 15 of the planned 51 kilometers (New Vision [Uganda], January 3). Even though most of the roadway construction will be funded from Chinese largesse, this under-funded infrastructure project is draining Ugandan coffers and refocusing attention on how Beijing relates to the Ugandan government. Much of China's relationship with Uganda has been positive even if not especially significant; however, as Chinese traders have moved in and Beijing supports investment in the country's natural resources, Uganda may be losing more than it is gaining. To evaluate these developments, this article systematically examines the different areas—diplomatic, economic, security and cultural—of Sino-Ugandan relations over the last fifty years since the two countries established diplomatic relations.
China-Uganda Diplomatic Relations
China and Uganda established diplomatic relations in October 1962. During the period of 1962-1985, bilateral relations witnessed a steady development in spite of the regime changes in Uganda (Chinese Ministry of Foreign Affairs, October 10, 2006). The two countries saw relatively few high-level exchanges with each other during their first part of the relationship, but Beijing has become a patron of Ugandan diplomacy, donating $6.5 million in 2001 to construct the headquarters building for Uganda's Ministry of Foreign Affairs, which was opened by 2004 (ug.china-embassy.org, October 28, 2004).
In 1971, Uganda supported China's accession to the UN General Assembly. Bilateral relations between the two countries entered a new stage of development after the National Resistance Movement of Uganda came to power in 1986 with bilateral cooperation expanding and mutual high-level exchanges increasing. Uganda backed China's stance twice at the sessions of the UN Human Rights Commission in 1996 and 1997. In 2000, Uganda also supported the bill put forward by China on the maintaining and observing of the Anti-Ballistic Missile Treaty in the UN.
Since 1962, a wide sample of Chinese leaders have visited Uganda including Chinese Communist Party (CCP) Central Committee, Politburo and Politburo Standing Committee members; National People's Congress (NPC) Standing Committee members; as well as state councilors, foreign ministers and vice premiers. For example, in 2001, then-Vice President and Politburo Standing Committee Member Hu Jintao counted among Uganda's visitors. Ugandan leaders have reciprocated Beijing's attention, dispatching senior ministers and heads of state.
Trade Relations and Economic and Technical Cooperation
When China and Republic of Uganda established diplomatic relations in 1962, they also started developing trade, which has had both positive and negative effects in Uganda. On the positive side, China has helped Uganda set up the Kibimba and Doho Rice Schemes, the Kampala Ice Plant, methane-generating pits, the Foodstuff Porcelain Research Center and the National Stadium. It also has donated anti-Malarial drugs to Uganda and built the Naguru Friendship Hospital (The Independent [Uganda], January 16, 2012).
In 2005, the trade volume between the two countries came to $99.37 million—of which China's exports and imports amounted to $79.37 million and $20 million, respectively. China's main exports to Uganda are mechanical and electrical appliances, textiles, garments, pharmaceuticals, porcelain and enamel products as well as footwear (New Vision [Uganda], February 24, 2012; Chinese Ministry of Foreign Affairs, October 10, 2006).
According to Chinese statistics, from 1993 to 2011, China invested $596 million in Uganda, and 256 Chinese firms opened businesses in Uganda, creating 28,000 job opportunities for Ugandans. In 2011, the amount of bilateral trade reached $400 million, increasing by more than 40 percent from 2010 and 300 percent from 2005. Many Ugandan traders are now opting to go to China instead of Dubai to do business and, in return, many Chinese also are coming to Uganda to engage in trade and investment (Allafrica.com, September 21, 2012).
In recent years, Uganda has benefited a lot from its good relationship with China in several ways. First and foremost, China cancelled Uganda's $17 million debt that had accrued from interest on loans before 2005, and China agreed to provide a grant of $6.8 million. China also granted tariff-free and quota-free treatment to more than 400 commodities from Uganda. China also plans to loan $350 million to the government to construct a six-lane, 51 kilometer express highway linking the capital city of Kampala to Entebbe International Airport, which will start in 2012 with funding on loan from the Chinese Government. In addition, China has constructed government offices and the state-of-the-art Mandela National Stadium Namboole. In southwestern Uganda, a Chinese road construction company, Chongqing International Construction Corporation (CICO), is constructing a 103 kilometer road linking the western town of Fort Portal to the Democratic Republic of Congo through the mountainous district of Bundibugyo (Inter Press Service, September 20, 2012; Xinhua, December 24, 2010; June 24, 2006).
China National Offshore Oil Corp (CNOOC) also is seeking to build an oil refinery in western Uganda, in partnership with Total and Tullow, which would massively increase China's investment in the country's oil resources. CNOOC already has signed an agreement with Tullow Oil for the exploration of oil in Western Uganda, and several Chinese companies have also submitted bids for the construction of the Karuma Hydro power station (The East African, December 1, 2012; Allafrica.com, September 21, 2012). There are several other projects and programs in the pipeline for Uganda from China.
To the dismay of Western donor agencies and countries, China has scaled up its aid to Africa over the last 10 years, making it a formidable force on the continent. For the African governments, it never is as good as this. Many of them are happy about China's increasing economic interest in the continent, which is in dire need of pulling millions of its people out of poverty. The assistance provided by China—based on friendship, mutual respect and South-South cooperation—is fast, easy and effective. There is little discussion of uncomfortable topics, such as economic policy and good governance— the hallmarks of Western support.
On the negative side, despite this growing trend in the relationship, the trade imbalance is still wide. Uganda's exports to China last year reached $40 million, jumping by 49.5 percent, but it is still barely one-tenth of China's exports to Uganda. Following the October 2012 FOCAC meeting in Hangzhou, China has now allowed up to 95 percent non-tariff, barrier-free goods (Xinhua, September 22, 2012).
Consequently, this can only mean one thing—the Ugandan market will see an influx of even more cheap, unsafe and counterfeit goods (International Business Times, July 7, 2011). In addition, businesspeople like co-author Baguma's mother, a textile trader on Luwum Street, as well as the wholesale business men and women in Kikubo (Kampala's biggest wholesale and retail market), spare parts dealers and car bonds across the city face a stiff challenge from the Chinese. Local businesses now find it difficult to sustain themselves as Ugandan customers always prefer the cheaper, more easily available options. This onset of counterfeit products (mostly Chinese-made) will not only undermine the economic advances made by Ugandans over the last 20 years, but also will threaten the health and safety of Ugandans who buy these substandard goods.
The influx of Chinese businesses, labor and producers has affected the local manufacturing and production sector hugely by creating increased competition for the local market, local contracts and high consumption of scarce resources like water and power. Accordingly, this is driving local producers and manufacturers out of the market. This also has resulted in increased local unemployment not only as a result of local manufacturers going out of business, but also because Chinese manufacturers prefer to bring labor from China to man their operations.
Finally, a six-lane express highway, which would take three years to construct based on loans from China, will not only plummet the country into further debt, but also would require the displacement of nearly 1,000 families from their homes and land. In addition, the Ugandan government will contribute $100 million toward the construction of this highway, which could otherwise go toward fixing dilapidated but already existing roads. Furthermore, the $35 million in compensation to the people who will be evacuated and displaced from the area is not nearly enough to compensate for the loss of one's home or livelihood. For example, over 1,760 tenants of the Nakawa/Naguru estate sitting on a 66-hectare piece of land were evicted forcefully in July 2011, and the project land still remains idle even after the hasty eviction of the tenants. The eviction resulted in riots and violence that contributed to the international image of Uganda as a politically unstable and corrupt country, which has no regard at all for its peoples' economic, social, cultural and human rights (Daily Monitor, July 4, 2011).
Military Relations
China's military relations with Uganda include high-level exchanges and educational exchanges. For example, Defense Minister General Liang Guanglie visited Kampala in November 2011 and pledged $2.3 million to support the Uganda People's Defense Force (UPDF) in its war efforts against Somalia's al-Shabaab militants (alshahid.net, December 1, 2011; AFP, November 30, 2011). He was the highest ranking PLA officer to visit Uganda. Of note, some of the PLA delegations to visit Uganda in the 2000s were led by political officers from the General Political Department and military regions ("Resources, Security and Influence: The Role of the Military in China's Africa Strategy," China Brief, May 30, 2007). By contrast, only a few Ugandan military delegations have visited China, including Defense Minister Crispus Kiyonga's visit in April 2010 (Xinhua, April 24, 2010).
Although China has military attaché offices in at least 14 African countries out of a total 109 offices abroad, it does not have one in Uganda; nor does Uganda have a military attaché office in Beijing. This situation implies there is little day-to-day interaction between the two militaries ("Resources, Security and Influence: The Role of the Military in China's Africa Strategy," China Brief, May 30, 2007). Even so, the Chinese Embassy in Uganda did celebrate the PLA's 80th Anniversary in August 2007, which was attended by Uganda's Minister of Defense and key military officials (ug.china-embassy.org, August 2, 2007).
Even though the two countries do not have reciprocal military attachés, Ugandan military personnel have received training and education in various PLA academic institutions. For example, in 2010, a Ugandan Air Force pilot attended the PLA Air Force Command College's foreign officers' course. Each of the 21 foreign students, including 11 pilots, was paired with a PLAAF officer during the course, and they all spoke English (Global Times, January 16, 2010).
Chinese Arms Sales to Uganda
During the years immediately after independence, Ugandan ties with Britain remained strong. Although relations with Britain remained important, Uganda broadened its foreign military relations during the 1960s. Israel, China and the Soviet Union substantially increased military assistance. China hoped to block Tel Aviv's efforts to gain a foothold in Africa because of Israel's pro-Western orientation, but this effort was short-lived. In 1965, Beijing sent some small arms and a military aid mission to Uganda; however, in late 1967, after Ugandan officers complained that the Chinese mission was "engaging in revolutionary activity" and distributing lapel buttons displaying the picture of Mao Zedong, President Obote asked the mission to leave the country. In contrast to China's relatively minor role in Uganda, the Soviet Union eventually became one of Kampala's closest allies.
Compared to China's arms sales to other African countries, such as Zimbabwe and Sudan, its arms sales to Uganda have been minimal. Although one article citing the Stockholm International Peace Research Institute (SIPRI) noted that Ukrainian and Russian arms sales to Uganda were likely to force China out of the top ranking in 2012, no information was found indicating which arms China actually was selling to Uganda. One author did note, however, that China has sold Y-12 small transport aircraft to Uganda (Washington Post, August 25, 2012; "China's Re-emergence as an Arms Dealer: The Return of the King?" China Brief, July 9, 2009).
Cultural Relations
Cultural exchanges and cooperation between the two countries is growing rapidly, highlighted by a series of programs known as "Focusing on Culture", which are held every year in Uganda and other countries across Africa, to expose people to Chinese music, dance and culture. The two countries signed a cultural cooperation agreement in June 1985. In August 1999, China and Uganda signed the 2000-2002 Implementation Program of the Agreement on the Cultural Cooperation between China and Uganda (Cross-Cultural Foundation of Uganda, July 2009; Chinese Ministry of Foreign Affairs, October 10, 2006; ug.china-embassy.org, October 28, 2004).
Since 1983, China has sent over ten medical teams to Uganda and has opened multiple departments in various hospitals. Ugandan doctors have also received training in China. In addition, the China Red Cross Society has occasionally provided donations to Uganda to fight natural disasters and diseases such as Ebola (ug.china-embassy.org, October 28, 2004; People's Daily, October 26, 2000).
Educational exchanges started in the 1950s, and since 1959, China has received more than 315 Ugandan students. Today, Ugandan students study medicine, construction, engineering, food science, computer science and information technology. A total of 35 scholarships are provided to Ugandan students every year. China's Ministry of Education also donated 50 computers to set computer labs in Makerere University and Mbarara University (ug.china-embassy.org, October 28, 2004).
In addition, 27 African countries have increasingly become overseas destinations for Chinese tourist and vacation groups and companies as the continent opens itself up for business. The number of visitors going both ways is rising rapidly as many Ugandans are opting to travel to China for work, education, business and pleasure.
Conclusion
As China increases its economic profile in Uganda, it needs to be aware of possible negative repercussions that have affected Chinese interests in Africa. For example, in June 2012, rioters in South Africa, which has a high unemployment rate, attacked workers from China and other countries (Global Voices, July 9, 2012). In addition, in 2011, China stepped in to help protect its citizens from Chinese gangsters in Angola, who kidnapped, robbed and extorted Chinese workers there (Global Times, August 28, 2012). As a result of events such as these and the evacuation of Chinese nationals from Libya, Beijing is being faced with the need to protect its citizens abroad in a way that was unthinkable before ("Kidnappings Highlight Weakness in Chinese Security Posture Abroad," China Brief, February 3, 2012). Although the two countries probably are closer than ever, the Ugandan resentment at the Chinese presence and its anecdotal effect on hollowing out the local economy may be sowing the seeds of the relationship's destruction. The question is whether Beijing can find a way to stay in Uganda that balances between the interests of the government elite and the ordinary citizens.