Soothing Tones on China's Rise Strike Dissonance
Publication: China Brief Volume: 13 Issue: 1
By: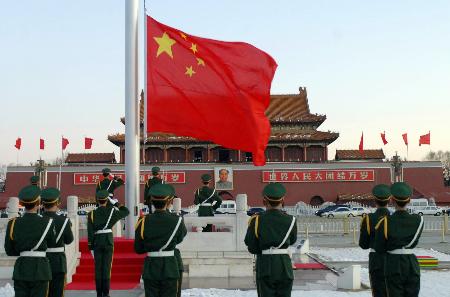 The newly-appointed Chinese Communist Party (CCP) General Secretary Xi Jinping's talk of China's national rejuvenation has generated a lot of concern in foreign analyses about the implications of the just-completed leadership transition. Although "The Great Renewal of the Chinese Nation" (zhonghua minzu weida fuxing) is a long-time justification for reform, Xi has returned it to a place front-and-center in Chinese propaganda, calling the achievement of national rejuvenation the "the greatest dream of the Chinese nation in modern times" (PLA Daily, December 13, 2012; People's Daily, November 30, 2012). Such sentiment suggests to some that Xi's China will be more sensitive to slights against China's dignity or possibly even more aggressive internationally. Perhaps as a response to these concerns, official Chinese press carried a series of articles and editorials, especially at the end of December, to reassure foreign audiences about Beijing's intentions. Such soothing lines about China's behavior, however, are unlikely to receive an attentive hearing, because they suggest the problems of resolving China's rise require other countries to give way.
One commentary directly confronted the issue of foreign concerns, dismissing them as irrelevant to challenges at hand: "with some even claiming an ever-growing China might be seeking 'dominance.' This viewpoint is groundless" (Xinhua, December 12, 2012). As Foreign Ministry spokesman Hong Lei noted, "China's development aims at making greater contributions toward peace and development of mankind, as well as a happy life for its people, instead of overwhelming others or scrambling for world dominance" (Xinhua, December 12, 2012). In addition to the repeated commitments for China to adhere to the path of peaceful development, Xinhua added a historical element, stating "Anyone familiar with Chinese history knows that aggression or expansion has never been in the blood of the Asian nation" (Xinhua, January 1). Outgoing President Hu Jintao's New Year address described "the Chinese people's determination to pursue a road of peaceful development will never waver no matter how volatile the international situation may become" (Xinhua, December 31, 2012). Overall, according to Xinhua, China is not a challenge to the international system and is not the instigator of disputes:
"China, which advocates peaceful solutions to international disputes, has walked the talk. Whoever that suspects a rising China could be a global danger is advised to check the country's record to see whether China has ever been the first to attack. If still unconvinced, China''s persistence in opposing hegemony and power politics serves as another clue" [sic] (Xinhua, January 1).
Apart from the potentially contentious historical narrative, China also actively defended its military modernization and military activities as a natural outgrowth of Chinese interests. As Ministry of National Defense spokesman Yang Yujun said, "it is justifiable for the Chinese military to provide security in waters under China's jurisdiction" and foreign governments are "in no position" to make an issue of Chinese actions (Xinhua, December 27, 2012). According to the Chinese Navy's headquarters, roughly 60 percent of the 5,000 commercial vessels the navy has escorted through the Gulf of Aden had ties to China's international trade. Moreover, China has 18,000 kilometers of coastline and 3 million square kilometers of territorial waters as well as expanding interests abroad. Especially in light of Japanese and Philippine provocations, Beijing's efforts to build a modern blue water navy is "commensurate with its development status and caters to its need to safeguard its national maritime interests" (China Daily, December 27, 2012). This defensive concern also was echoed at the Ministry of Foreign Affairs. At a recent forum on China's diplomacy, Vice Foreign Minister Zhang Zhijun said "While China is firm in its resolve to follow the path of peaceful development, it is equally firm in the nation's resolve to uphold its territorial sovereignty and legitimate rights and interest" (Xinhua, December 28, 2012). Regardless of the state of Chinese military modernization, provoking tensions and using force are not a part of Beijing's foreign policy tool box, because "having benefited a lot from a peaceful environment in the past over three decades, China is deeply committed to solving international disputes by peaceful means and opposes the random use of force, and has never provoked any of those maritime disputes" (Xinhua, December 12, 2012).
Nowhere is the messaging more clear than recent articles on correcting the escalating tensions of Sino-Japanese relations. Because China is an indispensable economic partner for Japan, Tokyo needs "to show its sincerity to relieve the tensions stirred up by itself." Japan's problem and "restoring mutual trust" is particularly acute, because, despite new Prime Minister Abe Shinzo's reassurances, his "double-tongued statements" could not help but "cast a shadow of suspicions over China-Japan relations" (Xinhua, December 26, 2012). In a separate article, commentator Wang Haiqing stated "The new Japanese cabinet has to earnestly reflect on its foreign policy and adopt concrete measures to show its sincerity in mending strained ties with China" (Xinhua, December 26, 2012). Japan's new ambassador to China also received such admonitions delivered by the Chinese Ministry of Foreign Affairs and official outlets (Xinhua, December 24, 2012). In contrast to Japan's ostensibly illegal actions, China's actions related to the simmering territorial dispute in the East China Sea, however, are described as "completely normal" and the marine surveillance patrols as operating in territorial waters (Xinhua, December 21, 2012; December 13, 2012).
China's attempts to reassure the United States and its neighbors, however, probably will be about as successful as the formulation of a "New Type of Great Power Relations." This new formulation for how the United States and China should accommodate one another is laudable in spirit as an attempt to answer U.S. Secretary of State Hillary Clinton's challenge "to write a new answer to the age-old question of what happens when an established power and a rising power meet" ("China's Search for a 'New Type of Great Power Relationship'," China Brief, September 7, 2012). Unfortunately, Beijing's description of what the relationship should be involves Washington conceding to Chinese demands on Taiwan, human rights and regional maritime disputes without any reciprocity. As Vice Foreign Minister Cui Tiankai and Pang Hangzhao wrote, "China has never done anything to undermine the U.S. core interests and major concerns…yet what the United States has done in matters concerning China's core and important interests and major concerns is unsatisfactory" (Ministry of Foreign Affairs, July 20, 2012). This one-sided view of China's actions in which Beijing ignores that a dispute even legitimately exists or that there are legitimate questions to ask of the Chinese leadership is unpersuasive to the foreign parties involved. Almost by definition, China's behavior cannot be as bad or have any malignant intent, because, as the Foreign Ministry spokesman stated, "China has always adhered to an open and inclusive foreign policy and persisted in building good relations with neighboring countries" (Xinhua, December 12, 2012).
The problem with how Beijing frames concerns about Chinese behavior is that it denies foreign countries any standing whatsoever from which to complain. For example, when Chinese ships harassed the USNS Impeccable in March 2009 and attempted to damage the towed array, Beijing's only admission of the incident was of routine law enforcement activities—an entirely domestic affair involving lawbreakers (Xinhua, March 11, 2009). This dismissive approach combined with China's placing the onus on foreign governments to improve relations does not suggest a good faith effort. Trust is a two-way street and, contrary to Xinhua's press releases, Hanoi, Manila, Tokyo and Washington cannot develop a trusting relationship with Beijing without Chinese empathy and reciprocity. Neither of which are suggested in Chinese statements, which now seem more likely to fuel tensions than ameliorate them.