China's Air Force Female Aviators: Sixty Years of Excellence (1952-2012)
Publication: China Brief Volume: 12 Issue: 12
By: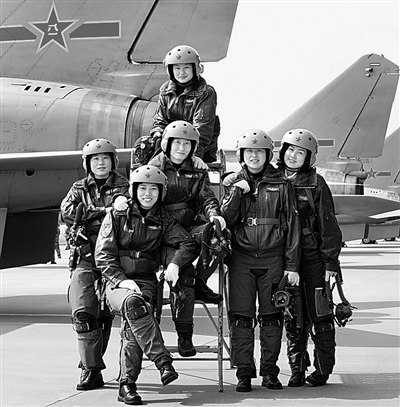 In March 2012, the People's Liberation Army (PLA) Air Force celebrated the 60th anniversary of female aviators (feixing renyuan) joining the first operational unit, thus making China one of 16 countries with female air force pilots today (China Air Force, 2012-3). Although their numbers have been small, they are playing an ever more important role as the selection of China's first female astronaut this month for its first (and successful) manned space docking mission shows (Xinhua, June 18).
Of the 543 who began training in 1951, the PLA Air Force (PLAAF) has graduated eight groups of female aviators, consisting of 328 pilots (feixingyuan), navigators (linghangyuan), communicators (tongxinyuan), and maintenance (jixieyuan) crew (China Daily, March 8).
Since the early 1980s, the PLAAF has averaged a new group of about 30-35 cadets every three years. Each class is divided into functional groups. For example, China's first female astronaut was selected in 2010 from the 7th Group (Xinhua, June 18; March 3, 2011). The 8th Group has become the first combat/fighter pilots. The 9th Group is currently in training, and the 10th Group should have begun its training in 2011, though this apparently has not yet occurred (China Daily, March 8).
Historically, female aviators have been separated from their male counterparts throughout their cadet education and training, as well as in their operational units. The majority of them have been assigned to all-female crews in a single flight group subordinate to the Guangzhou Military Region Air Force's (MRAF's) 13th Air Division's 38th Regiment, where they conduct charter flights, disaster relief, and research-oriented trial flights, as well as reforestation and cloud seeding. In 2005, four crews conducted their first drop of several hundred airborne troops (Air Force News, May 7, 2005), However, this pattern has been slowly changing since 2000 based on a wide-ranging review of reliable Chinese internet sources. A few pilots have been assigned to mixed IL-76 crews (China Air Force, 2005-2, 35), one became the first to receive a master's degree in 2000, one became a PLAAF Command College deputy commandant in 2002, one received her first star (major general) as a Guangzhou MRAF deputy chief of staff in 2003, one became the first female flight group commander in 2005 while still another became a regiment deputy political commissar in 1998 and then commander of the 4th Transport Air Division in Sichuan in 2009 (China National Radio, August 24, 2009).
This article provides a brief background about each of the nine groups and discusses their recruitment, education, flight training, and operational assignments. It also provides a comparison of PLAAF and U.S. Air Force (USAF) female pilot accomplishments.
The Nine Groups
Table 1 provides an overview of the nine groups, including their group number, the years they were cadets and unique aspects of each group.
Table 1: Nine Groups of PLAAF Female Aviators
| | | |
| --- | --- | --- |
| Group | Years | Comments |
| 1st | 1951-1952 | Total of 55 crew, including 14 pilots, 5 navigators, 6 communicators, and 30 on-board mechanics. Upon graduation in March 1952, they flew 6 Li-2s over Tiananmen and received praise from Mao Zedong and Zhou Enlai. |
| 2nd | 1956-1958 | 160 started, 44 finished including 21 pilots. First civilian airlines pilot came from this class in 1986. |
| 3rd | 1965-1967 | First Y-8 pilot. |
| 4th | 1969-1973 | No information. |
| 5th | 1981- 1984 | First group to receive a 3-year associates degree. 50 females graduated. |
| 6th | 1989-1993 | First group to receive a bachelor's degree and first female to receive a master's degree. |
| 7th | 1997-2001 | First astronaut selectees |
| 8th | 2005-2009 | 16 out of 35 graduated. First to become combat aircraft pilots. |
| 9th | 2008-2012 | 33 started. First "4+1" double-bachelor's degree class. |
PLAAF-USAF Comparison
The responsibilities of both PLAAF and USAF female aviators have expanded in recent years. Though Women Airforce Service Pilots (WASPs) flew during WWII, they were not active-duty personnel. It was not until 1977 that the first active-duty USAF females graduated from Undergraduate Pilot Training. While USAF female aviators have steadily increased their education, combat, and command credentials since the 1980s, PLAAF female aviators did not begin increasing theirs until the 2000s [1]. Table 2 provides a comparison of the dates for important "firsts" for PLAAF and USAF female aviators [2].
Table 2: Comparison of PLAAF-USAF Female Aviator "Firsts"
| | | |
| --- | --- | --- |
| Female Aviator Firsts | PLAAF | USAF |
| Transport unit pilot | 1952 | 1977 |
| Bachelor's degree [3] | 1993 | N/A |
| Master's degree | 2000 | 1981 |
| Doctorate degree | None | 1983 |
| Unit commander | 2004 | 2004 |
| 1-star flag officer | 2003 | 2000 |
| Astronaut | 2012 | 1984 |
| Demonstration team member | None (Bayi) | 1995 (Thunderbirds) |
| Fighter pilot | 2010 | 1994 |
| Bomber pilot | None | 1995 |
| Combat mission | None | 2011 |

Recruitment
The PLAAF recruits both male and female aviator cadets the same way from thousands of high school graduate and college student applicants ("PLA Air Force Male Aviation Cadet Recruitment, Education and Training," China Brief, March 2). Whereas all previous graduates flew transports, the 8th Group was recruited to fly combat/fighter aircraft (zhandouji/jianjiji), and the 9th Group was recruited to fly transports, tankers, early warning, and reconnaissance aircraft (Guangxi News, September 15, 2009; Xinhua, February 19, 2008). The following bullets provide combined information for these two groups (Sina.com, March 17, 2010; China News Service, April 1, 2008; Xinhua, February 19, 2008; Wuhan Morning News, November 1, 2005):
· Age: 16-19
· Height: 5'3" to 6'0"
· Weight: Minimum 100 lbs
· Provinces/Municipalities: 12-16
· Minorities: Yes
· Pass 116 tests, including political, physical, academic, and psychological
Cadets from the 8th Group were divided into two categories based on their scores and received a 3,000 RMB ($500) or 5,000 RMB ($800) bonus (China Air Force, 2005-5).
Cadet Education and Training
Historically, female aviators have received their basic education in Changchun (the Air Force Aviation University since 2004) and their basic (CJ-6) and advanced (Y-7) flight training in the 1st Flight College (Harbin) or 2nd Flight College (Huxian and Jiajiang). The 8th Group, however, received its basic (CJ-6) flight training in Harbin and advanced (K-8) flight training at the 3rd Flight College (Jinzhou). Female and male cadets remain separated throughout their education and training.
Today, female cadets receive what is called "2.5+1.5" education and training, where basic education lasts for 30 months at the Aviation University, followed by six months of basic flight training and 12 months of advanced trainer training. Basic education consists of military, political, cultural, physical, psychological topics, as well as parachute jumps from a Y-5 at 800 meters and seven days of survival and field training (Air Force News, August 6, 2009; China Air Force, 2008-3).
Basic flight training for the 8th Group started with 50 days of six ground-based training subjects at the 1st FlightCollege, including cockpit familiarization and simulator training. They then flew their first solo flights, which lasted for 90 minutes and consisted of six sorties with four turns each at altitudes ranging from 400-1,600 meters. Altogether, they averaged 83 hours of flight time, according to post on an air force discussion board in February 2008.
The 8th Group then moved to the 3rd Flight College to complete 12 months of flying in an advanced trainer. The training consisted of cockpit familiarization, solo flights, and dealing with special situations, such as engine failure, instrument failure, bird strikes, and changing weather conditions. Their techniques and skills training included horizontal rolls, diving, somersaults, half somersaults with a roll over, high altitude flying, and night flying. Altogether, they averaged 135 hours of flight time. They were not allowed to fly more than five hours in one day, but they did fly for four hours and 58 minutes (Air Force News, August 11, 2009). The 8th Group's 218 hours compares to 77 hours for the 1st Group (Air Force News, November 5, 2009).
Based on a review of the numbers available, it appears that the washout rate has been about 50 percent per group; however, those who do not complete their training are sent to another PLAAF college to receive a degree in a different specialty (China News Service, April 1, 2008).
Starting with the 6th Group in 1993, graduates receive a Bachelor's in Military Science with the rank of 1st Lieutenant, the grade of company deputy leader and 3rd grade pilot status (Sina.com, March 17, 2010).
Post-Graduation
Graduates in the 1st to 7th Groups were assigned directly to an operational unit, where they transitioned into that unit's transport aircraft and remained there for the rest of their career. Other than a few individual cases, no information was found about post-graduate professional military education (PME).
As of 2005, female aviators had flown in eight aircraft variants, including the Li-2, Y-5, Y-7, Trident and Il-76, and had flown 1.1 million hours (Air Force News, March 22, 2005). The 38th Regiment's 3rd Flight Group has about 60 pilots, of whom one-half are women (Air Force News, February 24, 2003). Until the early-2000s, women had not held leadership positions. In 2003, one pilot received her first star as a deputy chief of staff in the Guangzhou MRAF Headquarters. It was not until 2004 that the first female became the 38th Group commander (China Air Force, 2011-03, p 48-50). In 2009, another female became the first commander of the 4th Transport Air Division in Sichuan, which was created in 2004. She had earlier served as a deputy chief of staff in the 13th Air Division and as a deputy political commissar in the 38th Regiment [4].
Although one member of the 4th Group became the first female civilian airline pilot in 1986, this was rare (Press.idoican.com.cn, September 24, 2009). In 2010, China's civil airlines created its own flight school to train female helicopter pilots (Educhn.net, March 23, 2010).
Concerning family life, members of the 1st Group were not allowed to get married for ten years (21st Century Herald, October 26, 2006). Today, most of the female aviators are married to other pilots and support personnel in the 13th Air Division (Air Force News, February 26, 2004). In one case, the husband was transferred to the 34th Transport Division in Beijing, so they had been separated for eight years (Air Force News, April 22, 2003). In 1993, a member of the 2nd and 6th Groups became the first mother-daughter aviators [5]. The first female pilots selected for astronaut training had to be married and already have a child (China Space News, December 28, 2009).
Hours Flown
Although the PLAAF has not provided figures for the hours its female pilots have flown, a compilation of available published data indicates that they average about 100 to 225 hours per year. The highest number noted is 6,100 hours for Major General Yue Xicai, who was a member of the 3rd Group and is currently a deputy chief of staff of the Guangzhou MRAF (Her biography is available on the Hudong wiki website).
The 8th Group
The 8th Group (2005-2009) has become the PLAAF's rock stars (Air Force News, March 21, 2011; September 1, 2009; China Air Force, 2010-3; Xinhua, February 19, 2008; October 15, 2005). Of the 35 cadets selected out of 200,000 applicants from 12 provinces and municipalities, 16 graduated, including one Hui minority from Nanjing. The remaining 19 received degrees at other PLAAF colleges. This group was the first to be identified as "combat aircraft" and "fighter" pilots, who would fly tankers, airborne early warning (AEW) aircraft, and reconnaissance aircraft (China News Service, September 15, 2009).
Their "2.5+1.5" cadet education and training included 30 months of basic education at the Aviation University, followed by six months of basic trainer flying at the 1st Flight College. They then became the first group to receive 12 months of advanced trainer flying in a K-8 "combat aircraft" at the 3rd FlightCollege. Upon graduation, they deployed to Tangshan, where they flew 55 hours in 120 days before flying in three K-8 five-ship formations over Tiananmen to celebrate China's 60th Anniversary.
After the ceremony, they saw their families for the first time in three years, visited a spa, performed on stage, toured China's Space City, modeled new flight suits, and had multiple interviews on TV. In March 2011, four were assigned to the 2nd FlightCollege for one year of training in Z-9 helicopters, where they were scheduled to each fly an average of 100 hours and 581 sorties. According to a CCTV report, six members were assigned to the Beijing MRAF, where they completed their J-7 transition training in late 2011 and are currently transitioning to J-10s. One photo shows a J-11, which implies some may be transitioning to that aircraft as well (Feiyang Junshi, March 16). Official military press stated this spring another six members assigned to a Nanjing MRAF unit completed their transition training to a two-seat JH-7 fighter bomber (PLA Daily, March 6).
The 9th Group
Thirty-three cadets were selected from 16 provinces and municipalities out of 150,000 applicants for the 9th Group that began their education and training in August 2008 as part of a new "4+1" program. They have already completed two years of basic education and one year of aviation theory at the AviationUniversity. In February 2011, some members of the 9th group were transferred to the 2nd Flight College's 2nd Training Regiment near Xian to receive transport aircraft navigation and communications training on simulators (Air Force News, March 2, 2011). Additionally in February 2012, 22 cadets began receiving their basic trainer flying at the Aviation College's Flight Training Base (China Air Force, 2012-3). This will be followed by one year of advanced trainer training, probably at the 1st Flight College in Harbin. Upon graduation, they will receive a Bachelor's in Engineering and a Bachelor's in Military Science and are scheduled to fly transports, tankers, AEW and reconnaissance aircraft (Sohu.com, March 21; Press.idoican.com.cn, September 24, 2009; Xinhua, February 19, 2008).
The 10th Group?
In December 2010, the media reported that the PLAAF was preparing to recruit cadets from 10 provinces for the 10th Group to begin in mid-2011; however, it appears the recruiting was stopped and no new group was selected for 2011 or 2012. It is not clear why.
Conclusions
As with the USAF, the PLAAF's female aviators and support personnel are becoming more integrated into the PLA's overall combat plans, missions and campaigns. Although the percentage of female aviators is still quite small, they have begun to assume increasingly more important combat missions. They have begun flying fighters, attack aircraft and helicopters as well as flying combat-support missions—including transporting airborne troops and possibly eventually flying on AEW and tanker aircraft. In addition, they are now becoming unit commanders, senior staff officers in various headquarters and astronauts. Should China go to war, the PLAAF's female aviators, along with all other female combat and support personnel, will be actively involved and play a much greater role than in the past.
Notes:
Hill Air Force Base Fact Sheet, March 12, 2008 https://www.hill.af.mil/library/factsheets/factsheet.asp?id=5829.

Information on USAF pilots comes from Correspondence with USAF Historical Studies Office and USAFA Institutional Research, and

https://www.kirtland.af.mil/news/story.asp?id=123296164

.

USAF women who began flight training in 1976 already had a BA from a civilian university. The first USAF Academy female cadets graduated in 1980.

The PLAAF did not begin granting bachelor's degrees to non-aviation cadets until 1982 and to male aviation cadets in 1987.

In addition to the biographical information used here, the following website is the official international Women's Day 2010 website for the PLA and contains a great deal of additional information on women in the PLA,

https://chn.chinamil.com.cn/zt/2010jzjg/node_42768.htm.
"Chinese Female Pilots" (zhongguo nüfei xingyuan) entry on Hudong Baike, a Chinese wiki website, https://www.hudong.com/wiki/%E4%B8%AD%E5%9B%BD%E5%A5%B3%E9%A3%9E%E8%A1%8C%E5%91%98.