China's Influence in Uzbekistan: Model Neighbor or Indifferent Partner?
Publication: China Brief Volume: 16 Issue: 17
By: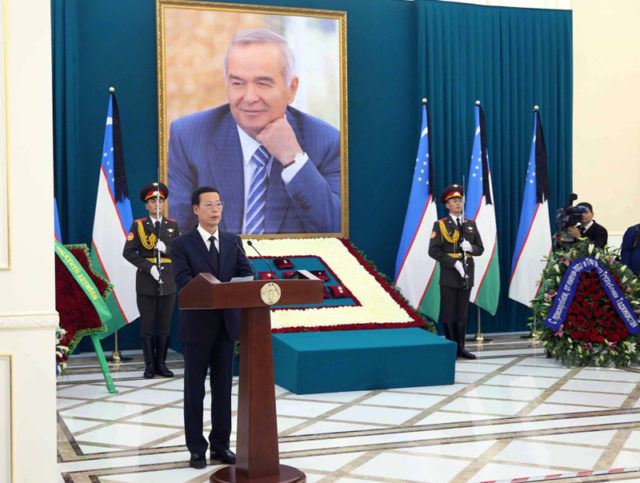 In offering his condolences on the death of Uzbek President Islam Karimov in September, Chinese president Xi Jinping expressed that the Chinese people had lost a true friend. Earlier, in late June Xi had delivered a speech in Uzbekistan's parliament in which he called for both countries to work together to create the "new glory for the Silk Road" (Xinhua, June 21). To promote this idea, and in fulfillment of his promise to the Uzbektanis to revive the Silk Road as part of China's One Belt One Road (OBOR) initiative, Xi and Karimov opened a new electrified railroad connecting the Ferghana Valley with the Uzbekistan capital, Tashkent. The Chinese-built railroad was a major development in China-Uzbek relations.
This railroad and the overall improvement in relations are the result of years of effort Xi and his predecessor, Hu Jintao. According to the the Chinese Ministry of Commerce, bilateral trade and economic relationship has developed well and China is now Uzbekistan's second-largest trade partner and the largest single investor (MOFCOM, June 20). The contractual value of projects started by China in Uzbekistan reached $6.83 million this year, with an accumulative turnover of $4.75 billion.
At the individual level, however, Uzbeks do not appear to have been effected much by this investment and high-level meetings. Statistics from internet search engines such as Googles Trends and Yandex, Uzbekistanis' interest in China on the Internet has not changed much since 2013. Apart from the major economic centers of Tashkent and Samarkand, the search word "China/китай" plays a minor role in public communications. This supports the idea that Xi was right to stress the importance of creating new cooperative models when he spoke to parliamentarians in Uzbekistan. Sino-Uzbek relations have certainly improved compared to two decades ago when Uzbekistan first established diplomatic relations with China upon attaining independence. At that time, their economic relations were limited to a small-scale exchange of goods. China was viewed by many observers as an underdeveloped country warranting little attention. Furthermore, the fact that Uzbekistan and China do not share a border made trade between the two countries costly due to transit costs. Instead, attention was focused on South Korea, which was the first to invest in Uzbekistan on a large scale with its Daewoo car industry.
Now, two decades after Uzbekistan's independence, bilateral economic ties between the two countries have slowly improved from informal trade to technological cooperation and major investment activities. For instance, Huawei, the major Chinese telecommunication company is now Uzbekistan's largest telecom provider. The signing of a strategic partnership between Beijing and Tashkent in 2012 played a vital role in deepening the ties.
As members of the Shanghai Cooperation Organization (SCO), both China and Uzbekistan have used this platform for security and economic cooperation. In terms of security, Uzbekistan as a traditional transit country holds strategic transit corridors from East to West similar to Afghanistan. Despite not sharing a border with China, Uzbekistan is an important security partner for China in order to maintain inner stability of Central Asia and cooperate in the fight against Islamic fundamentalism.
Although political, security and economic cooperation has been fostered at the level of high politics and mainstream media in Uzbekistan portraying China in a positive way, it was unclear what how local Uzbekistanis perceive China after 25 years of independence. [1] Uzbekistan's closed political environment poses significant challenges when conducting widespread surveys on this issue. With the assistance of a local scholar in a high academic position in the country, we conducted a survey based on a non-random sampling of Uzbekistanis in the first half of 2016.
In total, we collected data from 255 students at a number of universities in Nukus, a large city in Western Uzbekistan. [2] One can consider the sample as a group of future elites who are educated and can be more internationalized than the rest of the society. Studying the views of future elites in an authoritarian regime such as Uzbekistan is meaningful because future elites are more likely than normal citizens to have come from elite families and/or with elite ties to affect policy changes. They are also more likely to be the kind of people who can make influence on Uzbekistan's future development.
As the data set is small and based on non-random sampling, one cannot claim that the results represent the views of the entire or the majority of Uzbekistan's population. Despite its limitations the data provides a rare snapshot of Uzbek's views of China.
Perception of Economic Exchanges
When asked whether they have heard of OBOR, 80.4 percent of respondents said no. If those who said that they are not sure are included, the result rises to 92.9 percent. Most Uzbeks have simply never heard of OBOR. The fact that OBOR is not widely reported in Uzbekistan's media and that not all of our respondents daily follow news from other countries explains why OBOR is not on the locals' radar. A search of Centrasia.ru, the major hub for newspapers in Central Asia reveals that only a few articles from the region refer to OBOR. Media coverage of China in Uzbekistan is only half of the coverage China receives in Kyrgyzstan. However, other surveys conducted in Kazakhstan and Kyrgyzstan, show a similar lack of awareness of OBOR. Despite Beijing's efforts in advocating OBOR in Central Asia and beyond, it has not been able to make its work known at the local and civilian level. OBOR is largely engaged only at the level of high politics in Central Asia, led by a limited number of elites who have more clear interests in benefiting from cooperating with Beijing.
Despite our respondents' ignorance of OBOR, they are not entirely unaware of China's influence. After all, decades of dominance of Chinese goods such as textiles, shoes and technical products in their local bazaars have secured a general awareness of Chinese economic activities in their country. When asked whether they had ever heard about Chinese investments in Uzbekistan, every second respondent knew about economic interactions between China and Uzbekistan. For years, the focus of Sino-Uzbek economic ties was on small-scale trade. With the signing of more bilateral economic agreements since 2002, investments have risen, albeit on a small scale, in areas such as machinery, oil and basic infrastructure building.
Perception of China's International Influence
The legacy of the Soviet-Union and Central Asia as a part of Russia's area of influence is strong, though attitudes are changing. When asked which country has the biggest influence in Asia most respondents considered Russia (34.9 percent) and China (29 percent) to have the biggest influence. Russia slightly outnumbered China in this regard. However, most respondents believed that the situation will reverse in ten years, with 36.1 percent of respondents choosing China and 20 percent choosing Russia. Given the Soviet legacy in Uzbekistan, Russia's high ranking by respondents to the first question is expected. But the role China plays and is expected to play in the eyes of the respondents is higher. Some two decades ago, expectations for Japan and South Korea would have dropped China down at least to the fourth place. Now China already ranks second, and respondents displayed an awareness that China's influence would rise in the future.
Table 1: Country with the Biggest Perceived Influence in Asia
Country
Now
In 10 Years
Japan
11 (4.3 %)
17 (6.7 %)
China
74 (29 %)
92 (36.1 %)
India
0 (0 %)
4 (1.6 %)
Russia
89 (34.9 %)
51 (20 %)
U.S.
24 (9.4 %)
27 (10.6 %)
South Korea
7 (2.7 %)
13 (5.1 %)
Turkey
13 (5.1 %)
4 (1.6 %)
Saudi Arabia
4 (1.6 %)
5 (2 %)
Other
0 (0 %)
6 (2.4 %)
No/unclear answer
33 (12.9 %)
36 (14.1 %)
Total
255
255
China's political and economic system are often seen as presenting an alternative to Western-style democracies. When asked which country should be a model for Uzbekistan's future development, respondents offer a different picture. In fact, an overwhelming majority of respondents (46.7 percent) think that Uzbekistan should just follow its own model for future development. This could be interpreted as either a result of nationalist sentiment, which is common among newly independent states of Central Asia, or the respondents' practical awareness that no other country's model can be easily applied to Uzbekistan. Karimov publicly expressed on several occasions the notion of an Uzbekistan model, which emphasized a gradual path of development and avoided the negative effects of market economy reform. His remarks could have made an impact on the beliefs of the respondents. It is worth noting that the Russian model was supported by only 11 percent of respondents, far behind the answer "my country should follow its own model." After the Russian model, the Japanese model garnered 8.2 percent and the Chinese model got 7.5 percent of support. Although respondents understand China's rising influence in Asia, respondents do not seem to believe that the Chinese model can help Uzbekistan's development.
Table 2: Which Country Should Be a Model for Your Country's Future Development?
Country
Numbers of Respondents
Japan
21 (8.2 %)
China
19 (7.5 %)
India
0
Russia
28 (11 %)
U.S.
7 (2.7 %)
Singapore
2 (0.8 %)
Malaysia
1 (0.4 %)
South Korea
10 (3.9 %)
Turkey
11 (4.3 %)
Saudi Arabia
0
My country should follow its own model
119 (46.7 %)
Other
3 (1.2 %)
No answers
34 (13.3 %)
Total
255
Perception of China's Cultural Influence
In terms of cultural exchanges, Uzbekistan has had a long history of interaction with China. China's softpower has left a long trail of footprints in Persian and Turkic parts of Central Asia.
In the 20th century, the capital of Uzbekistan, Tashkent, served throughout Soviet times as the center for Chinese studies. Beginning in 1957, people from all over Central Asia came to Tashkent to learn Mandarin. After becoming indedpendent in 1991 Uzbekistan has received support from the Chinese government to continue Mandarin education. The Confucius Institute in Tashkent is not only the first Confucius Institute in Uzbekistan, but also the first in Central Asia. Opened in 2005, it has functioned like other Confucius Institutes around the world with the mission to promote Mandarin teaching as well as cultural and educational exchanges between the two countries.
The survey and interviews revealed a second image of China beyond being an economic and political power. When asked where people can go to learn Chinese in Uzbekistan, almost every second student (45.5 percent) knows where to learn Chinese. This result explains the outward directed intention of many students in Uzbekistan. Studying in Uzbekistan often means finding a way to get jobs in more developed countries, such as Arab countries, European countries or the United States. Studying the Chinese language in the 1990s was seen as an exotic discipline. [3] Now Chinese is viewed as economically rational to study and many students have the intention to get stipends to study in China.
Conclusion
Local Uzbekistanis' perception of China varies depending on the issue. Respondents seem to have some impression of China's increasing cultural, economic and political influences. However, they do not necessarily know details of projects, such as the OBOR, nor do they believe that the Chinese model of development can be easily adopted for Uzbekistan's own development. The recent death of President Karimov and uncertainty around the future leadership of Uzbekistan might shift the direction of Uzbekistan's foreign policy. To what extent this change will affect Sino-Uzbek relations at the level of high politics as well as Chinese investments in Uzbekistan has yet to be seen. At the civilian level, as our survey indicates, existing local perceptions of China will be stable and will not experience major change even if there is a shift of Sino-Uzbek relations in higher political and economic levels.
Yu-Wen Chen is Professor of Chinese Studies at the University of Helsinki in Finland, Hosting Professor of Asian Studies at Palacký University in Czech Republic and non-resident senior fellow at the China Policy Institute at the University of Nottingham in the United Kingdom. Olaf Günther is senior researcher at Palacký University in Czech Republic.
Notes:
Xi Jiao, "Critical Discourse Analysis of China's Images in Mainstream Central Asian Online Media: The Example of Uzbekistan," (批评性话语分析视阈下中亚主流网络媒体中的"中国形象"研究——以乌兹别克斯坦为例), Science & Technology Vision, No. 23, 2015, pp. 109–110.
We began with 257 observations all university students aged 20–30 at the city branch of Tashkent Pediatric Medical Institute, Karakalpak State University, the Nukus branch of Tashkent State Agrarian University, and the Nukus branch of the Uzbek State Institute of Arts and Culture. Two were excluded due to the respondents being from Turkmenistan.
Telephone interview with a teacher on Chinese language at the Oriental Institute of Tashkent, 10th August 2016.