China's New Submarines and Deployment Patterns: Aimed at South China Sea?
Publication: China Brief Volume: 10 Issue: 21
By: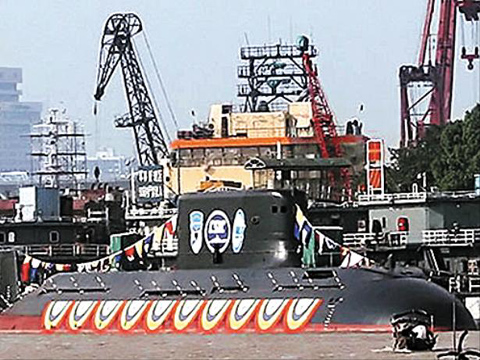 Images and media reports about new types of submarines appearing in recent months have generated a lot of interest in China's evolving submarine force. While the magnitude of such developments remains to be seen, since much depends on the submarines' tested capabilities, these rare glimpses provide important clues about the development of China's subsurface force structure and its orientation. The reports include the recent deployment of a new Type 093 submarine to Hainan Island in the South China Sea (The Mainichi Daily News [Japan], October 20). Whereas the development and deployment of the Chinese navy's surface fleet have been prominently displayed in unprecedented scale in recent naval exercises both in the South and East China Sea, the expansion of China's subsurface fleet appears to have been slowed in recent years. In fact, overall People's Liberation Army Navy (PLAN) submarine totals remained almost flat from 2007-2010 (rising from 62 to 63 boats) (The Diplomat, September 29). In this context, these reports raise interesting questions about what is known regarding the pace of investments that China has undertaken to increase stealth, missile capacity, survivability and the capability to project its submarine force both regionally and globally.
In early October, a Hong Kong-media ran a story covering a photo image of a new type of Chinese submarine that has been circulating on the web for several weeks. The submarine was developed by the state-owned China Shipbuilding Industry Corporation (CSIC), which is the country's largest shipbuilder. The company reportedly had double-digit growth in output, revenue and profit in 2009 despite the global recession (People's Daily Online, February 23). The image of the SSK submarine surfaced several weeks before a CSIC statement, which indicated that the company had successfully launched a 'new' conventionally powered attack submarine in early September from its shipyard in Wuhan, central China. While the People's Liberation Army (PLA) has not officially acknowledged that the 'new' ship was a stealth submarine, many military analysts believe that the submarine is such a vessel (South China Morning Post, October 3).
The South China Morning Post noted a September 1 PLA Daily article covering an award ceremony hosted by the PLAN Deputy Political Commissar Xu Jianzhong for Da Lianglong, a professor at the PLA Navy's Submarine Academy. Professor Da received an award from the Central Military Commission for his successful research on submarine stealth technology (PLA Daily, September 1; South China Morning Post, October 3).
The stealth submarine in question appears to be a modified version of the Type 041 Yuan-class submarine. According to military experts, the Yuan-class's technology borrows heavily from Russian designs. The Yuan-class is reported to use a new air-independent propulsion (AIP) system based on the concept of the Swedish Stirling engine. Chinese naval research institutes are known to have been investigating fuel cell and exhaust recycling AIP designs similar to the French MESMA (Module d'Energie Sous-Marine Autonome) (Jane's Defense Weekly, October 7; Wen Wei Po [Hong Kong], October 12).
Chinese academic engineering literature cited by a prominent Western defense magazine supports the fact "that the PLA has also been researching fuel-cell AIP engine technology—with the PLA having benefited via Chinese academics from several conferences with German fuel-cell technology experts" (Jane's Defense Weekly, October 7). The addition of an AIP system could allow a Chinese submarine to operate underwater for up to 30 days on battery power, and would make the Song and Yuan submarines inaudible to existing U.S. surveillance networks-and U.S. subs.
The PLAN is also reportedly stepping up its deployment of submarines. According to Kanwa's Asia Defense Review cited by Wen Wei Po, China will finish testing and deploy two additional Yuan-class submarines by the end of 2011 (Wen Wei Po, October 12). If this report is indeed true, it would add fuel to the argument that the apparent slowdown in naval expansion was a transitory phase while the PLAN's submarine fleet appears set to resume its upward trajectory (The Diplomat, September 29).
These revelations dovetail a recent sighting of a new Type 093 Shang-class nuclear-powered attack submarine docked at a Chinese naval base in Sanya, Hainan Island. The photograph obtained by Japan-based Kyodo News, taken on September 2, shows two nuclear-powered submarines docked at a quay on the base. According to a military expert cited by The Mainichi Daily News, "the photograph marks the first time the whereabouts of the submarine were visually confirmed." The PLAN is known to have also deployed a Type 094 "Jin-class" ballistic missile submarine capable of loading nuclear missiles at the same base (The Mainichi Daily News, October 20).
The images and reports showcasing China's new submarines and deployments at forward positioned naval bases reflect, to a degree, Beijing's willingness to allow foreign powers to view their activity, which signals a new level of confidence and transparency for Beijing. As PLAN naval exercises increase in sophistication and frequency, so have Chinese submarine patrols in recent years—the PLAN conducted 12 patrols in 2008, twice as many as in 2007 (FAS Strategic Security Blog, February 3, 2009). This trend is consistent with the frequent sightings of Chinese submarines that have been showing up close to Taiwan, Japan and South Korea. Taken together, these recent developments appear to suggest that the PLAN may be deploying some of its newest underwater assets near the South China Sea. Furthermore, the recent actions undertaken by Beijing appear to be further reaffirmations that China perceives the South China Sea within its sphere of influence.