PLA Gains Clout: Xi Jinping Elevated to CMC Vice-Chairman
Publication: China Brief Volume: 10 Issue: 21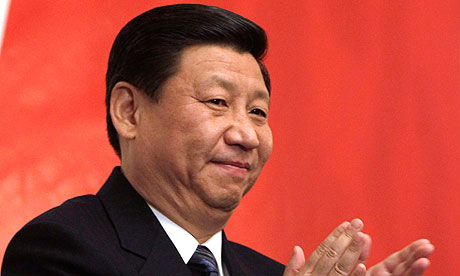 The appointment of Vice-President Xi Jinping as vice-chairman of the Chinese Communist Party's Central Military Commission (CMC) has confirmed the Fifth-Generation cadre's status as heir-apparent to President and General Secretary Hu Jintao. Xi's induction into the policy-setting CMC, which was decided by the just-ended plenum of the party's Central Committee that took place from October 15-18, could also augment the military establishment's already formidable clout in foreign policy and other arenas.
At the end of the conclave, the Central Committee also endorsed the country's 12th Five-Year Program for Economic and Social Development that covers the years 2011 to 2015. Details of the 12th Five Year Plan (12FYP) will not be released until the full session of the National People's Congress (NPC) scheduled for next March. Yet, a terse communiqué released by the official Xinhua News Agency confirmed earlier statements by officials and media commentators that the blueprint's thrust is "enriching the people" and "promoting social equality and justice" (Xinhua News Agency, October 18; People's Daily, October 19).
The 57-year-old Xi's promotion as vice-chairman to the CMC renders beyond doubt that the sixth-ranked member of the Politburo Standing Committee (PBSC) will take over from Hu as general secretary at the 18th Party Congress slated for October 2012—and state president soon afterward. Xi's competitor, First Vice-Premier Li Keqiang, who is ranked seventh in the PBSC, will likely have to settle for the position of premier (Financial Times, October 19; Washington Post, October 18).
What is not certain, however, is whether Hu, 68, will remain CMC chairman for at least a few more years beyond the 18th Party Congress. If the supremo chooses to do so, he will be following in the footsteps of his predecessor, former president Jiang Zemin. After retiring from the Politburo at the 16th Party Congress in 2002, Jiang stayed on as CMC chairman until September 2004, when he was reportedly forced out by Hu and People's Liberation Army (PLA) generals who had shifted their loyalty to the younger leader (Apple Daily [Hong Kong], October 8; New York Times, September 19, 2004).
Irrespective of Hu's intentions, Xi's acquisition of the much-coveted military portfolio will likely result in the PLA playing a more active role in national policy. Unlike Jiang or Hu, who had had no military experience prior to their helicopter ride to the CMC, Xi worked in the army's high echelons for three years. Immediately upon his graduation from Tsinghua University in 1979, he served as a secretary in the CMC General Office, deemed the PLA's nerve center. The princeling—a reference to the offspring of party elders—got this job through his father Xi Zhongxun, a former vice-premier and a crony of then defense minister General Geng Biao. Xi's wife, Peng Liyuan, a popular singer with the PLA Song and Dance Troupe, has the rank of major-general. Xi is known to be on good terms with the disproportionately large number of princelings who have since the early 2000s risen to the post of major-general or above (Ming Pao [Hong Kong], October 18; AFP, October 18; Asiasentinel.com, October 19). So-called "military princelings" who were recently made full generals with high military ranks included Political Commissar of the Academy of Military Sciences Liu Yuan, Political Commissar of the Second Artillery Corps, Zhang Haiyang, and the Vice-Chief of the General Staff Ma Xiaotian (See Jamestown Occasional Paper, "Changing of the Guard: Beijing Grooms Sixth-Generation Cadres for 2020s").
Not much is known about Xi's military thinking, except that he is an ardent advocate of Chairman Mao's theory of "the synthesis between [the requirements of] peacetime and war." This means that civilian sectors should also play a major role in military construction. For example, infrastructure projects such as airports and railways should be designed to also serve war-time needs. While being Party Secretary of Zhejiang from 2002 to 2007, Xi doubled as the party secretary of the Zhejiang provincial military district. In a memorable speech to Zhejiang-based officers in 2007, Xi pointed out that "we must implement [Mao's] strategic concept of the 'unity between soldiers and civilians' and both the army and regional [civilian authorities] should assiduously pool our resources in the preparation for military struggle [against China's enemies]" (Zhejiang Daily, January 8, 2007). Seen in this perspective, there is a possibility that the PLA's share of the nation's economy and other resources will be augmented under Xi's watch.
Given that Xi's current portfolio mainly centers around party affairs, he has not had many opportunities to express views on military developments and diplomacy. Yet, the former party secretary of Shanghai and Zhejiang Province is deemed a nationalist who might advocate tougher tactics to facilitate China's rise as a superpower. While visiting Mexico in 2009, the vice-president raised eyebrows when he made a veiled attack on the United States. "Some foreigners with full bellies have nothing better to do than pointing their fingers at us," he said (Reuters, October 18; Wall Street Journal, October 19). Xi also ruffled feathers during a tour of Japan last year, when he insisted on seeing the Japanese Emperor. According to Japanese protocol, an audience with the Emperor—especially by somebody who is neither head of state nor head of government—required at least a couple months' prior notice. Xi got his way, but comments in the Japanese press were largely negative (Japan Times, December 17, 2009; People's Daily, December 16, 2009).
There are great expectations both inside and outside of China that the plenum might have something positive to say about the direction of political reform, which has been stalled since the 1989 Tiananmen Square massacre. After all, Premier Wen Jiabao raised the sensitive issue on at least three occasions since August, when he warned in the Shenzhen Special Economic Zone that without reform—including political liberalization—the party "faces the road to perdition" (See China Brief, "Premier Wen's Southern Tour: Ideological Rifts in the CCP?").
Party veterans who know Xi, however, have indicated the high unlikelihood that the princeling will follow through with the premier's groundbreaking, albeit late initiatives (AFP, October 19; Apple Daily, October 19). In the past few years, the Vice-President has made a series of remarkably conservative, even quasi-Maoist, statements, mainly in his capacity as president of the Central Party School (CPS). Xi has repeatedly urged CPS students to "insist upon the synthesis between the basic principles of Marxism on the one hand, and China's concrete realities and contemporary characteristics on the other." Xi emphasized in a talk on grooming young cadres that utmost emphasis must be put on "strengthening education on political loyalty…education about party discipline and education about resisting corruption and fangbian ("preventing changes")." Fangbian is a CCP jargon for the possibility of the Marxist party degenerating into a "vassal of capitalism." Xi particularly urged leading cadres to "firm up their political cultivation, and to boost the resoluteness of their political beliefs, the principled nature of their political stance, the sensitivity of their [ability in] political discrimination, and the reliability of their political loyalty" (People's Daily, September 8, 2009; Xinhua News Agency, March 30, 2009).
The 4,700-character plenum communiqué has given no indication that the 365 full and alternate Central Committee members discussed major events such as dissident Liu Xiaobo winning the Nobel Peace Prize, or that 23 respected elders had signed an open petition demanding an end to official censorship (Financial Times, October 12; Wall Street Journal, October 14). The communiqué only has one clause on liberalization, that the party would "implement reform of the political structure in an enthusiastic, stable and adequate manner." There was not even a reference to the pro forma statement made by President Hu when he toured Shenzhen, to the effect that the authorities would "implement, according to law, democratic elections, democratic decision-making, democratic management and democratic supervision" (People's Daily, September 7; China News Service, September 7).
Beijing's apparent failure to push forward genuine political liberalization has been evidenced by relatively circumscribed ideas on the subject that were recently floated by Peking University political scientist Yu Keping, who is deemed an adviser to Hu on reform issues. On the eve of the plenum, Yu, who is also Deputy Director of the Central Committee's Compilation and Translation Bureau, noted that the authorities were gunning for the ideal of shanzhi, or a benevolent order. "The Chinese government can only attain benevolent administration—and make progress toward a benevolent order—through ceaseless institutional renovation," Yu said. Yet, Yu's schema does not seem to include any democratic elements. By benevolent administration and benevolent order, he meant, "a government based on rule by law, a responsible government, a service-oriented government, a transparent government and a clean government" (Global Times, October 12; Xinhua News Agency, October 12). There was no reference at all to political participation by the masses.
A number of scholars have expressed disapproval of the party's total neglect of political reform. According to social scientist Hu Xingdou, who teaches at the Beijing University of Science and Engineering, "the plenum communiqué has almost nothing on political or administrative reform." Hu pointed out that crony and bureaucratic capitalism had reached a dangerously high level, and "only political reform can solve these problems." Popular author and social critic Yuan Jian also voiced disappointment with the Central Committee session. He noted that political changes could no longer be postponed. "Many of the most serious economic problems facing the party and the country are actually political problems," he said (Ming Pao, October 19; Radio Free Asia, October 19).
With regards to the economic policies to be rolled out during the 12FYP, official media commentaries have focused on an epochal "strategic restructuring and realignment" of development priorities. The first major change is that instead of just aiming for qiangguo, "national strength," more weight will be given to fumin, or "building up the people's wealth" (Xinhua News Agency, October 16; China News Service, October 16). The Communiqué indicated that the party would "lay more stress on the 'putting people first' principle," and "put more emphasis on securing and improving people's livelihood [so as] to promote social equality and justice." Other foci of the 12FYP include encouraging consumer spending as a locomotive of growth instead of relying solely on exports and government investment. Thus, the Central Committee pledged to "quicken the pace of establishing a new growth pattern that is jointly driven by consumption, investment and exports." More attention will be paid to raising the technological level of industry and agriculture, especially those in central and western regions. The plenum also underscored the imperative of developing low-carbon sectors for the purpose of attaining a "resource-saving and environment-friendly society" (China News Service, October 18; Sina.com, October 19).
While the 12FYP seems to dangle goodies particularly for the underprivileged, neither the Communiqué nor senior cadres have spelled out concrete steps or institutions whereby such populist pledges can be carried out. Little wonder that even the China News Service (CNS) pointed out on the plenum's eve that "China's leaders need more courage, determination, foresight and wisdom in pushing through systemic and institutional innovation." The official news agency called upon Beijing to in particular "break through systemic barriers that have hamstrung economic and social development" (China News Service, October 15; Wen Wei Po [Hong Kong], October 15).
What are some of the new socio-economic and political framework that needs to be established? Veteran reform theorist Chi Fulin noted that systems must be introduced to ensure that "economic growth will satisfy the interests of the great majority." "We must adjust the distribution mechanism of national income, and speed up [relevant] institutional reforms," said Chi, who heads the Haikou-based Chinese Reform Research Institute (New Beijing Post, October 15). One popular proposal is that Beijing ensures that workers' and farmers' incomes grow at the same clip as the GDP. This is in view with the much-noted fact that for the past two decades, the GDP share of laborers' wages has gone down by at least one percent a year. Vice-President of the official China Labor Studies Association Su Hainan recommended that "China should learn from the Japanese experience and allow citizens' income to grow at the same rate as the GDP." He added that measures must be put in place to shrink the income gap between haves and have-nots (China News Service, October 12; Shandong Business Post, October 12).
The plenum also failed to deliberate on urgently needed reforms concerning state-owned enterprises, especially the long-delayed restructuring of the 129 yangqi, or central-level conglomerates that enjoy monopolies in sectors including oil and gas, banking and insurance, transport and telecommunications. Since the yangqi has been accused of taking advantage of their special prerogatives to make fat profits, putting an end to their monopolistic powers is deemed a key to the achievement of distributive justice. According to the Vice-Director of the School of Public Administration, Renmin University, Xu Guangjian, Beijing should "allow more companies, including private firms, to enter monopolistic sectors—and such [liberalizing] policies must be seriously enforced" (People's Daily, October 16). In 2009, yangqi made profits of 815 billion yuan ($122.56 billion)—up 17.1 percent from the previous year—despite the global financial crisis. This year, the four centrally-held banks made on average 1.4 billion yuan ($210.53 million) a day. In a recent commentary, the People's Daily pointed out that "the people are paying more attention to how are the profits [of yangqi] are being distributed and used." "When can the entire people enjoy the profits reaped by the state-held enterprises?" asked the Party mouthpiece (People's Daily, August 30; Xinhua News Agency, September 5).
In addition to his remarkable statements on political reform, Premier Wen has in the past year, made substantial promises to ensure that, in his words, "the economic pie can be more fairly divided." "We must make social equality and justice shine brighter than the sun," he said at the NPC in the spring (Xinhua News Agency, March 14; Ming Pao, March 15). The onus is on the Party leadership—including Fifth-Generation cadres led by Xi, who will soon be taking over the helm—to prove to Chinese and the world that the hundreds of millions of disadvantaged Chinese will finally win their place in the sun.