China's North Korea Policy: in The Footsteps of Russia?
Publication: China Brief Volume: 15 Issue: 11
By: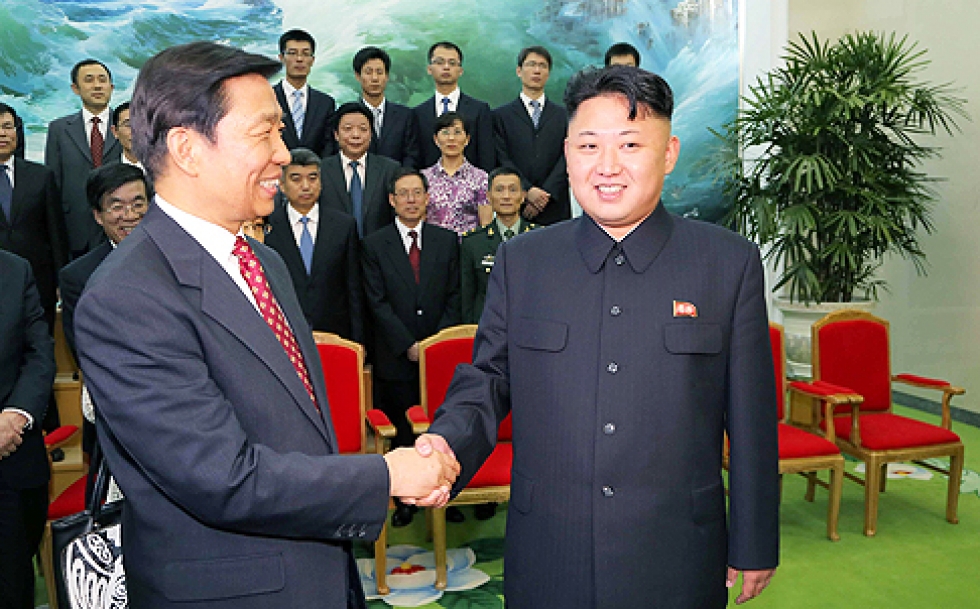 Kim Jong Un ultimately turned down Russia's invitation to attend the May 9 Victory Day celebrations in Moscow (NKNews, April 30). To the surprise of many, he missed the opportunity to make a diplomatic debut on the world stage. His visit would have also served as an occasion to break the ice with Chinese President Xi Jinping Xi has so far refused to host Kim in Beijing. Conversely, the Chinese leader treats South Korean President Park Geun-hye with the highest diplomatic regard and reportedly enjoys a good personal relationship with her. Despite this last minute cancellation, North Korea has made significant progress in deepening relations with Russia since 2014, in the context of Russia's confrontation with the West over the Ukraine crisis and North Korea's own desperate diplomatic isolation. Economic cooperation and political contacts continue to expand in this "Year of Friendship" for the two countries, raising a number of questions in Beijing (AFP, March 11).
So far, developments in Russia–North Korea relations have not impacted China's North Korea policy, but they have contributed to slightly modify the terms of the ever-changing expert debate in China. Beijing has abandoned its engagement policy after the third nuclear test of February 2013, but some experts now publicly argue that the time is right to resume political contacts, cooperation projects and support for deeper economic ties with Pyongyang (see China Brief, May 7, 2014). Chinese experts examine evolving Russia-North Korea ties in light of three questions: To what extent is helping North Korea break from diplomatic isolation in the national interest of China? Does Russia's growing economic role in North Korea undermine Chinese influence? And ultimately, is the "Russia factor" important enough to justify a new adjustment in China's North Korea policy?
Breaking From Isolation
Despite Kim Jong Un's absence in Moscow, the frequency and the level of the Democratic People's Republic of Korea's (DPRK) diplomacy with the Russian Federation have significantly increased since 2014. The starting point was the visit of Kim Yong Nam, Chairman of the Presidium of the DPRK's Supreme People's Assembly, to the opening ceremony of the Sochi Olympic Games in February 2014. Since then, distinguished guests from the two countries have landed in Pyongyang and Moscow (table 1).
Table 1: Ministerial-Level Visits Between Russia and North Korea (Since February 2014)
North Korean visits to Russia
Russian visits to North Korea
February 2014
Kim Yong Nam (Chairman of the Presidium of the DPRK's Supreme People's Assembly), Sochi Olympics opening ceremony
March 2014
Alexander Galushka (Minister of Development of Russian Far East)
October 2014
Ri Su Yong (Minister of Foreign Affairs)
April 2014
Yury Trutnev (Deputy Prime Minister)
November 2014
Hyon Yong Chol (Minister of Defense)
October 2014
Alexander Galushka (Minister of Development of Russian Far East)
November 2014
Choe Ryong Hae (Special Envoy)
April 2015
Alexander Galushka (Minister of Development of Russian Far East)
April 2015
Hyon Yong Chol (Minister of Defense)
May 2015
Kim Yong Nam (Chairman of the Presidium of the DPRK's Supreme People's Assembly), celebration of Russian Victory Day
This stands in stark contrast with China's interruption of political contacts with the DPRK after Special Envoy Choe Ryong Hae's disastrous meeting with President Xi Jinping in May 2013—a meeting designed to repair ties after the third nuclear test and possibly pave the way for a Xi Jinping–Kim Jong Un visit (SinoNK, June 5, 2013). Insiders in China think that Choe Ryong Hae suffered an unprecedented humiliation in Beijing, where he may have been kept waiting for hours and met with unusual coldness. [1]
Many in China tend to see North Korea's isolation as a factor of strategic instability because it creates the conditions for brinkmanship and strategic surprises. MFA spokeswoman Hua Chunying has commented that North Korea–Russia diplomacy benefited regional stability and peace (Xinhua, January 24).
But China is facing a conundrum. Since the February 2013 nuclear test, China diplomacy has stressed that a summit meeting would not be possible unless it led to concrete results on the nuclear front. There is no open source report on the precise concessions that China may have requested in exchange for a resumption of political exchanges. Chinese diplomacy appears to favor a freeze of North Korea's nuclear activities, a short-term tactical goal deemed more realistic than denuclearization and conceived as a way to create the conditions for later abandonment of nuclear weapons by the DPRK. [2] Many Chinese experts think highly of Siegfried Hecker's famous "three noes"—no more bombs, no better bombs, no export—as they believe it is impossible to obtain now a commitment by North Korea to denuclearize (Bulletin of the Atomic Scientists, April 5, 2013). China has already obtained from North Korea a declaration mentioning the abandonment of preconditions for resuming participation in the six-party talks, when Kim Kye Gwan visited Beijing in November 2013 (China Institute of International Studies, November 14, 2013).
But pessimism is the dominant feeling when it comes to contemplating additional concessions that North Korea might announce in Beijing. The DPRK has made it clear that its goal was to be recognized as a nuclear state rather than negotiating disarmament, writing the country's status as a nuclear power into its constitution and vowing to pursue economic development at the same time through its "Byongjin Line." This hard line, in frontal opposition to the basic demands of Washington, Seoul and Tokyo, explains why Chinese diplomacy is putting fewer efforts in 2015 than in 2013–2014 on the resumption of the Six-Party Talks, perceived as a lost cause, at least until after the next U.S. presidential election. Many Chinese experts also note that the main change in policy on North Korea during Xi's presidency is that denuclearization is put above all other areas of the bilateral relationship, which also explains why North Korea has interrupted some communication channels with China in retaliation.
In this context of stalemate, the Russia factor partly explains the slow and cautious relaxation of the pressure exerted by China on North Korea—a Chinese editorialist argues that developments in Russia–North Korea relations offer an incentive to "repair the house before it rains" (未雨绸缪) with regards to North Korea. It seems that Moscow's rapprochement with Pyongyang provided pro-North Korea intellectuals an opportunity to advocate an adjustment of China's tough line. At the same time, the main debate in the Chinese press in the past six months was started by Zhejiang University Professor Li Dunqiu laying out the arguments against giving up North Korea in two articles published by the Global Times, including one in response to an opinion piece by retired People's Liberation Army (PLA) general Wang Hongguan detailing the case for "normalization" of relations with the DPRK (Global Times, November 27, 2014; December 1, 2014; and December 4, 2014). Although the debate was not directly related to Russia, it occurred in a context of frequent coverage of Russia–North Korea relations in the Chinese press.
Three signs of an upcoming thaw have appeared in the past six months. In December last year, Chinese President Xi Jinping emphasized the importance of "traditional friendship" with North Korea in a message delivered by Liu Yunshan at the DPRK Embassy in Beijing, on the third anniversary of the death of Kim Jong-il (Yonhap, December 18, 2014). Later, in March 2015, during his press conference closing the third plenum of the 12th National People's Congress, Chinese Foreign Minister Wang Yi stated that a summit meeting could be held when "suitable" (要看双方的方便) (China News, March 8). He also characterized China's North Korea policy as based on "solid foundations" and noted that "Chinese people emphasize good faith and value friendship" (中国人重信义、讲情义). This language confirmed the significant change of tone. A few days later, China appointed Ambassador Li Jinjun in Pyongyang in replacement of Liu Hongcai (SinoNK, March 27). This marked a relative upgrade, as Ambassador Li was first vice Minister at the Chinese Communist Party (CCP) International Liaison Department (ILD) with two previous stints as Chinese ambassador (in Germany and Myanmar), while M. Liu was only one among the vice ministers of the same department, and had no previous ambassadorial level experience.
Reports that Kim Yong Nam may have stopped over in Beijing on his way to Bandung or met with President Xi on the sidelines of the Asia-Africa summit were misguided. But speculation that Kim Jong Un received an invitation to attend China's own celebrations of the end of World War II on September 3—the "70th anniversary of victory in the war of resistance" (抗战胜利70周年纪念活动)—is most certainly true, as North Korean communists played a major role in the resistance against Japanese forces occupying Manchuria (NKNews, April 15).
The Economic Front: a Zero-Sum Game?
A major contributor to the construction of North Korea's industrial basis during the Cold War and long the biggest export market for North Korean goods, Russia is now by and large an outsider in North Korea's economy in comparison with China—the volume of bilateral trade stands at $112 million and current plans, if successful, are to reach $1 billion by 2020 (38North, May 8, 2014). Chinese customs reported $6.3 billion in trade with the DPRK in 2014 (Chinese Customs, accessed May 15). Nonetheless, Chinese press reports in the past six months have been filled with stories of possible involvement of Russian companies in the North Korean economy. They suggest that Russia might play a greater role in the areas of energy, transportation infrastructure and extraction of mineral resources, three sectors in which China is currently the dominant external player.
Under the leadership of the Ministry for the Development of the Russian Far East, economic ties between Russia and North Korea are experiencing a relative boom. The most notable developments are related to the special economic port of Rajin-Sonbong, now connected to the Russian border city of Khasan by railroad, from which Russian companies have shipped coal to the South Korean city of Pohang. Discussions are taking place regarding the construction of an electricity line to provide Russian energy to Rajin-Sonbong, as China has so far not proceeded with plans to connect the port to the Chinese grid. A "Victory project" to finance Russian investment in North Korean infrastructure on the extraction of coal and ores was also evoked in Russia, and attracted the attention of Chinese commentators. More concretely, the number of North Korean workers in Russia has risen by 20 percent year on year, nearing 50,000 individuals in early 2015, according to Russian sources (NKNews, April 27).
These developments have a positive, albeit limited impact on North Korea's development, especially in the Rason area. The country needs trade and foreign investment to overcome energy shortages and meet rapidly changing consumption patterns. There are also reports that the food security problem is worsening again in 2015, a bad year for crops after two consecutive years of remarkable improvement of cereal production (but still insufficient to completely solve the issue of malnutrition). This explains reports of North Korean requests for food aid from India and the World Food Program.
Some Chinese academics have published "zero-sum" op-eds arguing that Russia's actions decreased the influence of China on the Korean peninsula, while others argue that Russia's actions lighten China's strategic burden there (Consensus Online, November 1, 2014; Phoenix TV, November 20, 2014). The dominant argument, though, is that Russia's involvement is not a game changer for the weak North Korean economy. The key issue is financing; with the ruble crisis, Russia does not have the means to carry out major infrastructure projects even if loans are guaranteed by minerals. This explains the anticipation in the Chinese press that the "Victory" project will fail (Weizhi, October 27, 2014).
A Negligible Strategic Impact
Shortly after Li Jinjun arrived in Pyongyang, the Chinese Embassy's website posted photos and a description of his accreditation by Kim Yong Nam. The page mentioned interesting new language: "to put aside differences so as to seek common ground" (求同存异). In Chinese diplomatic language the formula is closely associated with Zhou Enlai's diplomatic style and is usually used to describe goodwill in relations with difficult partners, such as the US and Japan (People's Daily Online, 2006). Xinhua, noting that Li Jinjun now systematically uses the term, compares China–North Korea relations to "brothers in the same family who sometimes have disagreements, which is inevitable […) the most pragmatic way is to acknowledge these differences in order to move forward" (Xinhua, May 8).
China has no reason to bandwagon with Russia on policy toward North Korea. As Lü Chao argues, the impact of deepening Russia–North Korea ties on the geopolitics of Northeast Asia is extremely limited and is unlikely to exert a defining influence on China (Dangjian, November 11, 2014). Indeed, the nuclear problem structurally constrains what Russia can provide to North Korea (Overseas Online, November 17, 2014). The DPRK's international isolation will remain severe unless progress is achieved on the denuclearization front. Many in China speculate that the endgame of North Korea's tango with Russia is to obtain a resumption of Chinese economic support, in direct continuity with the DPRK's diplomatic tradition of playing off the Soviet Union and China against each other during the Cold War. However, as Zhang Liangui observed late last year, Russia-China relations are currently so close that there is little space left for third parties to exploit contradictions (Phoenix TV, November 19, 2014).
In sum, the main implication of Russia's sudden resumption of attention to relations with North Korea is to have reopened the policy debate in China, which if recent history provides any guidance might lead to a relative adjustment of China's approach. There is always the possibility that external incentives precipitate a rapprochement, such as over the deployment in South Korea of THAAD, a ballistic missile defense system that would hold some Chinese missile installations within range. But in the temporary absence of a fourth North Korean nuclear test—which all Chinese experts agree will happen sooner or later—it is likely that China will gradually upgrade diplomatic contacts to the political level and resume economic cooperation. If ties are at least partly repaired in 2015, the questions raised by Russia's actions will have made a small but not insignificant contribution.
Notes
Author's interview with senior Chinese academic, Jilin Province, April 2015.
For more details, see Mathieu Duchâtel and Phillip Schell, China's Policy on North Korea: Economic Engagement and Nuclear Disarmament (Stockholm International Peace Research Institute, December 2013).