China's Poor, Young and Restless
Publication: China Brief Volume: 8 Issue: 24
By: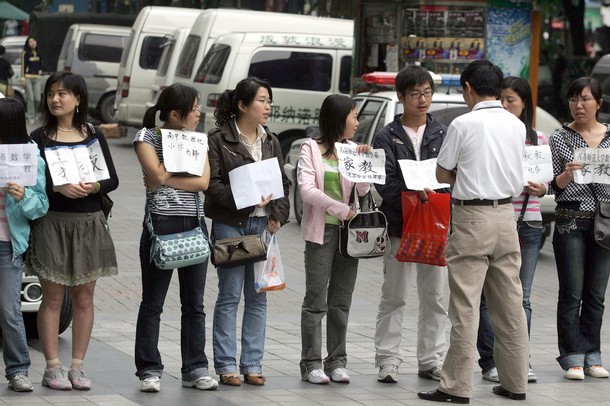 The "Economic Blue Paper," a report published by the Chinese Academy of Social Sciences (CASS) on December 2 (China Brief, December 8), stated there will be 6.1 million college graduates entering the job market in 2009, among those graduates some 30 percent to 40 percent—approximately 2 million—will be unable to find jobs (Ming Pao, December 15). One of the government's top priorities for addressing the current economic crisis will be to stabilize the haphazard job market, said Chinese Minister for Human Resources and Social Security Yin Weimin (People's Daily Online, November 24).
As the global economy continues to contract, it is being reported that over 67,000 small and medium-sized enterprises in China have gone bankrupt in the first half of 2008 (Ming Pao, December 15). According to Yin, the small and medium sized enterprises are the ones most hurt by the financial crisis and that the employment situation looks increasingly "grim" (Xinhua News Agency, November 24). In the first 10 months of 2008 a total of 10.2 million people lost their jobs, which is two percent more than the government's full-year projection. Moreover, the official urban unemployment rate could reach 4.5 percent by the end of 2008 and rise further in 2009 (AsiaNews, November 20).
Yet the severity of China's unemployment problem can not be adequately captured by the government data because the existing formula does not account for the hundreds of millions migrant laborers who make up a significant portion of China's urban labor market. This blind spot may create serious discrepancies in the government's policy responses (see Li Jianmin's article in this issue). In fact, Yin admitted that, "It is migrant workers who are affected most severely … but they are not included in our statistics" (AsiaNews, November 20).
The sprawling industrial bases along China's coastal regions have been one of the major engines of its economic miracle. These urban centers absorbed the country's rapidly increasing labor supply that has been the backbone of China's demographic dividends. The rising education level of the population coupled with the increased mobility of migrant laborers created a work force that complemented the demands of the global market. Millions of people as a result flocked to the cities for the economic opportunities created largely by export-led and predominantly foreign-owned industries—and for three decades the Chinese Communist Party (CCP) relied on this particular sector of its industrial base for its economic benefits. For a regime whose sole legitimacy rests on the party's ability to generate wealth for its growing population, pleasing its young and ambitious segment is becoming increasingly problematic in the global financial crisis.
Beijing is hedging its bets on the benevolent effects of its proposed $586 billion stimulus package. However, as China's industrial output slows down before these adjustments settle in the economy, a crumbling housing market and rising income gap, capped off with rising unemployment, is a sure recipe for the type of civil unrest that Beijing leaders have desperately tried to avoid.