Chinese 'Expansion' in Kyrgyzstan: Myth or Reality?
Publication: Eurasia Daily Monitor Volume: 9 Issue: 204
By: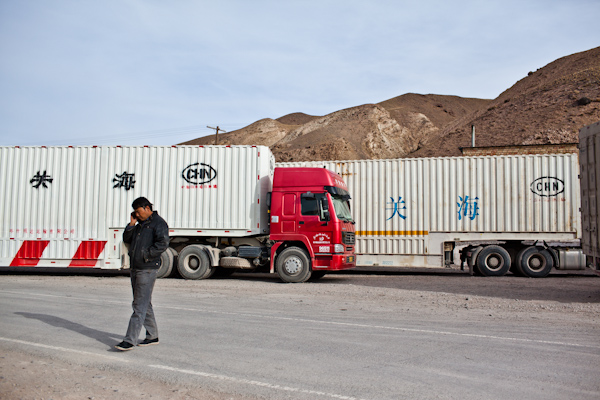 On October 22, about 450 villagers threatened to destroy the offices of the Chinese company Zijin Mining Group in the village of Orlovka in northern Chui province in Kyrgyzstan. The attack occurred after a villager's horse was killed by a staff member of the company. Approximately 250 Chinese workers were reportedly evacuated and Zijin Mining Group's Orlovka operations were suspended indefinitely (24kg.org, October 22).
The violence in Orlovka was not the first instance of violence against Chinese companies in Kyrgyzstan. In August 2011, some 300 locals beat up three Chinese miners at the Chinese-operated Solton-Sary gold mine in Naryn Province in northern Kyrgyzstan. Locals demanded the privatization of the gold mine to domestic companies (Kyrgyzstan newspaper "De facto," August 30, 2011).
China's economic "expansion" in Kyrgyzstan has been overwhelming. Almost all consumer goods sold in Kyrgyzstan are imported from China. One of the most popular professions in Kyrgyzstan is the so-called "chelnok," or a small trader who resells goods he has personally purchased in China. Chinese goods are sold in the Dordoi market in Bishkek and the Karasu market in Osh province in southern Kyrgyzstan. The Dordoi and Karasu markets are not just major shopping and employment centers for Kyrgyzstan, but also among the main entry points through which consumer goods from China are exported onward to shops and markets in Kazakhstan, Russia and Uzbekistan. According to estimates by Kyrgyzstan's research institute "Proekt Buduschego," the number of traders in Kyrgyzstan benefiting from re-exports of Chinese-origin goods has reached 800,000 (the total population is 5.5 million) (Kabar.kg, September 13). In addition, China exports scrap metal to the Kyrgyz Republic, and posters proclaiming, "Buy copper, bronze, aluminum," can be seen hanging all over cities in Kyrgyzstan. At the same time, human trafficking from Kyrgyzstan to China is a very big problem for this Central Asia republic. Many firms in Kyrgyzstan recruit local young women to travel to China and work as dancers in strip clubs and as prostitutes in Chinese brothels.
To date, Sino-Kyrgyz economic ties have grown mostly in the trade sector, while direct investment and financial cooperation remain insignificant. All investments of Chinese companies in Kyrgyzstan since 1991 total around $1 billion, mostly in the mining industry (Embassy of the Kyrgyz Republic in China, https://web87381.vhost056.cn/ru/content.asp?cid=279&id=175).
However, a more than $2 billion rail line is planned to run from Kashgar in China's Xinjiang Uyghur Autonomous Region, through Kyrgyzstan, to Andijan in Uzbekistan, where it would link up with Uzbekistan's rail network. But it remains unclear who will provide the investment needed to build Kyrgyzstan's stretch of the railway. Moreover, many Kyrgyz opposition nationalist parties remain emotionally averse to increasing the Chinese presence in the tiny country. Beijing has promised to finance Kyrgyzstan's stretch of the railroad if China is allowed access to a number of mineral deposits in the Central Asian country. But Kyrgyzstan's nationalist opposition parties have strongly protested against the "Resources for Investments" scheme, while Bishkek itself has wavered, officially stating that China's offer is unclear (24.kg, September 17).
No official statistics exist as to how many Chinese live in Kyrgyzstan. According to Kyrgyzstan's Minister of Justice Almambet Shykmamatov, around 90,000 Chinese reside there (24kg.org, March 6). This is a small proportion for a country with a population of 5.5 million. Towns in Kyrgyzstan do not feature ethnic Chinese neighborhoods, and Chinese migrants are difficult to locate in the country. Almost all traders at the Dordoi and Karasu markets are citizens of Kyrgyzstan. Many analysts estimate that the minister of justice overstates the number of Chinese workers living in Kyrgyzstan. According to the Chinese Ambassador to Kyrgyzstan Wang Kaiwen, the number of Chinese in Kyrgyzstan is not more than 8,000 (Pr.kg, November 1).
It is doubtful that many more Chinese citizens will move to Kyrgyzstan in the near future. Unlike Russians, the Chinese are afraid to live in Kyrgyzstan due to the bad criminal situation and a low standard of living in Kyrgyzstan (even compared to China). Moreover, after the violent incident in Orlovka, the head of the Chinese Chamber of Commerce in Kyrgyzstan, Li Deming, wrote in the English-language Global Times (linked to the Chinese Communist Party's People's Daily) that doing business in Kyrgyzstan is "not easy." According to Mr. Deming, "Chinese investors need to pay more attention to the country's political background, nationalism among the public, the government's credibility and administrative capability, social conflict, power imbalance between different interest groups as well as distribution of interests [which] are all factors that influence the security of foreign investors in this resources-rich country [Kyrgyzstan]." "The conflict between China's Zijin company and local people seems to be an isolated one, but it is also inevitable from a long-term perspective. If the Kyrgyz government doesn't [sic] fix its own problems, we can foresee more undesirable results from foreign resources projects," Deming concluded (Global Times, October 28).
Rhetoric aside, in reality, there are no serious systemic anti-Chinese and anti-Western sentiments among the Kyrgyz population, but nationalist parties actively use slogans calling for an end to the foreign "occupation" of the country to stir up their electorates. On October 3, Kyrgyzstan's opposition tried to capture the parliament building, where the office of the president and his administration are also located. The gathering was organized by leaders of the opposition party Ata Zhurt and parliament members Sadir Zhaparov and Kamchibek Tashiyev. About 500 demonstrators demanded the immediate nationalization of the Kumtor gold mine, which is owned by the Canadian mining company Centerra Gold, but were soon dispersed (see EDM, October 5).
In noting events such as the October 3 rally in Bishkek, it is important to understand that Kyrgyz demonstrators who protest against foreign companies often do not really care about the level of foreign presence in their republic. After the first "Tulip" revolution in 2005, political protests in the Kyrgyzstan were allegedly connected with organized crime networks jockeying for power. And attacks against foreign as well as local companies have often been organized by local criminal leaders vying for control over these businesses or looking to extort money for "protecting" these companies (Kyrgyzstan newspaper "De facto," August 30, 2011). Most participants in these rallies are unemployed people who are reportedly paid by its organizers. According to Bishkek-based human rights expert Toktaim Umatalieva, a participant of a rally "earns" $10–15 (Deutsche Welle, February 17, 2011).
Although Kyrgyzstan's population does not intrinsically hold strong xenophobic views, nevertheless the prevalence of incidents of politically and criminally motivated rallies against foreign businesses significantly harms the Central Asian republic's investment climate. In this situation, it is becoming doubtful that Chinese companies will decide to make further significant direct investments into Kyrgyzstan's economy in light of the country's ongoing instability.