Putin Has Fired His Defense Minister
Publication: Eurasia Daily Monitor Volume: 9 Issue: 205
By: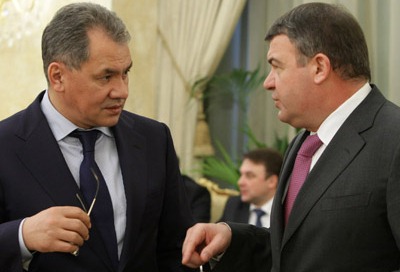 On November 6, President Vladimir Putin sacked Defense Minister Anatoly Serdyukov (50), replacing him with Sergei Shoigu (57), who was appointed governor of the Moscow region last May after serving for more than 20 years as chief of Russia's Emergency Situations Ministry (Ministerstvo po Chrezvychaynym Sytuatsyam or MChS). Shoigu, a low-level Communist Party official before 1991, was promoted to emergency chief by President Boris Yeltsin in 1991. Shoigu has been one of the most popular ministers in multiple governments under Yeltsin and Putin. The MChS is a militarized institution, and Shoigu eventually was promoted to the rank of Army General (four stars). This week, Putin reinstated Shoigu into active service. So today Russia once again has a defense minister in uniform—the first time since 2001 (Interfax, November 7).
Serdyukov has been ousted as a result of an investigation of corruption in the defense ministry–controlled holding company "Oboronservis" (see EDM, October 25, November 1). Russia's Investigation Committee (Slyedstvenny Kommitet Rossye—SKR) has accused defense ministry and "Oboronservis" officials of defrauding the federal budget of "over three billion rubles" ($100 million) through fraudulent real estate deals. According to the SKR, former state-owned real estate was sold under the counter at knock-down prices to members of an organized criminal ring (Interfax, November 8). Three persons have been already arrested in the "Oboronservis" investigation. Eugenia Vasilyeva (33), a former top defense ministry official closely associated with Serdyukov, is under investigation. Vasilyeva owns an apartment in a posh condominium in central Moscow where Serdyukov also has a flat. The Moscow press is full of rumors that Serdyukov and Vasilyeva are having an extra-marital affair, and this affiliation has been one of the main reasons Putin decided to ditch Serdyukov (Vedomosti, November 7). Last week, investigators searched Vasilyeva's apartment and reportedly confiscated a bounty of jewelry, paintings and cash allegedly worth $10 million. It is also claimed that Serdyukov was present during the search and that Vasilyeva told investigators some of the confiscated valuables "were presents from Serdyukov" (Kommersant, November 7).
Rumors in the Moscow press alleged that Serdyukov helped Vasilyeva escape from Russia. Later, the SKR announced that Vasilyeva was discovered in a military hospital in Moscow, "is under surveillance and will be interrogated as soon as she is fit" (Interfax, November 8). In a further bizarre twist, it was rumored that Vasilyeva is pregnant with Serdyukov's child.
Serdyukov, a businessman from St. Petersburg, entered the inner circle of power in Russia, through his second marriage with Julia—the daughter of Putin's old-time associate and prime minister in 2007–2008, Victor Zubkov. The marriage breakdown apparently isolated Serdyukov, who in the course of a radical military reform that began in 2008, has made himself multiple powerful enemies in the ruling Moscow nomenclature. Prime Minister Dmitry Medvedev; the present chief of Putin's presidential administration, Sergei Ivanov; the vice prime minister in charge of the defense industry, Dmitry Rogozin; Putin's old-time KGB buddy, arms industry and trade tycoon Sergei Chemezov; the Finance Ministry; the Federal Security Service (FSB—former KGB); the tax service—all have been listed as contributors to Serdyukov's downfall (Vedomosti, November 7).
Serdyukov seems to have virtually no friends left, and his ouster was reportedly greeted with overall glee within the ranks of the military. Many in the military disliked Serdyukov and the reforms he initiated—even those who apparently benefited from them. Serdyukov trimmed the Russian military in size, introduced a structure of brigades instead of clumsy divisions and regiments, as well as tried to improve service conditions and increase pay. But the lack of well-trained sergeants, deficiencies in the officer corps, along with the deficit of well-motivated and able conscript and contract solders have seriously undermined the actual battle readiness and capabilities of the newly formed army brigades (Kommersant, November 7). This year's servicemen pay hikes tuned to be out much less lavish than anticipated, since they were coupled with the cutting of different additional bonuses (VPK, November 7). An ambitious rearmament program has been constantly running into technical glitches and confrontation over the disbursement of massive budget funds between Serdyukov and Rogozin.
Putin and Medvedev have praised Serdyukov's reform efforts as he was ousted. Putin ordered Shoigu to continue the reform and rearmament, while Medvedev called for the "Oboronservis" investigation to continue (Interfax, November 6). Serdyukov's ouster did not stop the public campaign against him in the Kremlin-controlled press and state TV channels. Putin's support of Serdyukov has been undermined, and a coalition of multiple enemies seems to be pressing on to fully destroy the disgraced minister. There is a distinct possibility criminal charges may be pressed against Serdyukov, and even a public anti-corruption show trail is feasible (Kommersant, November 7).
Serdyukov drastically changed the composition of the defense ministry, increasing the number of civilian employees from 13 to 46 percent (Kommersant, November 7). This may now be reversed together with other reforms, since the top civilian officials Serdyukov has promoted are those accused of theft. The appointment of Shoigu will inevitably lead to drastic changes in the top military leadership too, since in Russia (as in many other authoritarian nations) there is no serious practical difference between political and career (uniform) appointees. Russia's top general—the first deputy defense minister and chief of the general staff, Nikolai Makarov, who was driving Serdyukov's drastic reorganization of the military—will apparently go soon as well. Makarov's replacement, as is the custom in Russia, will appoint his own trusted cohorts; they will bring in their own buddies—and so on down the defense ministry ranks to the bottom. A change of defense minister and chief of the general staff in Moscow is like a new administration coming into Washington. Shoigu is also bringing in his own men from the MChS as well as the Moscow region administration and is distancing himself from the Serdyukov legacy (Kommersant, November 8).
The change of guard in the defense ministry may take many months to complete, and this delay will gravely paralyze decision making as middle-ranking officials continue to guess: will they be ousted, posted to garrisons outside of Moscow or arrested? Shoigu will face the daunting task of solving the serious problems of undermanning, overall backwardness and inefficiency of the Russian military. Still, Shoigu has the advantage of being an experienced and highly popular politician. The new defense minister seems to have the support of Putin, the uniform military and the general public to try once again to reshape Russia's battered armed forces.