Chinese Pawns on the Kazakh Political Chessboard: Masimov Versus Kulibayev?
Publication: Eurasia Daily Monitor Volume: 8 Issue: 94
By: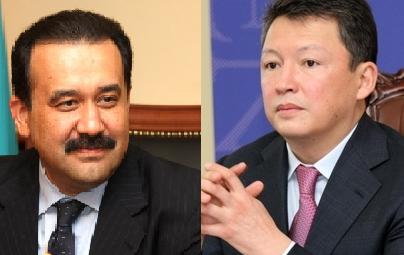 Although Nursultan Nazarbayev, during his election campaign vowed to stay at the helm as long as his health permits, in the corridors of power the undercurrent wrangling for the crown of the 70 year old ruler seems to be already underway. Nazarbayev, who has no son to succeed him according to the tradition adopted by the autocratic regimes of Central Asia, has always remained taciturn on the subject while keeping his entourage in constant suspense. However, Nazarbayev made important appointments immediately after his re-election.
Among the appointees, two powerful figures – Prime Minister Karim Masimov, who remained in his post, and Timur Kulibayev, the notorious presidential son-in-law, appointed to head the Samruk-Kazyna national welfare foundation – deserve closer scrutiny. Some analysts regard them as most likely successors of the aged Nazarbayev (Zhas Alash, April 26).
Timur Kulibayev, 44, keeps a low profile among the political elite. He never showed genuine interest in political matters. But he belongs to Nazarbayev's family, and was brought into the limelight thanks to support for his dazzling career from Nursultan Nazarbayev. The estimated family wealth of Timur Kulibayev and his wife Dinara Nazarbayeva, according to Forbes magazine, stands at $5.4 billion. Samruk Kazyna, with around $40 billion, controls KazMunaiGas oil and gas company, national railways, ENPC Aluminum Corporation, Kazatomprom uranium industry and a dozen other lucrative branches. But Kulibayev's image has been irreparably damaged by scandalous corruption stories. In 2009, Mukhtar Ablyazov, the former head of Kazakhstan's BTA Bank, publicly accused him of taking a $165 million bribe from the Chinese CNPC Exploration and Development Company, Ltd., for assisting in the purchase of the state-controlled shares in Aktobemunaigaz, the leading Kazakh oil and gas company at a lower price. In an opaque deal with the Chinese investors, Kulibayev acquired 41 percent shares in Aktobemunaigaz (Respublika, March 15).
Unlike Timur Kulibayev, the Chinese-educated Karim Masimov was never involved in corruption scandals, but he is also known as a dark horse in the court with strong links to Beijing. From 1997 to 2000 he managed the Halyk Bank, controlled by Timur Kulibayev. Prior to that he worked as a trade representative of Kazakhstan in China, and reportedly helped some top officials in Kazakhstan place their assets on Hong Kong stock markets. Masimov played a key role in setting up the Kazakh-Chinese Foundation to accelerate the materialization of a $5 billion investment project within the framework of the bilateral agreement signed by Nazarbayev and Hu Jintao in December 2006 on the construction of a gas pipeline from western Kazakhstan to eastern China.
After he took the post of prime minister in 2007, Karim Masimov accentuated the Chinese direction of foreign trade and economic ties. He spearheaded joint information and telecommunications projects and initiated the opening of trade representations of Kazakhstan in Urumchi, Beijing and Hong Kong.
When Chinese oil companies made their first cautious steps in Kazakhstan, with the Chinese National Petroleum Company (CNPC) purchasing 60 percent shares in Aktobemunaigaz their activities were limited to Aktobe region. The Chinese company delayed the fulfillment of its obligations to invest $4 billion in the planned construction of a pipeline from western Kazakhstan to China and reconstruction of the facilities in Uzenmunaigaz oilfield. On March 21, 2001, the Kazakh government issued a decree offering 25 percent shares in Aktobemunaigaz to American Access Industries. But the contract with Access Industries was cancelled after Nazarbayev's visit to Beijing in December, 2002. Since 2003, Chinese oil companies expanded their operations in Atyrau, Mangistau, Kyzylorda regions. Today, China accounts for nearly 30 percent of the overall production of oil and gas condensate in Kazakhstan. But more significant is that the consolidation of the Chinese presence in the oil and gas sector was accompanied by growing pressure on western companies from the Kazakh government (Respublika, March 15).
In 2010, Kazakhstan delivered 10 million tons of oil to China. This year Kazakhstan's KazTransOil oil shipping company plans to reach the target of 11 million tons, increasing the figure by 2013 to 20 million tons (OKO, May 3).
The growing Chinese economic appetite increasingly alarms Kazakhstan's public. Very few doubt that some senior government officials lobby Chinese interests to the detriment of the national economy. Nazarbayev repeatedly spoke out in favor of stronger economic ties with China and the Kulibayev – Masimov tandem proved to be a reliable vehicle in implementing the policy which pleases Beijing. The tandem of Masimov and Kulibayev if they are to succeed Nazarbayev, have already prepared solid grounds to reach that goal. During the cabinet reshuffle following his re-appointment, Karim Masimov ousted many of his would-be opponents in the government, shifting them to minor positions or evicting them from office in the wave of an anti-corruption campaign. But he obviously cannot oust his main opponent, Timur Kulibayev, so easily.