Chinese Workers in Russian Far East Attack Rosneft Offices
Publication: Eurasia Daily Monitor Volume: 18 Issue: 176
By: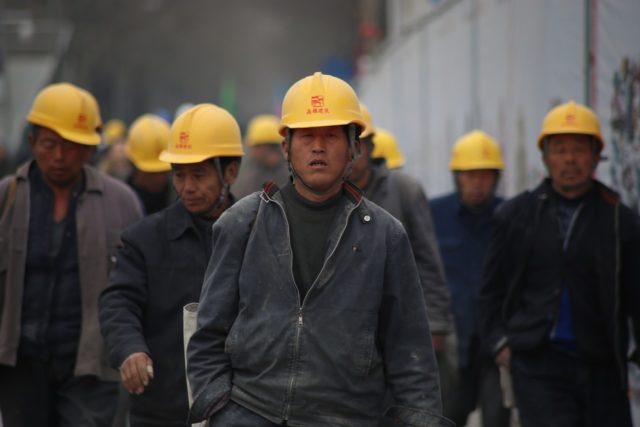 For the third time since the beginning of October, Chinese employees of the Russian state-owned oil giant Rosneft came out to protest. Their grievances include the failures of that company to pay them in a timely fashion, to assist those whose positions have been eliminated, and to permit those unhappy with their situation in Russia to return to China. This time (November 12), more than 50 Chinese laborers broke windows of the Rosneft offices in Komsomolsk-na-Amure and then attempted to march through the streets of the Russian Far East city before being stopped by local police. Rosneft has responded by saying that the Chinese who were not paid simply had not done their jobs. Moreover, the energy producer asserts it has been compensating those who were dismissed from their positions 10,000 rubles ($140) a month in subsidies. The corporation insists it can do nothing about the return of the Chinese to their homeland because the border between the Russian Federation and the Chinese People's Republic (PRC) is now closed due to the pandemic (Ekho Moskvy, November 12).
Both the company and Russian officials have played down this clash, arguing that no more than 70 of the 700 Chinese workers in the city were involved in the latest demonstration. They also insist that the numbers taking part in or supporting the protest have fallen over subsequent weeks and that the situation is completely under control. Officials have relied on the distance of Komsomolsk-na-Amure from Moscow (over 3,700 miles) to keep media coverage to a minimum (Russian Monitor, Sibir Realiy, November 12; AMUR Press, November 6). However, the willingness of even relatively few Chinese workers to protest highlights growing problems between the Chinese and their Russian employers—problems that independent media and bloggers in the already restive Russian Far East are increasingly highlighting. They suggest that Chinese labor protests are about the defense of the labor rights of all workers in the region (Moskovsky Komsomolets, November 14).
Moreover, these protests call attention to three larger issues, each of which presents an increasingly serious problem for Moscow: 1) the deteriorating relationship between Chinese workers in Russia on the one hand and the ever more hostile local Russian population on the other hand, 2) the growing anger among Far Easterners toward Moscow because of the center's support for Chinese workers in their region, and 3) the risks such tensions pose for cooperation between Moscow and Beijing at the geopolitical level. The last may be the only aspect of this situation President Vladimir Putin cares about; but if tensions between Chinese migrant workers and the population of the Russian Far East and Siberia continue to grow, it will be far more difficult for him to maintain his alliance with an increasingly assertive PRC.
Russians east of the Urals have never been pleased with the influx of Chinese workers into their region. The exact number of migrant workers is in dispute, but it is certainly in the hundreds of thousands. Most of these workers freely moved back and forth across the border until the pandemic trapped them in Russia (see EDM, March 17, 2020). Not only are these Chinese workers commonly paid more than the locals and enjoy virtual extraterritorial status, but they often display a kind of arrogance that infuriates the Russians. Moscow has reportedly compounded this problem by firing local and regional officials who have tried to limit the number of Chinese workers in Russia, leading some in the Far East to conclude that the two imperial capitals are cooperating at their expense (Region Expert, September 17, 2019; Kasparov.ru, January 9, 2020). As a result, the Russian center has lost one of its favored means of keeping regionalism east of the Urals in check: it cannot talk about a Chinese threat when it is cooperating with Beijing to bring Chinese workers and their families into Russia (see EDM, June 26, 2018; Region Expert, May 21, 2021).
But far and away the most serious consequence of these protests is the likely reaction of the PRC government. Beijing is certain to be anything but happy about what is going on with its workers in Russia, although it can be counted on not to play up the issue publicly lest it affect its own population. It has long entrusted Moscow with ensuring that the Chinese are protected. If Moscow cannot guarantee that—and these protests raise questions about its ability to do so—then at least some in Beijing are going to begin to ask questions about their relationship with Russia. Some may even insist that if the Russian authorities are incapable of maintaining order on their own territory, then perhaps "private Chinese security companies" could do the job, which is something for which China has argued in Central Asia (see EDM, March 25). For Russia, such a step would be truly humiliating. But unless Moscow can end these Chinese labor protests in Russian cities and do so in ways that do not further anger Russians, such a bitter pill may be one that Moscow will have to swallow.