CLASHES WITH PKK CONTINUE AS TURKEY PREPARES ECONOMIC SANCTIONS AGAINST IRAQI KURDS
Publication: Eurasia Daily Monitor Volume: 4 Issue: 198
By: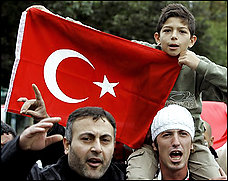 As Turkey presses ahead with the military buildup on its border with Iraq, the Turkish media are continuing to report clashes between the security forces and militants of the Kurdistan Workers' Party (PKK).
A group of around 80-100 PKK militants reportedly infiltrated Turkey from northern Iraq on the evening of October 23 in preparation for a mass attack on a gendarmerie outpost similar to the one on October 21 that resulted in 12 Turkish soldiers being killed and another eight being taken prisoner (see EDM, October 22). Turkish press reports suggest that a gendarmerie unit stationed in Yesilova, Hakkari province, detected the PKK militants on thermal imaging devices as they crossed the border and called in tank and artillery fire, forcing the militants to withdraw back into Iraq. Turkish military sources claim that the PKK suffered up to 30 casualties, although the figure has not been independently confirmed (Dogan Haber Ajansi, Anadolu Ajansi, October 24).
News of the latest attack came hours after Turkey's National Security Council (NSC), which brings together leading members of the civilian government and the country's security establishment, concluded a six-hour meeting yesterday by issuing a statement calling for Turkey to apply economic sanctions against northern Iraq. The statement did not go into details, although the Turkish media has quoted unnamed government sources as saying that the sanctions will include cutting supplies of electricity to northern Iraq and closing the Habur border gate. Habur is currently the main conduit for foreign trade in and out of northern Iraq. Turkish government officials insist that the sanctions were directed against the Kurdistan Regional Government (KRG), led by Massoud Barzani, which effectively governs northern Iraq and which Turkey has long accused of actively tolerating the presence of PKK camps in the territory under its control. Levies on trucks and tankers transiting Habur generate an estimated $300 million in annual revenue for the KRG (Referans, Radikal, October 25).
The Turkish media has reported that, rather than severing its economic ties with Iraq as a whole, Turkey is planning to bypass the north of the country by channeling trade through Syria. The plan was reportedly first discussed during an official visit to Turkey by Syrian President Bashar Assad in early October (see EDM, October 17). Turkish Foreign Trade Minister Kursad Tuzmen has already held meetings with Turkish companies that trade with Iraq to reassure them that they will be compensated for the additional expenses involved (Milliyet, October 25). However, it remains unclear whether Turkey's border crossings with Syria will be able to handle the extra volume. In the first eight months of 2007, a total of 360,000 vehicles entered or exited Iraq through the Habur border gate, compared with 387,000 in all of 2006 (Referans, October 25). More critically, a substantial volume of non-lethal supplies for the U.S. forces in Iraq currently passes through the Habur border gate. It is currently unclear whether Turkey will be prepared to make an exception or whether it will also insist that U.S. supplies are rerouted.
In the first eight months of 2007 Turkish exports to Iraq totaled $1.8 billion, compared with $2.6 billion in all of 2007. Iraq currently imports more goods from Turkey than from any other country except Syria (Radikal, October 25).
Business associations in southeast Turkey have once again voiced their opposition to economic sanctions against northern Iraq, arguing that they hurt local small businesses. "If Habur is closed, the economy of southeast Turkey will collapse," said Zafer Ersoy, chairman of the Adiyaman Chamber of Trade and Commerce. "A lot of people have taken out loans to buy trucks and tankers. The banks will turn into truck graveyards" (Radikal, October 25).
But as public protests continue across the country, the Turkish government remains under intense pressure to apply economic sanctions as well as launch a military strike at the PKK camps in the Qandil Mountains of northern Iraq (Hurriyet, Yeni Cag, October 25).
On October 23 the ruling Justice and Development Party (AKP) imposed a ban on domestic television and radio channels broadcasting coverage of the aftermath of the attacks of October 21, claiming that they were "depressing public morale." But opposition parties have accused the AKP of attempting to censor explicit or implicit criticism of its handling of the resultant crisis (Hurriyet, Milliyet, Sabah, Vatan, October 24). For reasons that are obscure, the ban has not been extended to Turkish newspapers, many of which continue to adopt a stridently nationalist tone that often verges on jingoism.
Nevertheless, a handful of journalists have warned that economic sanctions against the Iraqi Kurds could eventually backfire. In his column in the moderate Islamist newspaper Today's Zaman, Ihsan Dagi commented that many Iraqi Kurds believe that Turkey's recent saber-rattling is designed as much to prevent them from eventually forming their own independent Kurdish state in northern Iraq as it is to eradicate the PKK. He added that the accusations were not without foundation, as Turkey has long warned that it will never tolerate an independent Kurdish state in the region; not least because it fears that it would fuel separatist sentiments among its own restive Kurdish minority. But Dagi warned that alienating the Iraqi Kurds by imposing economic sanctions could ultimately accelerate the process. "Any attempt to build a nation requires an external 'other'," he wrote. "Turkey is turning into the other against which Kurdishness and Kurdish nationalism are defined in northern Iraq" (Today's Zaman, October 25).