GEORGIAN RADICAL OPPOSITION FANCYING REGIME CHANGE
Publication: Eurasia Daily Monitor Volume: 4 Issue: 199
By: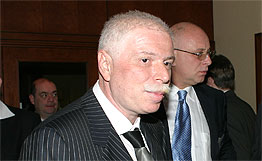 Georgian opposition parties held demonstrations last week and this in Kutaisi and Batumi, respectively, and plan a mass protest rally in Tbilisi for November 2 during a high-level international gathering hosted by President Mikheil Saakashvili. This is the first wave of protest rallies since Georgia's 2003 Rose Revolution for regime change.
The opposition consists of a dozen small and splinter parties, most of them not represented in the parliament. Most of these are grouped under a "United Opposition" umbrella, but their leaders hold divergent views and compete with each other for primacy. Two other parties, New Right and Industry will Save Georgia, holding a few parliamentary seats, are aligned with the opposition but are not part of the United Opposition. The parliament is heavily dominated by the National Movement and Democrats, led respectively by Saakashvili and Parliament Chair Nino Burjanadze since the Rose Revolution.
The billionaire Georgian businessman Badri Patarkatsishvili has indicated his readiness to bankroll parts of this opposition. According to him, Saakashvili has "strayed farther and farther from my ideals [of] independence, territorial integrity, democracy. Georgia must strengthen its political independence through economic independence." This formula would seem to cover an intent to begin shifting Georgia from a Western to a two-vector orientation, as Patarkatsishvili's statement goes on to imply: "The United States is friendly but far away; Russia is aggressive but close by; and Georgia faces energy problems. All this must be taken into account. Euro-Atlantic integration is in the interest of the Georgian people, but this should not be done to spite somebody."
Patarkatsishvili suggests turning Georgia into a federation and changing its political system to a parliamentary republic in the short term, then consider establishing a constitutional monarchy. He is not someone who could fail to appreciate the potential for turmoil inherent in these recommendations, given the existing circumstances in Georgia. Patarkatsishvili's maneuvers seem as obscure as those of his close ally, Boris Berezovsky, whom Patarkatsishvili has joined this month in London. Patarkatsishvili has resigned as head of the Georgian Businessmen's Federation (one of several business associations in the country) in order to run for elective office (Georgia Today, October 25).
The opposition's current rallying cry is, "Georgia Without a President." Most of these parties now say that they favor a constitutional monarchy, with a transitional stage in the form of a parliamentary republic to usher in the restoration of the monarchy.
Their specific, immediate political demands include: a lower threshold of parliamentary representation for parties; broader representation of the opposition in electoral commissions; bringing the parliamentary elections forward to the spring 2008, instead of the fourth quarter of 2008; additional guarantees for independence of the judiciary; an end to "shakedowns of business," with compensation for assets expropriated from their owners; release of "political prisoners," immediate withdrawal of Georgia from the Commonwealth of Independent States, and fulfillment of Georgia's commitments to integration in Euro-Atlantic institutions. Most opposition parties say that, while NATO membership is important, so are good relations with Russia.
For their part, the president and the governing majority are offering to: lower the threshold of parliamentary representation from 7% to 5%; restrict the presidential prerogative to dissolve the parliament; prolong the parliament's term from four to five years, so as to hold parliamentary and presidential elections simultaneously; and create an anti-corruption commission, accountable to the president and the parliamentary chair, to oversee the government's activities. Some of the other points are almost certainly susceptible of discussion.
Georgia is not known to have political prisoners in the generally understood meaning of that term. The apparent nominee for that status is former politician Irakli Batiashvili, who is serving a seven-year prison term for having repeatedly encouraged Svan chieftain Emzar Kvitsiani by telephone to launch an armed rebellion against Georgian police in Upper Abkhazia in 2006. The opposition's point about "shakedowns" mainly refers to the government's tactic in 2004–2006 to make out-of-court settlements with the most egregiously corrupt businessmen/politicians: The suspects avoided prosecution by turning over the lion's share of their undeclared earnings. While short-circuiting due process, such out-of-court settlements expedited the recovery of lost revenue by the state budget at that time.
The opposition's most urgent demand is to hold parliamentary elections in April 2008, despite the constitutional amendment adopted earlier this year to hold the parliamentary and presidential election simultaneously, on a date to be set between October and December 2008. The opposition wants an accelerated timetable for the parliamentary election because the imminence of an election could hold the coalition together. Otherwise, this fractious coalition may not be able to continue for an entire year. It is unified against the governing party and head of state, rather than on a distinct and coherent vision for the country. It unrealistically proclaims regime change as a maximum goal. And, meanwhile, it seeks changes to the rules of the political game. A negotiated agreement with the majority party could help demarcate the responsible from the irresponsible groups in the colorful mix of the United Opposition.
(Rustavi-2 TV, Imedi TV, Civil Georgia, The Messenger, October 8–25)