Clinton Discusses Energy Independence in Bulgaria
Publication: Eurasia Daily Monitor Volume: 9 Issue: 26
By: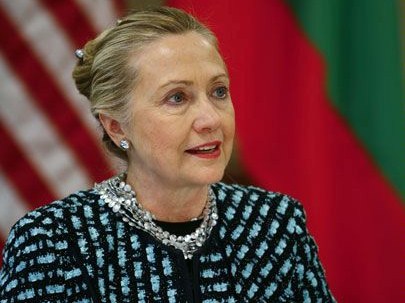 Bulgaria's energy security and independence were the key topics discussed by US Secretary of State Hillary Clinton with the Bulgarian government during her short visit to Sofia on February 5. She urged the Bulgarian government to break dependence on Russia by diversifying its energy supplies. Although both the Bulgarian Foreign Ministry and the US Embassy in Sofia presented the high-level official visit as routine, the local media noted that Clinton arrived in Sofia just two weeks after the Bulgarian parliament adopted a controversial moratorium on shale gas exploration under public pressure from environmental groups (Trud; 24 Hours; Standard; Capital Daily, February 6).
Following the moratorium, the American oil company Chevron lost its permit to start exploration for shale gas in northeastern Bulgaria (EDM, January 24). Another American company, Transatlantic Petroleum, which discovered natural gas in northern Bulgaria at the end of 2011, is also affected by the moratorium that forbids hydraulic fracturing under pressure higher than 20 atmospheres (Capital Daily, January 29).
Analysts in Sofia have commented that Russian energy interests played a critical role in mobilizing environmental groups and shaping public opinion against shale gas exploration and American energy companies (24 Hours, February 6; dnesplus.bg, January 31). Bulgaria is almost fully dependent on Russia for its natural gas imports and largely relies on Russian oil imports. Along with the new South Stream gas pipeline, Russia wants to build a new nuclear power plant at Belene to solidify its grip on the Balkan energy market. Potential shale gas deposits in Bulgaria can be an alternative energy source and even transform the country's energy security.
However, Prime Minister Boyko Borissov defended his government's decision to impose a shale gas moratorium stating, after his meeting with Clinton, that protecting the environment was the first priority for Bulgaria. Clinton responded that the two countries are "partners in helping to advance Bulgaria's energy independence and security and in protecting the beautiful Bulgarian environment." She announced that the US special envoy for Eurasian Energy, Ambassador Richard Morningstar, would travel to Bulgaria the following week to hold expert discussions "about how we can be more helpful in protecting your environment and advancing your energy security goals" (Trud; 24 Hours; Duma; Capital Daily; state.gov, February 5). During their meeting, Borissov and Clinton agreed that the best specialists will be presenting the most modern shale gas technologies so that the Bulgarian public is well informed (Mediapool.bg, February 5).
While the interests of two big American investors are certainly of concern to the US administration, Clinton's remarks on energy security and independence should be seen in the broader context of European energy security. Newly-discovered shale gas deposits in Poland and potential shale gas discoveries in Bulgaria, Romania, and other countries in the region such as Ukraine, would not only help diversify energy sources, but could dramatically change the geo-politics of energy in Europe. The Bulgarian moratorium on shale gas production, following a similar French decision last year, can set a negative example for other European countries seeking energy diversity and security. Nonetheless, the plans of the Polish and Romanian governments to continue shale gas exploration remain unchanged.
Central and Eastern Europe's heavy dependence on Russian gas perpetuates Gazprom's monopoly, maintains exorbitantly high gas prices, and upholds the danger of political interference by the Kremlin. In addition, Gazprom is unable to meet Europe's demands for natural gas during severe weather. The company has admitted difficulties in supplying enough gas to European customers in the wake of the cold weather that swept the continent at the end of January and early February (Trud, February 6). Last week, the Bulgarian state distribution company Bulgartransgas announced that the quantities of gas delivered to the region were reduced by 30 percent. The Employers and Industrialists Confederation said that more companies are complaining of reduced or halted natural gas deliveries (Dnevnik, February 7).
The Bulgarian government has been under immense pressure by Moscow after its decision to withdraw from the Burgas-Alexandroupolis oil pipeline project in December 2011 (EDM, December 16). Immediately after Clinton left Sofia on Sunday, the Deputy Prime Minister Simeon Dyankov, together with the Minister of Economy and Energy Traicho Traikov and the Minister of Transportation Ivailo Moskovski, departed for Russia for talks on several energy projects: accelerating the South Stream pipeline, postponing NPP Belene for another three months, and negotiating a new gas supply contract with Gazprom (Trud, Dnevnik, February 6). The negotiations will be difficult with the Russian side seeking a bundled deal encompassing all three projects. Prime Minister Borissov already announced at his meeting with Clinton that NPP Belene will remain frozen, similar to shale gas exploration, until the Bulgarian public is convinced that the technology is safe and the project cost-effective (Capital Daily, February 5).

In the meantime, the center-right opposition party "Democrats for Strong Bulgaria" (DSB) asked President Rosen Plevneliev to discuss Bulgaria's energy security at the National Security Council session. DSB leader and former Prime Minister Ivan Kostov (1997-2001) stated that the country has been an object of increased diplomatic interest by Russia and the US regarding its energy sector. He insisted that the government does not bow to lobbying pressure when making the most important decisions such as building the new NPP Belene (Trud, February 6). On February 2, several parliamentarians with the center-right Blue Coalition have proposed to the National Assembly to lift the ban on hydro-fracturing while adopting legislative changes to ensure protection of the environment. They pointed out that the ban is also affecting conventional exploration for oil and gas in Bulgaria, leaving the country completely dependent on Gazprom (novinite.com, February 2).