Construction of Zangezur Corridor Underway Despite Some Remaining Disagreements
Publication: Eurasia Daily Monitor Volume: 19 Issue: 9
By: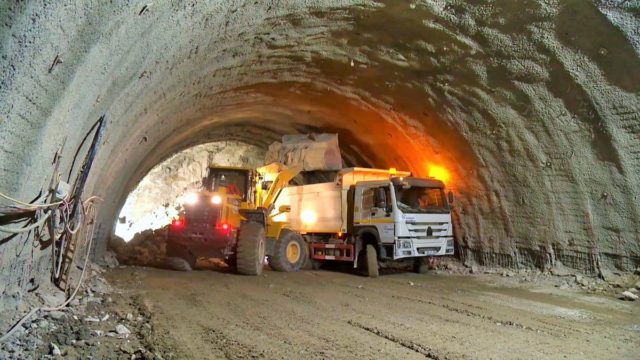 On January 17, the government of Armenian Prime Minister Nikol Pashinian appointed a ten-member working group to handle the reconstruction of the railway tracks connecting Yeraskh (Ararat province of Armenia) and the northwestern tip of Azerbaijan's Nakhchivan exclave (Arka.am, January 17). The group will also focus on building east-west rail lines between Nakhchivan and mainland Azerbaijan, across the Meghri sub-region of the southern Armenian province of Syunik. Azerbaijanis regularly refer to that latter transit route as the "Zangezur corridor," in reference to the historical name of the southern territories of Armenia. The news out of Yerevan came on the heels of a recent pair of Armenian-Azerbaijani summits, in Sochi (November 26—see EDM, December 1, 2021) and Brussels (December 14), where the two sides confirmed plans to proceed with the construction of the Yeraskh–Nakhchivan–Meghri–Horadiz railroad (Armradio.am, December 16, 2021).
The Armenian Ministry of the Economy, in December, presented some estimates as to the total funds required to reconstruct the above-mentioned railroads. According to Minister Vahan Kerobyan, a relatively small amount of money will be needed to connect Yeraskh with Iranian railways via Nakhchivan; but it may cost as much as $1.2 billion to rebuild a railroad from Nakhchivan through Meghri to Horadiz, a town in the recently liberated Fuzuli district of Azerbaijan (Arka.am, December 16, 2021). He did not disclose what sources either Armenia or Azerbaijan would draw on to finance the latter, more expensive project.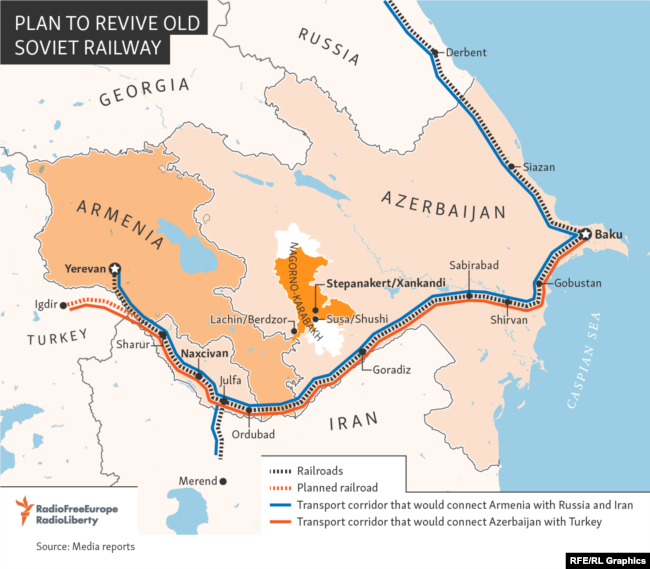 Meanwhile, Azerbaijan already started building its section of the railroad, from Horadiz to Agbend (the southwesternmost town in mainland Azerbaijan), as early as in February 2021 (see EDM, April 5, 2021). The reconstruction works along this section are in full swing at the moment. On January 25, 2022, Azerbaijan declared that 23 kilometers of railway had already been laid in this segment, which measures 110.4 kilometers in total, from Horadiz to the Armenian border in Agbend (Trend, January 25). Azerbaijani President Ilham Aliyev declared that his country would complete railroad construction along this route by the end of 2023 (Report.az, December 18, 2021). He is hopeful that Armenia will be able to make its section operational by that time.
Although initially rejected by the Armenian side (see EDM, May 24, 2021), it has now been confirmed that the Zangezur corridor may include an east-west highway link as well. On October 26, 2021, in the course of the visit of Turkish President Recep Tayyip Erdoğan to Karabakh, Azerbaijan announced the start of construction of a four-to-six-lane highway, from Horadiz to Agbend (123.6 km), that would be mainly carried out by Turkish companies (Azertag, October 26, 2021). The road project includes three tunnels (3,600 meters in total). As part of overall post-war reconstruction and development efforts, a combined 62 kilometers of tunnels is projected to be built throughout Azerbaijan's Karabakh region (Azertag, October 26, 2021).
Although the last few months saw several steps forward toward the realization of the Zangezur corridor, statements made by the leaders of the two countries in the aftermath of their European Union–mediated Brussels meeting (see above) highlighted some outstanding disagreements on the agenda. Essentially, although Baku and Yerevan officially agree on the reopening of railways and highways, they disagree on whether there should be customs and border controls at their border crossings.
This disagreement is seemingly only related to highways; according to Prime Minister Pashinian, both countries pledge to relaunch the railways based on internationally accepted border and customs regulations, on a reciprocal principle, under the sovereignty and authority of the respective countries (Armradio.am, December 24, 2021). And he insists that similar conditions be applied to the proposed motorway connection.
"The Armenian side will not agree to provide a road to Azerbaijan without customs control and duties," Pashinian stressed in late December, adding that these legal issues need to be settled first, before pondering technical details. He, however, highlighted that Armenia sees possible benefits in the construction of a road between mainland Azerbaijan and its Nakhchivan exclave, since it would likely also serve and tap into interregional transit utilizing the International North-South Transport Corridor project (Armradio.am, December 24, 2021).
Armenia's insistence on a border and customs regime along the motorway section of the Zangezur corridor dissatisfies Baku. President Aliyev insists that such restrictive regulations could be applied to the trans-Zangezur highway only if they are also applied to the Lachin corridor, which physically connects Armenia with Azerbaijan's Karabakh region under the temporary control of the Russian peacekeeping mission. "In [the] Trilateral Statement [dated November 10, 2020] it clearly says that Azerbaijan provides security and unimpeded access for [the] connection between Karabakh and Armenia, and Armenia should provide the same unimpeded access and security for connections between Azerbaijan and [the] Nakhchivan Autonomous Republic," he said a few hours before his meeting with Prime Minister Pashinian in Brussels, on December 14 (Trend, December 14, 2021).
No breakthrough has been announced yet by the sides in this dispute. The failure to reach an agreement on this issue was likely the reason why the Armenian-Azerbaijani-Russian working group, led by the countries' respective deputy prime ministers, could not, in the first week of December, publicize the results of the previous month's Sochi meeting (see EDM, December 1, 2021). It seems it will take more time and, likely, additional compromises for Baku and Yerevan to conclude a final agreement on trans-border highways. Yet the present positive atmosphere in the negotiations between Baku and Yerevan, as well as between Yerevan and Ankara (see EDM, January 24, 2022), suggests that an agreement may be possible sometime in the near future (Armenpress.am, January 24; Azertag.az, January 27).