COVID-19 Is Overwhelming Doctors and Economies in the North Caucasus
Publication: Eurasia Daily Monitor Volume: 17 Issue: 63
By: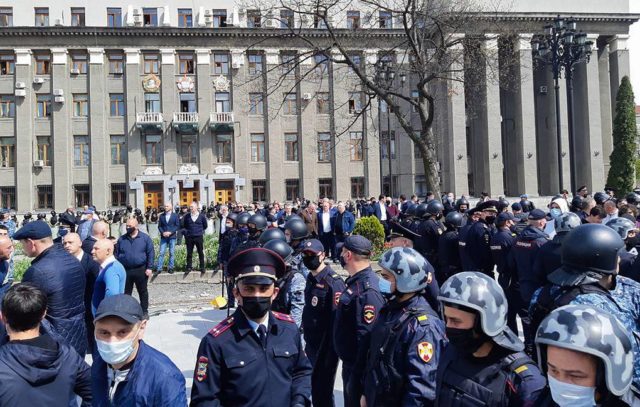 With nearly 2,000 officially confirmed COVID-19 cases, the Republic of Dagestan is currently the most badly hit territory in the North Caucasus. Furthermore, the republic has the fifth-largest number of cases in the Russian Federation. Some Dagestani municipalities report that they cannot cope with the inflow of new patients anymore. Authorities locked down the second-biggest city in the republic, Khasavyurt (population around 130,000) on May 3. Its main hospital has run out of capacity to receive new patients, as its existing 250 spaces have filled up. Doctors at the Khasavyurt medical facility say they are under extreme duress and cite a lack of recommended medications to treat patients with the novel coronavirus (Chernovik, May 4). Some municipalities in Dagestan have started charity campaigns to cope with the crisis. They say that the aid sent by the republican and Russian federal authorities is not sufficient (Novoe Delo, May 4).
Aina Gamzatova, the spouse of Dagestan's mufti (Muslim religious leader), appealed to the public to help the republic's hospitals. She, along with her family, was infected with the coronavirus and hospitalized in Makhachkala. Moreover, according to Gamzatova, her husband, mufti Akhmad Abdulayev (60), was most badly affected by the disease. She stated that hospitals in the Dagestani capital lack vital resources and medical machinery, such as tomographs, ventilators and other equipment (Novoe Delo, May 4).
Interestingly, local sources contend that Dagestani Salafis (adherents of so-called "unofficial Islam") quickly reacted to the wave of coronavirus infections hitting the region by stopping collective Friday prayer services, while Dagestani Sufis (representatives of "official Islam") were somewhat slower in suspending collective prayers (Maksim Shevchenko YouTube channel, May 3).
The unofficial list of medical workers who have died during the COVID-19 crisis in the Russian Federation included 9 names of doctors and nurses from Dagestan, out of a country-wide total of 101, as of May 4 (Spisok Pamyati). The total number of deaths in Dagestan, according to official information, is 14.
Dagestan's neighbors are no better off. Ingushetia has reported 25 deaths and nearly 1,000 coronavirus cases. An estimated 8 deaths and about 600 cases have been registered in Chechnya. Six deaths and over a thousand cases have been reported in North Ossetia (Kavkazsky Uzel, May 4). Since Dagestan (population around three million) is the largest republic in the North Caucasus, these smaller territories (Ingushetia, around 400,000; Chechnya, 1.4 million; North Ossetia, 700,000) are even worse off than Dagestan on per capita counts of deaths and spread of the new disease. Moreover, some observers in Dagestan think that the official numbers of coronavirus infections are inaccurate. For example, many people with pneumonia have not been counted toward the figure of infected people (Novoe Delo, May 4). Some sources have even claimed that "pneumonia" victims in Dagestan amount to as many as 200 people per week. Patients often are expected to pay for their own treatment. Local businesses had to join forces to buy equipment and medical supplies, including simple face masks, for hospitals (Maksim Shevchenko YouTube channel, May 3). A Dagestani newspaper provides evidence showing that, conspicuously, there are more patients in Dagestan diagnosed with pneumonia than with COVID-19 (Molodyozh Dagestana, May 4).
Along with the health crisis, the regional economy is also unraveling. Many residents of the North Caucasus have already lost their entire livelihoods, and some have resorted to desperate measures. On April 20, a large protest action took place in Vladikavkaz, North Ossetia (see EDM, April 30). Protesters demanded the resignation of the regional governor, the improvement of living conditions, and the release of an opposition leader. Authorities arrested scores of demonstrators but also promised to support the republic's most vulnerable families (Kavkazsky Uzel, May 4).
Next door, the notorious speaker of the Chechen parliament, Magomed Daudov, condemned the father of eight children for asking for help. The man found himself without work due to restrictions imposed in connection with the coronavirus. The official reprimanded the petitioner and told him to sell his car in order to "buy time" (Kavkazsky Uzel, May 3).
Instead of helping people to stay at home and avoid contagion, it appears that some republican governments in the North Caucasus have simply allowed residents to go about their business as normal. Regional authorities are stripped of resources to deliver any massive aid, and—unlike Ramzan Kadyrov in Chechnya—many of the republican leaders actually lack a sufficient local repressive apparatus to subdue brewing protests. So, to avoid a social explosion, other governors in the North Caucasus feign having adopted a self-isolation regime but do not really enforce it. For example, in Dagestan, all markets reportedly continue to function as normal (Maksim Shevchenko YouTube channel, May 3).
The Russian federal government has promised credits for small businesses (Abon, May 4). However, observers are skeptical that the Kremlin is going to support this sector in any meaningful way. Instead, the authorities appear to be energetically promoting a public relations campaign but with little actual infusion of funds (Valery Solovei Facebook page, May 4).
Low oil prices have purportedly forced Moscow to conserve resources for a rainy day. Though, many Russian analysts argue that the rainy day has already arrived, and the central government should begin to tap this money in order to help Russian citizens survive the growing crisis. So far at least, the North Caucasus region appears to have been left largely to its own devices, receiving little or no resources from the federal government beyond the pre-crisis subsidies. But if the economic situation persists much longer or continues to worsen, the regional governors could easily find themselves trapped between an indifferent or powerless Moscow and angry local residents. Some of these leaders will, thus, face a difficult choice: either siding with their constituents, suppressing the discontent or resigning.