Covid-19 Shines New Light on Kazakhstani-Chinese Tensions
Publication: Eurasia Daily Monitor Volume: 17 Issue: 63
By: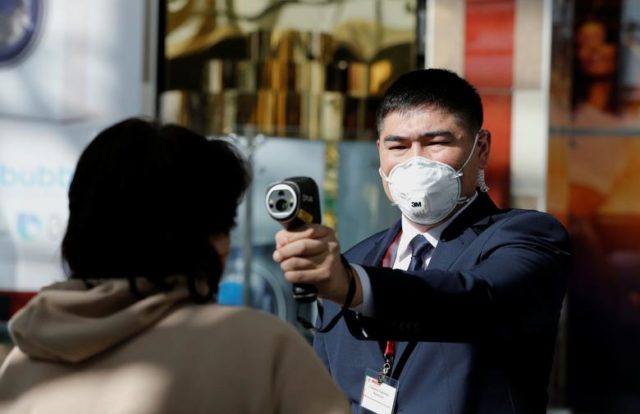 Kazakhstan was the first country in Central Asia to enact a state of emergency, effective March 16, in response to the COVID-19 pandemic. It was followed, on March 25, by Kyrgyzstan; while the other three regional states—Uzbekistan, Tajikistan and Turkmenistan—have yet to move in the same direction. Although official Kazakhstani statistics do not paint an outright gloomy domestic picture, with only around 4,170 people infected and some 30 dead, the government is seemingly aware of existing limitations in terms of assessing the real spread of the novel coronavirus in the absence of widespread testing and real-time diagnostics (Radio Azattyq, May 5; 24.kg, March 25; Akorda.kz, March 15).
Given that, by all credible accounts, COVID-19 originated in neighboring China, President Kassym-Jomart Tokayev's administration was quick to act to prevent the further spread of this highly contagious lung infections across the Kazakhstani-Chinese border. In late January, Kazakhstan suspended bus and air travel; as of February 6, it stopped receiving letters and parcels from China; and a month later, on March 8, it shuttered the state border altogether. In a further precautionary move, on March 30, Kazakhstan suspended 72-hour visa-free entry by Chinese (and Indian) travelers. These limited visa exemptions had been in place since April 2018 (Radio Azattyq, March 30; Forbes.kz, March 5; Interfax, February 6; Inform.kz, January 29; 24.kz, January 5).
Yet, from the beginning, in keeping with its multi-vector foreign policy and special relationship with China, Kazakhstan has refrained from using confrontational language or pinning the blame for COVID-19 on the alleged bad faith of Chinese authorities. China notably remains its second-largest trade partner, with $14.4 billion in trade turnover in 2019, compared with Russia's $19.6 billion. Instead, Nur-Sultan and Beijing took steps to show unity in the face of the pandemic (Kapital.kz, April 3).
In late March, Chinese President Xi Jinping pledged wider humanitarian assistance to Kazakhstan after initial deliveries of 13.6 tons of medical goods the month prior. In return, President Tokayev praised the "great potential" of Chinese medicine and the "high professionalism" of Chinese healthcare workers. He also reiterated his commitment to a strategic partnership. On April 2, Kazakhstan received a new batch of humanitarian aid. A week later, the country hosted a delegation of ten Chinese medical doctors sent as advisors to Kazakhstani health officials in several key cities (Azattyq Ryhy, April 10, 2; Regnum, March 25; Inform.kz, March 24).
Since the start of the health emergency, the perception of China among the Kazakhstani population had not visibly changed for worse until mid-April, when a diplomatic scandal broke out. The Kazakhstani Ministry of Foreign Affairs delivered a note of protest to the Chinese embassy over the publication by a little-known website of an article claiming Kazakhstan as part of China. The article alleged that numerous Kazakh tribes had historically pledged allegiance to Chinese emperors and that modern-day Kazakhstan was eager to return where it "belonged." Reacting to the angry criticism decrying the publication as contrary to the spirit of bilateral cooperation, the Chinese ambassador simply downplayed the public uproar. He wrote on Facebook: "Isn't it premature to assert that the author of the article is Chinese and that the government of China approves of it just because it was written in Mandarin and posted on a Chinese website?" (Informburo.kz, April 15; Dailynews.kz, April 14).
The Chinese-Kazakhstani relationship has never been entirely smooth, with Chinese economic influence, cross-border migration and foreign land ownership being principal stumbling blocks. The April incident effectively revived some of those old fears and shone the spotlight on underreported controversies. For instance, despite months of extensive Western reporting on Chinese "reeducation" camps for ethnic Uyghurs and other Central Asian ethnicities, including Kazakhs (such as a bombshell investigation by The New York Times, in November 2019), Kazakhstan's official posture remains that of profound skepticism. In an interview given last December, President Tokayev questioned the veracity of media reports about organized repressions directed at ethnic Kazakhs in Xinjiang and cautioned against implicating his country in an "anti-Chinese front" (Sputniknews.kz, Fergana.ru, December 4, 2019).
His comments, however, notably followed a bout of public protests against China in September–October 2019. Small groups of people initially took to the streets in the current capital Nur-Sultan, the former capital Almaty, and five regional capitals, as well as in the town of Zhanaozen, which witnessed bloody anti-government protests in December 2011. The demonstrators expressed discontent with previously unveiled plans to build some 55 Chinese factories throughout the country. Yet, those protests slowly petered out over a few weeks, never reaching the level or scale that might pose a tangible threat to domestic stability (Radio Azattyk, October 26, 2019; Currentime.tv, September 4, 2019).
Meanwhile, another controversy quickly regained steam in recent months. Since 2013, Central Reference Laboratory (CRL) in Almaty, funded by the United States Department of Defense and officially opened in 2016, has spawned thousands of conspiracy theory–laden articles in both Russian- and Kazakh-language media. The latest allegations purport to establish a connection between COVID-19 and the above laboratory's work on different pathogens, with a double objective to denounce the US's alleged interference in Kazakhstan's internal affairs and to blame it, rather than China, for the pandemic. Unsurprisingly, the latter theory was eagerly taken up by several Chinese websites as recently as April 2020 (Zonakz.net, April 1, 2020; Kapital.kz, December 26, 2013).
The online hysteria had reached such a level that, on May 2, the Kazakhstani foreign ministry had to deny rumors about the testing (allegedly with the help of US instructors) of biological weapons at the CRL. Nevertheless, it is still China, not the US, that remains most widely seen in Kazakhstan as a potential threat to its political and economic sovereignty, although the Kazakhstani government has thus far managed to keep tensions far from the boiling point. The Tokayev administration has no other option but to continue navigating between Russia, China and the wider West, all of which the country needs as partners or allies (Informburo.kz, May 2).