Looking Beyond China: Asian Actors in the Russian Arctic (Part One)
Publication: Eurasia Daily Monitor Volume: 17 Issue: 64
By: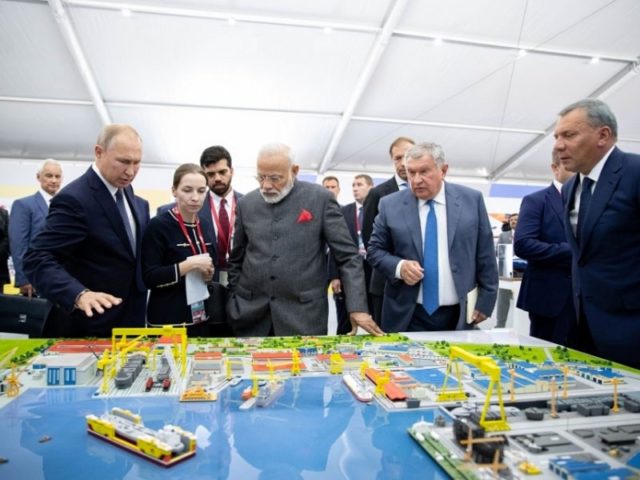 Among the non-Arctic states seeking partnership with Russia as a means to increase their presence in the northern polar region, China has become by far the most visible player (see EDM, May 20, 2019). Yet, other emerging actors—India and Japan—should be noted.
On January 14, Russian Foreign Minister Sergei Lavrov claimed that New Delhi and Moscow are tightening cooperation in the development of Arctic-based oil and natural gas projects (TASS, January 14). This information was confirmed by Indian Minister of Petroleum and Natural Gas Dharmendra Pradhan (Rambler.ru, January 15). Following these statements, Russian state-owned petroleum giant Rosneft concluded an agreement with Indian Oil, envisaging the latter's annual procurement of two million tons of crude from the Russian High North. Other Indian energy firms, including Hindustan Petroleum and Bharat Petroleum, were also reportedly negotiating contracts with Rosneft (Oilcapital.ru, January 22).
More far-reaching news arrived on February 5, when, following negotiations in New Delhi with Rosneft CEO Igor Sechin, Minister Pradhan announced that Indian companies would be joining the Vostok Oil extraction project (Interfax, January 13). Expected to begin operations in 2024 Vostok Oil (according to Rosneft) will be pivotal in transforming the Russian Arctic by contributing to the development of 15 new industry towns in the region, 2 airports and a seaport, as well creating at least 100,000 new jobs (Kremlin.ru, February 11). The main strategic advantage of this project is its geographic proximity to the Northern Sea Route (NSR)—Russia's much-hyped east-west maritime transportation corridor (under continued development), which hugs the country's Arctic coast and is anticipated to become an engine of Russian economic growth for decades to come (RIA Novosti, January 15).
The involvement of India in Vostok Oil was motivated by two important aspects. First, despite its geographic remoteness from the region, India is gradually becoming an important Arctic player in its own right. The first signs of interest emerged between 2007 and 2008, when India conducted its first scientific expedition to the Arctic and then established the Himadri Station at Svalbard. India managed to secure Observer status in the Arctic Council (AC) on May 12, 2013, an event celebrated as New Delhi's "Arctic victory." And in 2015, during his visit to Moscow, Indian Prime Minister Narendra Modi noted the strategic importance of India's presence in the AC, acknowledging the "high cooperative potential of Indian-Russian ties in the Arctic region" (Kremlin.ru, December 24, 2015). As a non-Arctic state—and thus unable to participate in local affairs unilaterally—but strategically interested in cultivating a regional presence, India will have to closely cooperate with Russia. Its involvement in the Vostok Oil project appears to underscore this approach.
Second, Indian interest in the Arctic region—initially limited to pursuing scientific research—is progressively acquiring visible geo-economic features. This trend is inseparable from Modi's strategic aim of achieving energy security for India through the diversification of energy suppliers. Russia, with its vast Arctic resources, is deemed one of the main elements of this Indian energy strategy. It acquired concrete shape between 2014 and 2018, when Indian corporations, including ONGC Videsh, and the political leaderships of the two countries signed a series of agreements/memoranda pertaining to the intensification of their partnership in the Arctic region via cooperation on oil and gas projects there (Goarctic.ru, February 28). The fifth Eastern Economic Forum (EEF), hosted in Vladivostok on September 4–6, 2019, became an important milestone, when the Russian side specifically "invited" the Indians to take part in its Arctic projects (see EDM, September 12, 2019). Importantly, several days prior to the summit, Pradhan argued that India is interested in establishing an "energy bridge" with Russia—an initiative premised on three main types of energy resources to be imported from Russia (1prime.ru, September 3, 2019):
– Oil (primarily concerned with Vankor-based oil deposits), which is to be managed by such Indian corporations as ОNGC, Oil India, Indian Oil Corporation as well as Bharat Petroresources.
– Liquefied natural gas (LNG—from Yamal-based deposits and the Arctic LNG-2 project), whose consumption in India has increased exponentially. Incidentally, Indian scholars have argued that for India to optimize its LNG consumption and import scheme, the country should study Chinese and German cooperation with Russia (J. Bhagwat, "Rossiya i India v Arktike: Neobkhodimost Bolshey Sinergii," Arctica i Sever, 2020, No 38, pp. 73–90).
– Coal (a strategically important commodity for the Indian steel industry), whose imports are to be managed by such Indian corporations as Tata, SAIL, NMDC and Jindal.
However, this excessively promising picture needs to be supplemented by several factors that could affect Russian-Indian cooperation in the High North going forward.
First is the sensitive issue of the "internationalization" of the Arctic. While Russia maintains that the Arctic must remain "for Arctic countries," India sees the region as a part of a global heritage (Roscongress.org, August 7, 2017). For Moscow, this narrative represents a strategic threat to its national interests.
Second is the "Chinese factor," premised on two pillars. On the one hand, India sees Chinese advancements into the region as a strategic threat: in addition to geo-economic and geopolitical calculations, growing Chinese activities there are likely to further pollute the Arctic and speed up adverse climactic changes with global repercussions that can be expected to have a detrimental effect on India. Moreover, India, which supports the denuclearization and demilitarization of the region, has serious concerns over potential Chinese attempts to increase its military involvement north of the Arctic Circle ("Aziatskiye igroki w Arktike: interesy, vozmoznosti, perspektivy," RIAC, 2016). On the other hand, India feels ill at ease with the development of the Northern Sea Route, which could dramatically diminish the role of the Indian Ocean as a transportation artery between East and West, and at the same time redraw the balance of power between India and China. Namely, a year-round functional NSR with sufficient capacity will remove New Delhi's ostensible ability at present to (in case of a bilateral conflict) block vessels to and from China passing through the Indian Ocean and the Straits of Malacca carrying strategically important resources and raw materials (Yana Leksutina, "Kitay i India v Arktike: Interesy, Strategii Sotrudnichestva z Rossiyey," Regionovedcheskiye Issledovaniya, 2019, No. 4).
Finally, despite Indian involvement in Russian-backed Arctic projects, New Delhi does not share Moscow's utilitarian stance on the Arctic due to the former's potential ecological and climate concerns. Furthermore, inexpensive oil, which seems to be the new long-term reality, could make India more cautious about investing in expensive Arctic oil or LNG projects.