Eastern Economic Forum Confirms Strong Foreign Interest in Russian Arctic Territories
Publication: Eurasia Daily Monitor Volume: 16 Issue: 124
By: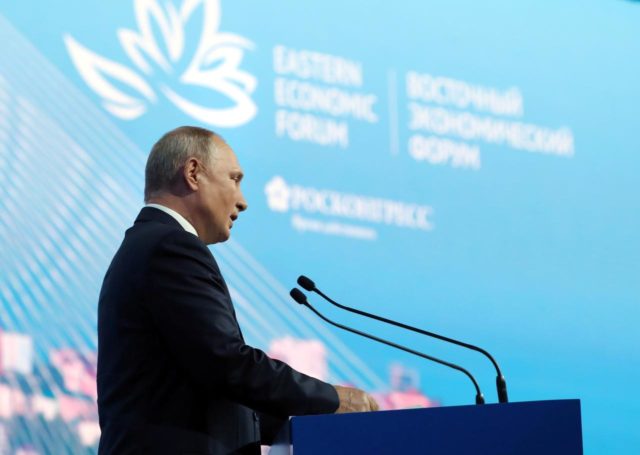 Russia declared the fifth Eastern Economic Forum (EEF), hosted in Vladivostok, on September 4–6, to have been the most "fruitful" since the event's creation: reportedly, 270 contracts were signed with foreign investors and 8,500 guests (from 65 countries, representing 440 global companies/businesses) attended the forum. Of these visitors, special attention should be paid to the leaders of Japan (Shinzō Abe), Malaysia (Mahathir Mohamad), Mongolia (Khaltmaagiin Battulga) and India (Narendra Modi, who visited the EEF for the first time) (Kommersant, September 6). Among the major issues raised at the event, significant consideration was paid to the Arctic region and economic projects in the Russian High North. In his speech, Vladimir Putin highlighted that Russia's Far East and the Arctic region, received $9.27 billion in investment, which has "put into operation 242 new plants [and] created more than 39,000 jobs" (TASS, September 5). Conspicuously absent from EEF 2019—in contrast to last year's event—was a particularly large delegation from China (see EDM, September 9); although it was explicitly pointed out that China remains the main foreign investor in Russia's High North and Far East (Rossyiskaya Gazeta, September 6). Nonetheless, the noticeable dearth of Chinese guests in Vladivostok encourages a closer look at the other foreign bidders apparently ready to join economic projects in the Far East and, most crucially, the Arctic region.
During last week's Eastern Economic Forum, India expressed the greatest interest in the Arctic, as noted by Boris Volkhonsky, from the Institute of Asian and African Countries at Lomonosov Moscow State University. The expert argued, "For India, one of the world's largest consumers of hydrocarbons […] the issue of diversification of supplies is very important," meaning the Russian Arctic shelf, which is endowed with petroleum and natural gas reserves, acquires a qualitatively new role in New Delhi's eyes. Volkhonsky also suggested that the pursuit of opportunities in the Arctic region influenced India's decision to become an observer in the Arctic Council "and, in general, [India] pays increasingly greater attention to the development of its projects in the Arctic region" (RT, September 3).
Indeed, the crisis in Venezuela and tensions over Iran have dramatically influenced the Indian economy, whose growth rate is currently 3 percent lower now than it was a year before (Newsworldcenter.ru, September 8). During the forum in Vladivostok, the Indian delegation voiced its readiness to open "an unprecedented special credit line worth $1 billion" to invest in the Russian Far East. Above all, Indian companies have reiterated their readiness to "increase the supply of Russian liquefied natural gas (LNG), in particular […] from future Novatek projects—Arctic LNG-2 and Arctic LNG-3." This was jointly confirmed by Russia's Minister of Energy Alexander Novak and India's Minister of Petroleum and Natural Gas Dharmendra Pradhan (TASS, August 31).
Aside from India, South Korea demonstrated interest in developing projects on the Arctic coastal shelf. Specifically, according to Deputy Prime Minister and Presidential Envoy to the Far Eastern Federal District Yuri Trutnev, Russia's Far East Investment and Export Agency and Korea's gas corporation Kogas reached an agreement to undertake potential joint projects in the High North, particularly in offshore operations (TASS, September 6).
Japan, for whom energy security is an integral element of maintaining national security, has also demonstrated a willingness to take part in some of these regional initiatives. For example, Japanese Mitsui Group (one of the world's largest corporate entities) restated its plans to participate in the Arctic LNG-2 project (set to commence in 2023), which, according to the Japanese side, will "ensure stable supplies of hydrocarbons to the Asian markets." Moreover, according to Leonid Mikhelson, the CEO of Novatek, Japanese investors are ready to participate in the Arctic LNG-1 project, as well. In turn, the head of the Russian state-owned oil giant Rosneft, Igor Sechin, assured that—aside from natural gas—Japanese enterprises are committed to invest large economic means in petroleum-related projects. All in all, 15 various prospective initiatives might include Japanese investors. The largest of these projects is the Vostok Oil complex, which will link the resource-endowed region of Krasnoyarsk Krai with the Northern Sea Route (Sevmorput, which skirts Russia's Arctic coast) (Kommersant, June 6).
Australia, too, showed its (limited, yet already visible) interest in investing in the Russian Arctic. Namely, Tigers Realm Coal, Ltd. (headquartered in Melbourne) pledged to invest in infrastructure in the Chukotka Autonomous Okrug. During the economic forum, "a trilateral cooperation agreement between Chukotka's government, Tigers Realm Coal, Ltd., and the Agency for Development of the Far East and Arctic" was signed. The agreement stipulates that "The company [Tigers Realm Coal] will eye renovation of the Beringovsky airport, will prepare a road between the seaport to the Beringovsky coal basin, [and] will build power-generating facilities at the coal field. A separate provision refers to broadband Internet access via a projected fiber-optic line to Chukotka." Chukotka's governor, Roman Kopin, corroborated this information and expressed his hopes that the involvement of the Australian side will not only bring new financial opportunities and Western experience and technologies but also make "the economy and life in the region more sustainable" (TASS, September 5).
Meanwhile, the Russian Far East looks poised to soon benefit from visible legal and legislative changes. Namely, the head of Sakha Republic (Yakutia), Aisen Nikolaev, hinted that by the end of 2019, the republic could receive a new strategy for the Arctic zone, which could create new opportunities for foreign investments (Rossyiskaya Gazeta, September 6).
Commenting on the results of the fifth Eastern Economic Forum, Russian conservative media outlets claimed that Russia has not only been able to withstand the "Western-inspired 'hybrid war [sic] but has also de facto initiated a process of shaping the world's current political agenda" (Zavtra.ru, September 8). Nevertheless, prior to the forum, Dmitry Kobylkin, Russia's minister of natural resources and ecology, warned against such excessive premature optimism. He noted that the country's own economic capabilities, as well as current oil prices, might discourage potential foreign investors from large investments in the future, since "everything that pertains to the Arctic is very expensive" (TASS, September 3). For now, however, EEF 2019 can probably be seen as at least a tactical victory for the Kremlin.