Looking Beyond China: Asian Actors in the Russian Arctic (Part Two)
Publication: Eurasia Daily Monitor Volume: 17 Issue: 68
By: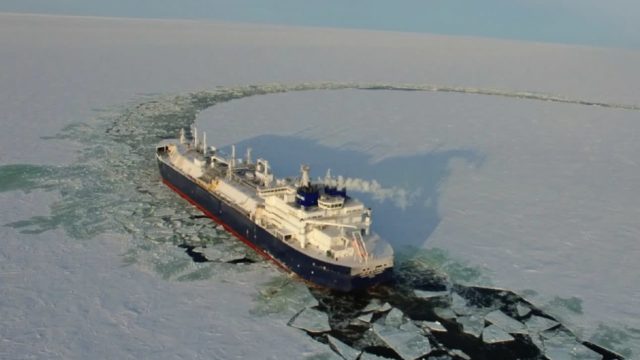 While China remains the most active player among non-Arctic nations, other Asian actors, such as India (see Part One in EDM, May 7) and Japan (the world`s third largest economy) are playing an increasingly visible role in this geo-economically and geopolitically vital region. In an article published by Inosmi.ru at the start of this year, the director of the Hokkaido Research Institute for the Twenty-First Century, Eisaku Nakamura, argues that Japan needs to increase its presence in the Arctic region by strengthening cooperation with Russia. Specifically, he notes that this could be achieved by building stronger subnational ties between Japanese Hokkaido and Russia`s Kamchatka Peninsula. If successful, this initiative could mark "the first year of [Japan's] great Arctic path" (Inosmi.ru, January 22).
Indeed, the past decade was marked by Japan`s active promotion of an Arctic agenda. In 2013, the country was granted permanent observer status in the Arctic Council (AC); whereas, in 2015, Tokyo released a government policy document articulating Japan's objective of achieving a leading role in the sustainable development of the Arctic region (Cao.go.jp, October 16, 2015). The "Arctic Policy of Japan" explicitly points to Tokyo's determination to use its scientific and technological potential to transform the country into a non-Arctic power. This, however, will remain unachievable without close cooperation with the Arctic states themselves, and Russia in particular.
Japan's interest in the Artic is effectively inseparable from Russia, premised on the following four main pillars:
The first issue of importance for Japan is realizing fast, inexpensive and safe transportation of goods and products between East Asia and Europe via through the Northeast Passage (NEP)—a maritime route that crosses the Bering Strait and importantly hugs Russia's Arctic coast, a segment under Moscow's control known as the Northern Sea Route (NSR). Japanese estimates suggest that the NEP could eventually secure up to 40 percent of the country's cargo shipments to the European Union (Nezavisimaya Gazeta, March 1, 2016). In late 2019, the Japanese business sector first floated the idea to connect the Japanese city of Tomakomai and Kunashir Island with Kamchatka-based Russian port(s), thereby directly linking Japan to the NEP (Inosmi.ru, December 14, 2019).
The second factor guiding Tokyo and its need to cooperate with Moscow is energy security and diversification of energy supply routes—an issue that acquired particular resonance domestically after the 2012 Fukushima nuclear disaster. An issue of special interest is liquefied natural gas (LNG) (Bfm.ru, January 21, 2019). According to former Russian minister for economic development Maksim Oreshkin, Japan has, therefore, invested approximately $5 billion in Russia's Arctic LNG-2 project (located on the Gydan Peninsula, in northern Siberia). On July 22, 2019, the Russian side confirmed that approximately a 10 percent share of the project was acquired by a Japanese consortium of Mitsui & Co. and the Japan Oil, Gas and Metals National Corporation (JOGMEC). Russian officials, however, stated that the above-indicated sum does not fully reflect the real picture: Japanese investments in the Russian energy sector are much larger (around $15 billion) due to the fact that "[Japanese] investments are coming via third countries… [T]hat is why they are not reflected as 'investments' in official documents" (Econominews.ru, September 7, 2019).
Another important milestone in Japan's involvement in LNG projects in the Russian High North is the prospective creation of a joint venture (with headquarters in Singapore) between Novatek (with a 49 percent share) and Japanese Saibu Gas (51 percent) that envisages shared use of an LNG terminal in Kitakyushu, Japan that would store and subsequently redistribute LNG coming from Russia's Arctic. Russian sources have argued that the terminal will ensure more flexibility in working with potential LNG buyers (Ngv.ru, March 6, 2020). A second major aspect of Japan's energy security push is its demand for oil and oil products. To address this issue, the Japanese side (represented by Inpex, Mitsubishi, Itochu, Mitsui & Co. and Marubeni) conducted negotiations with the CEO of Rosneft, Igor Sechin, who invited the Japanese corporations to take part in the Vostok Oil extraction project (expected to begin operations in 2024). The Russian side argued that participation in the project could help Japan diversify its energy supplies from the unstable Middle East, which is currently the source of 90 percent of all Japanese oil imports (Oilcapital.ru, December 11, 2019).
The third factor behind Tokyo's outreach to Moscow in the Arctic is the two sides' long-time cooperation on regional science and research projects in areas such as climatology, meteorology, ecology and seismology. The two main Arctic research facilities used by Japanese scientists are both on Russian territory: the experimental forest station "Spasskaya Pad" (Central Yakutia region) and Cape Baranov (Severnaya Zemlya) station (Bigasia.ru, August 22, 2017).
The fourth motivating factor for Japan is national security concern over China's regional aspirations, which threaten to materialize as growing militarization of the Arctic (Hideki Asari. Recommendations for Japan's Diplomacy "Arctic Governance and Japan's Diplomatic Strategy," Projects, 2012).
So while Japan is unlikely to succeed in its Arctic projects without close cooperation with Russia, certain realities might diminish the effectiveness of their regional cooperation. First of all, Japanese businesses retain certain doubts about the viability of this relationship. Japanese sources have pointed to the "bitter experience" of dealing with Rosneft in the past, when, last year, the Russian side opted for Swiss (Glencore) and Qatari (Qatar Investment Authority) investors over any Japanese partners (Inosmi.ru, April 21, 2019). In addition, the seemingly long-term plummeting of oil and gas prices will profoundly decrease the commercial attractiveness of Arctic-based projects.
Second of all, the NEP is itself experiencing difficulties. Russian sources have underscored multiple complaints coming from the Japanese side related to high transit tariffs, inflexible regulations, and the still-unsatisfactory state of Russian Arctic infrastructure—discouraging Japanese investors (D. Stretsov, "Politika Japonii w Arktike," Sravnitelnaja Politika, 2017). And while regulatory/administrative obstacles can be addressed relatively easily, physical infrastructure improvements will require massive economic investments, which Russia does not have, and which foreign players are unlikely to provide given Western sanctions and current global economic trends.
Finally, Japanese energy regulations currently prevent Russia from supplying more than 10 percent of the East Asian country's gas. This means that Japanese investments in Russia's Arctic projects will be limited (Rueconomics.ru, December 18, 2019).
Japan will almost certainly continue developing its ties with Russia in the Arctic. But expecting any major breakthroughs in this relationship is hardly likely at this stage.