Crimea Platform: Ukraine's Initiative to Raise the Costs of Russia's Occupation
Publication: Eurasia Daily Monitor Volume: 18 Issue: 25
By: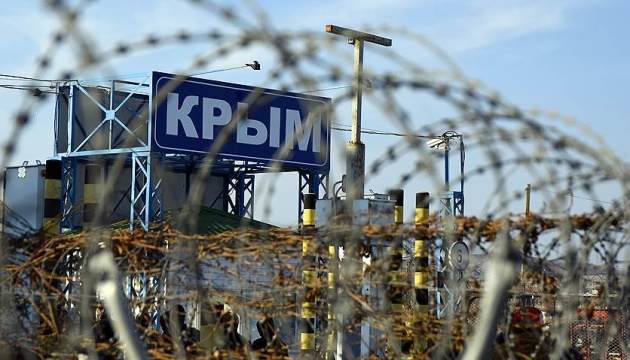 President Volodymyr Zelenskyy and the Ukrainian government are preparing to host a summit of heads of state and government, aiming to mobilize a more effective international response to Russia's seizure of Crimea from Ukraine. The summit is planned to inaugurate the "Crimea Platform," a multi-level framework for devising actions that would raise the costs of Russia's occupation and contradict Moscow's thesis about the irreversibility of its hold on the peninsula. The summit event is set for August 23, back-to-back with (but distinct from) the 30th anniversary of Ukraine's national independence on August 24, in Kyiv, in the presence of world leaders.
The United States government became the first to endorse the Crimea Platform initiative and proselytize for it, without awaiting the outcome of the Joseph Biden administration's Ukraine policy review. Addressing the United Nations Security Council's February 11 session, dedicated to Ukraine (see below), the US mission's political coordinator, Rodney Hunter, stated, "We welcome Ukraine's Crimea Platform initiative and hope that like-minded partners will consider joining it" (Ukrinform, February 11).
The UN Security Council's session, called at Russia's request, marked the sixth anniversary of the signing of the Minsk Two "agreement," an agenda that, by definition, excluded debating any Crimea-related issues.
Seven years after Russia's seizure of Crimea from Ukraine, no international forum is mandated to discuss this act of state-on-state aggression, nor the current political and military situation on the peninsula. Russia deems these issues closed and non-negotiable. On this basis, Moscow has also ruled out any discussion about Crimea from the agenda of the "Normandy" forum (Ukraine, Russia, France, Germany). In that format, Berlin and Paris have maintained all along that adding Crimea would "clutter" the Normandy agenda and impede "progress" toward conflict-resolution in Donbas (see EDM, February 8).
Kyiv has, therefore, moved in recent months to initiate an international Crimea Platform that should continuously address these unremedied problems. Ukraine aims to sharpen the focus of international attention to Russia's occupation of the peninsula and broaden the scope of countermeasures to the occupation. Kyiv seeks international support in order to:
sustain the existing Crimea-related sanctions and raise their costs to Russia, with further sanctions for continuing unlawful actions;
maintain intact Ukraine's titles of sovereignty to the peninsula and the corresponding Ukrainian exclusive maritime economic zone;
uphold freedom of international navigation in the Black Sea and Azov Sea;
draw attention to Russia's militarization of Crimea; and
support the maintenance of threatened cultural and religious identities of local Ukrainians and Crimean Tatars.
In his recent interview with the US-based news outlet Axios, Ukrainian President Volodymyr Zelenskyy stated, "I asked my partners and Russia: Name the platform where Crimea is on the agenda. Are you saying that we should give up on Crimea? As president, I cannot afford this and do not want to and will never accept this" (President.gov.ua, February 1).
Zelenskyy had aired a preliminary version of his idea when addressing last September's UN General Assembly session. On that occasion, he suggested creating an international diplomatic platform aimed at protecting the rights of Crimean inhabitants and, ultimately, the de-occupation of the peninsula (Ukrinform, September 23, 2020).
Kyiv envisions the Crimea Platform as a consultative and coordinating framework among those countries and international institutions that are willing to respond more effectively to Russia's occupation, with the ultimate goal of de-occupation. The current proposal is for the platform to hold meetings periodically at several levels: heads of state and government, ministers of foreign affairs, the inter-parliamentary level, as well as involving expert communities. All this suggests institutionalizing the Crimea Platform for a continuous, long-haul effort by governments and international organizations willing to participate.
The Ukrainian government has approached a number of countries and international organizations with requests to join the proposed Platform and attend this year's summit in Kyiv. Such requests usually take the form of public announcements from Ukraine's Ministry of Foreign Affairs following official meetings and visits. First Deputy Foreign Minister Emine Dzhaparova is in charge of coordinating this outreach. The addressees have generally responded with a wait-and-see attitude thus far.
President Zelenskyy asked German Chancellor Angela Merkel to endorse the Crimea Platform, according to the Ukrainian readout of their latest telephone conversation. The readout of the Chancellor's Office, however, did not mention this matter at all (President.gov.ua, Bundeskanzlerin.de, January 15).
The French ambassador in Kyiv, Etienne de Poncins, said (when queried) that Ukrainian diplomats have discussed this issue with him several times, but he and Paris need more clarity about the actual purposes of the proposed Platform (Interfax-Ukraine, February 1).
The Organization for Security and Cooperation in Europe's (OSCE) current chair, Ann Linde of Sweden, has also demurred by asking for "more information about this platform" when questioned (Ukraiynska Pravda, January 20). She did not mention the near-certainty of Russia using its right of veto against OSCE's participation in the Crimea Platform.
According to official press releases, Turkey has hinted at its willingness to join the Platform following President Recep Tayyp Erdoğan's and Foreign Minister Mevlüt Çavuşoğlu's meetings with their Ukrainian counterparts, Zelenskyy and Dmytro Kuleba, respectively (Daily Sabah, October 16, 2020). Although Turkey has not adopted economic sanctions against Russia, the Turkish president and government have repeatedly declared that they do not recognize the annexation of Crimea, ruled out recognizing it in the future, and pledged to assist in maintaining the Crimean Tatar identity.
Russia initially took the position that "it would not rule out participating" in Platform meetings in the future. According to the foreign ministry's spokesperson, Maria Zakharova, Russia could participate provided that the agenda includes the resumption of water and electricity supplies from mainland Ukraine to Crimea and the unblocking of transportation routes to the peninsula (Segodnya, December 8, 2020; RFE/RL, February 7, 2021). Ukraine, however, takes the position that water, electricity and transportation issues could only be discussed after Russia's de-occupation of Crimea.