Crimean Government Indicates It Wants Greater Autonomy From Moscow
Publication: Eurasia Daily Monitor Volume: 12 Issue: 135
By: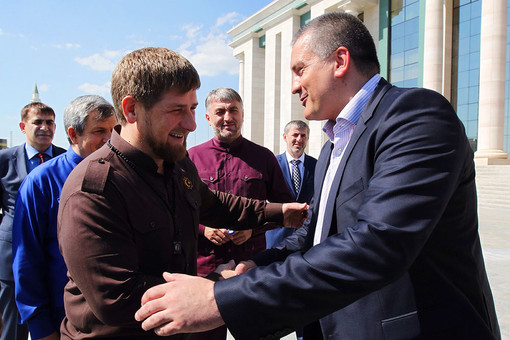 The puppet government of Crimea has unexpectedly clashed with its bosses in Moscow. On July 7, Crimea's governor, Sergey Aksyonov, declared he would not allow the Russian federal government to force its own rules on the peninsula. His comments came after Russia's Federal Security Service (FSB), at the end of June, briefly detained Crimea's minister for industrial development, Andrei Skrynnik, on suspicions of embezzlement of government funds. Aksyonov stated that he would not allow the FSB to detain regional officials for what he called "insignificant errors during the making of decisions." Skrynnik himself was present at the government meeting, and Aksyonov personally endorsed his subordinate. "I want to say that we have examined the details of this situation: it was an absolutely false material that had nothing to do with reality," Aksyonov asserted. The Crimean governor expressed irritation with Moscow's policies on the peninsula, casting himself as the protector of Crimean officials. "No one will dare to make fun of you," he said. "We have seen some people who came from the mainland [the Russian Federation] and said that all Crimeans are stupid idiots" (Onkavkaz.com, July 13).
No other regional governor would permit himself to be so critical of Moscow's policies apart from Chechnya's ruler, Ramzan Kadyrov. Thus, observers immediately started speculating that Aksyonov could manage to achieve the same level of autonomy from Moscow as Kadyrov, who enjoys practically complete control over Chechnya, evoking constant resentment among neighboring regions and officials in Moscow. The rationale for Moscow's willingness to cede power in restive Chechnya to Kadyrov was that he would be more successful in quelling the insurgency and would divert international criticism for Russia's brutality in this secessionist territory. Kadyrov's rule in Chechnya has become a convenient, but unstable political arrangement for both Moscow and Chechnya, giving the former the illusion of control over the republic and the latter the illusion of self-rule.
Russia's annexation of Crimea from Ukraine, in February–March 2014, created conditions for the Crimean government that are somewhat similar to Chechnya's. Despite the annexation and the official mantra about the "irrevocability" of Russia's decisions, Crimea remains a special territory within the country. Significant international attention is focused on the peninsula and Russian policies there, the Ukrainian mainland is nearby and some people who are loyal to Ukraine remain in Crimea. In these conditions, Moscow's usual tools for twisting the arms of regional governors do not work, so it has to use a somewhat softer approach to the rebellious regional leaders of Crimea. Russian experts, however, doubt that the governor of Crimea will be able to acquire a status equal to Chechnya's governor. At the same time, analysts say that Moscow cannot afford allowing Crimea's governor to challenge the federal authorities and remain unpunished, because this will create a dangerous precedent for other Russian regions, in particular, the national republics (Gazeta.ru, July 18).
Moscow appears to have been taken by surprise by the small administrative "rebellion" in Crimea. After all, Moscow singlehandedly created the peninsula's new, pro-Russian administration only a year ago, and its virtual puppets almost immediately started showing unwillingness to be as docile as the governors of other Russian regions. The chairwoman of the Federation Council, Valentina Matvienko, attempted to calm tensions by saying that a "cleanup of corrupt officials" (zachistka) in Crimea was inevitable (Riafan.ru, July 17). Rumors spread that Moscow was considering abolishing the Ministry for Development of Crimea, which was established in 2014 (RIA Novosti, July 14). The ministry apparently has failed to become an effective instrument for ensuring Moscow's control over its recent territorial grab.
The economy of the peninsula also does not appear to be improving, especially since the economic crisis is taking a toll on the Russian economy. Chechnya and Crimea became the leaders of Russia in terms of falling housing prices in the second quarter of 2015. Chechnya's secondhand housing market fell by 11 percent, and Crimea's secondhand housing market has declined by 9 percent (Bfm.ru, July 15). Plummeting housing prices in Crimea—with its sizeable resort industry—are an especially ominous sign for this territory.
"Crimea poses for the Kremlin a direct challenge—either the new region should become unconditionally loyal to Moscow with significant restrictions on the power of the FSB in the region, or protracted administrative warfare with enormous losses of image for Moscow may ensue," one analyst said (Onkavkaz.com, July 13). Crimea repeatedly challenged the authority of Kyiv in the past, so having a conflict with the central authorities is nothing new for the peninsula. However, unlike Ukraine, Russia has many regions that could claim rights for themselves similar to those of Crimea. If, along with Chechnya, the Crimean government manages to wrest special privileges for itself from Moscow, then more Russian regions could seek greater self-rule. At a time when Moscow's ability to finance and discipline Russian regions is steadily declining (see EDM, June 22), a process of decentralization may start in Russia spontaneously. Ironically, the Kremlin's territorial grab of part of Ukraine may have the opposite effect and lead to Russia's own political decentralization.