Croatian Government Invites Expansion of Russian Energy Companies (Part One)
Publication: Eurasia Daily Monitor Volume: 10 Issue: 32
By: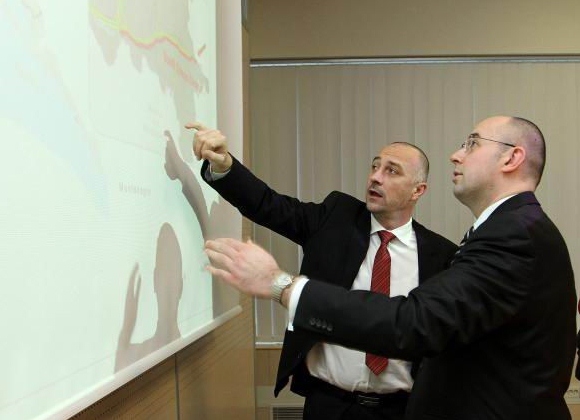 Croatia is expected to join the European Union as a full member in July of this year. In the energy sector, however, Croatia's center-left government is marking the EU accession in its own ways: First, by joining Gazprom's South Stream pipeline project, in breach of the EU's energy market legislation (Third Package). And second, by inviting Russian state-controlled companies to expand into Croatia's oil products market, electricity, and oil and gas extraction sectors.
The government's policy objectives are not necessarily coherent. For example, Economy Minister Ivan Vrdoljak (responsible for energy policy) wants Croatia to move ahead with the liquefied natural gas (LNG) terminal project on Krk Island in the Adriatic, hoping to partner with Qatar and some major European company. Vrdoljak proposes that the government declare the LNG terminal a national strategic project (Nova TV, February 18).
However, the Croatian government has eagerly sought to join Gazprom's South Stream project, and sounded euphoric when it finally succeeded in joining it in January 2013. If built, that pipeline would preempt Croatia's gas market for Gazprom while locking competing suppliers out. Even if South Stream does not materialize (it continues to look like a virtual project), simply by looming on the horizon it discourages investments in other gas import infrastructure, on Krk or elsewhere.
Croatia's state pipeline company Plinacro signed the South Stream project agreements with Gazprom Eksport on January 17 in Zagreb, in the presence of Gazprom's top managers Aleksei Miller and Aleksandr Medvedev. The main document is titled "action plan," raising questions whether it is legally binding in this form. Under the action plan, Gazprom Eksport and Plinacro are to establish a joint 50-50 venture, South Stream Croatia, by July 2013, to design, build and operate that pipeline on Croatia' territory. Construction work is envisaged to start in September 2015, and the first gas to flow by December 2016.
The pipeline would enter Croatia from Serbia, as a branch-off from the main South Stream line. South Stream Croatia would run for approximately 100 kilometers, from Sotin near Vukovar bordering on Serbia to Slobodnica near Slavonski Brod bordering on Bosnia-Herzegovina's (B-H) Serb Republic entity (Gazprom plans yet another South Stream branch-off into B-H's Serb Republic directly from Serbia). South Stream Croatia would traverse the country alongside an existing state-owned oil pipeline. According to Plinacro's CEO, Mladen Antunovic, joint investment in the gas line would amount to $80 million; Gazprom, however, has not offered a cost estimate.
South Stream Croatia's capacity is envisaged at 2.7 billion cubic meters (bcm) of gas per year. Technical-economic feasibility and environmental impact studies are not known to have been commissioned as yet (Plinacro had unilaterally submitted a pre-feasibility study in Moscow in 2011). If built, the South Stream branch-off would be the third gas pipeline entering Croatia. The existing gas lines enter Croatia from EU member countries Slovenia and Hungary, respectively.
Under the agreement, Gazprom Eksport commits itself to leasing the entire capacity of the South Stream Croatia pipeline immediately upon the inception of its operation, compensating the Plinacro partner proportionately to its 50-percent share. According to a delighted Antunovic, this arrangement would enable Plinacro within a few years to recoup its share of investment in the project. As always in its negotiations with South Stream partners, the Russian side has not identified gas supply sources for this project (Poslovni Dnevnik, Dow Jones, Interfax, January 17, 18; www.gazprom.com, accessed February 17).
Gazprom has conceived this pipeline as a spur terminating in Croatia, not as a transit pipeline en route to one or more countries. A branch-off is the second-best option, turning the recipient country into a mere importer, rather than a transit route. However, a lateral branch-off (if built) would be enough for Gazprom to become the dominant external supplier in Croatia.
Croatia consumes approximately 3 bcm of gas annually, some 60 percent of it extracted in the country, and some 40 percent—or 1.2 bcm per year—being imported mainly via Italian ENI and Hungarian-Croatian INA. However, South Stream's projected capacity in Croatia is 2.7 bcm per year, more than twice as large as Croatia's annual import requirements. This reflects a newly developed marketing strategy of Gazprom. It aims to increase gas demand and, correspondingly, dependency by offering to build power-generation capacities based on Russian gas in certain European countries. Gazprom is now proposing a plethora of joint power-generation projects in Croatia.
A South Stream pipeline branch jointly built, owned and operated by Gazprom in Croatia—or 100 percent leased by Gazprom Eksport as declared (see above)—would violate the EU's Third Package of energy market legislation. These measures require separation of gas supply from gas transportation, precluding suppliers' control over delivery pipelines in EU territory. The legislation is designed to free the markets from vertically integrated monopoly arrangements, such as Gazprom's in its captive markets. For its part, Russia seeks to protect Gazprom's business model, which combines supply with control of pipelines in a number of EU countries; and it strives to introduce that model into additional countries, such as Croatia.
The EU's energy market legislation is in force in member countries and accession countries since 2011, applying equally to Croatia along with the entire acquis communautaire. The Croatian government needs to clarify whether as an entrant country it intends to observe EU law or not. Internally, it needs to clarify for the public whether allowing Gazprom to capture the gas market would be consistent with the government's conception of national interest.