CSTO Launches War Games amid Growing Regional Uncertainty
Publication: Eurasia Daily Monitor Volume: 9 Issue: 150
By: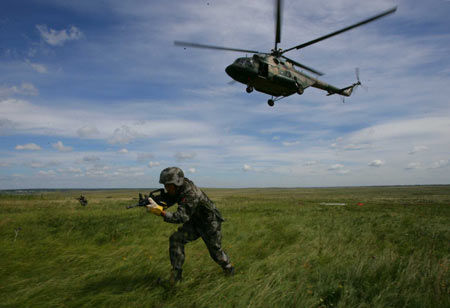 On Monday, August 6, the Collective Rapid Reaction Force (in Russian – KSOR) of the Collective Security Treaty Organization (CSTO) launched this year's military exercise at the Chebarkul training site of Russia's Chelyabinsk region, close to the border with Kazakhstan. This five-day exercise codenamed Rubezh-2012 (which means "frontier" in Russian) is being attended by more than 1,000 soldiers and officers from Russia, Kyrgyzstan and Tajikistan, aided by 100 armored vehicles, as well as by an aviation group comprised of combat helicopters and fighter jets. With landscapes similar to those of the Central Asian steppes, Chebarkul is the closest training facility in Russia with regard to both Kyrgyzstan and Tajikistan. According to Nikolay Donyushkin, a spokesperson of the Russian Ministry of Defense for ground forces, the participants of the exercise will jointly prepare an attack on a well-protected camp, presumably established by an organized criminal group. The operation will include not only the blockade of the camp, but also the neutralization of outposts and the destruction of the enemy's reserve forces (RIA Novosti, August 6; Asia-Plus, August 1).
The CSTO KSOR's war games hosted by Russia come two weeks after the launch of a military operation in Khorog, southeast Tajikistan, following the murder of a Tajikistani general responsible for ensuring security and fighting contraband in the country's poorest region, the Gorno-Badakhshan Autonomous Province (see EDM, July 27). While the security situation in neighboring Afghanistan remains difficult, especially in the context of NATO's forthcoming departure from this embattled country, Tajikistan is still confronted with its own security challenges. Such chronic problems as corruption, poverty, and social tensions only add to the gravity of Tajikistan's domestic instability, years after it ended a bloody civil war (1992-1997). The participation of Tajikistan in the CSTO's joint exercise is also occuring against the backdrop of nearly finalized tense negotiations with Russia over the extension of the current lease term for Moscow's military facility on Tajikistani territory, close to the Afghan border.
Days after the start of an anti-terrorist operation in Khorog, the Secretary General of the CSTO, Nikolay Bordyuzha, promptly ruled out any possibility of military intervention on behalf of the KSOR, saying that "[what is going on in Tajikistan] fully concerns Tajikistan's domestic life and does not require the mobilization of collective forces" (Interfax, July 31). Meanwhile, the Belarusian President Alyaksandr Lukashenka, who had previously held bilateral talks with Bordyuzha, hinted at the possibility of the CSTO's interference in what he qualified as "a very complicated situation" (Rosbalt.ru, July 31). At a time when Tajikistan is trying to reexamine the terms of Russia's military presence on its soil, it may risk increased destabilization and will be hard pressed to distance itself any further from Moscow, which currently plays the role of the only regional peacekeeper in post-Soviet Central Asia.
As regards Kyrgyzstan's participation in the Rubezh-2012 war games, the country's recently elected president Almazbek Atambayev has taken a clearly pro-Russian stand. Apart from Bishkek's reaffirmed intention to join the Customs Union between Russia, Kazakhstan and Belarus, Kyrgyzstan is also consolidating its ties with the CSTO. On July 31, President Atambayev ratified the December 2010 Protocol amending the CSTO's Charter of 2002 (AKIpress, July 31). This protocol provides for increased military and technological cooperation, reinforces common foreign policy making on the issues of the Organization's direct responsibility, and extends the CSTO's authority in resisting terrorist and extremist activities. Kyrgyzstan also remains profoundly fragile after the June 2010 ethnic clashes in the towns of Osh and Jalalabad (see EDM April 16), and, according to Eric McGlinchey, an associate professor of politics at George Mason University and a Central Asia expert, the country's instability is aggravated by the presence of the US military facility on its soil (24.kg, February 9). Currently, the Kyrgyz Republic's government still maintains its decision to close down the Manas Transit Center after its lease is to expire in 2014.
Meanwhile, the regional situation is not very favorable to Russia. Besides the tense talks with Dushanbe on Moscow's 201st military base in Tajikistan, it has recently seen its Uzbekistani partner drift away from the CSTO's umbrella by suspending its membership. In his July talks with Bordyuzha, Alyaksandr Lukashenka suggested providing a strong response to Uzbekistan's unilateral decision, possibly by terminating Tashkent's membership at the forthcoming high-level CSTO meeting at the end of this year (Rosbalt.ru, July 31). In October 2011, the Belarusian leader already highlighted Uzbekistan's ambivalence with regard to its military cooperation with post-Soviet countries, even accusing it of "triple game" (Centrasia.ru, October 27, 2011). Furthermore, the CSTO's ability to ensure regional security was put into question back in June 2010, when Kyrgyzstan became the scene of violent clashes between ethnic Kyrgyz and Uzbeks. At the time, Russia's President Dmitry Medvedev declined a call for the CSTO's rapid intervention by declaring that Kyrgyzstan's problems were caused by "the weakness of its authorities and their reluctance to tend to people's needs" (Korrespondent.net, June 11, 2010).
Meanwhile, the CSTO intends to hold further military exercises, first in Armenia in early September and later in October on Kazakhstan's already preselected training sites (Armtoday.info, August 3; Newskaz.ru, July 25). Whereas the CSTO used to organize military exercises once (in 2003 and 2004) or twice a year (from 2005 to 2010), its decision to hold three different exercises in a 12-month span (in 2011 and 2012) reflects the growing importance it attaches to member states' security and a better understanding of Central Asian realities. This is why, unlike the more stable Kazakhstan, Russia's neighbors Kyrgyzstan and Tajikistan are expected to take part in all three training sessions foreseen this year. Moreover, the CSTO's plans to further consolidate military cooperation reflect Vladimir Putin's foreign policy direction, which he voiced on Election Day in March 2012, declaring the post-Soviet space "an absolute priority for Russia" (Interfax, March 4).