Damascus Repeats Call For Turkish Involvement In Talks With Israel
Publication: Eurasia Daily Monitor Volume: 7 Issue: 180
By: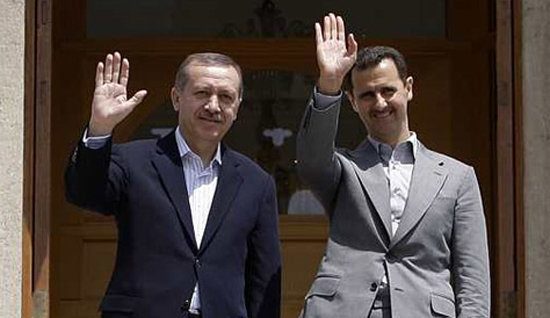 Turkey and Syria held the second ministerial meeting of the High Level Strategic Cooperation Council in Syrian city of Latakia. The Turkish delegation, headed by Foreign Minister Ahmet Davutoglu, was composed of twelve ministers including Taner Yildiz, Vecdi Gonul and Besir Atalay (the energy, defense and interior ministers respectively). The meetings reviewed the agreements and protocols, signed between the two countries. The conclusions will be followed up with a monitoring mechanism and more concrete decisions will be made during the next prime ministerial meeting in December (Cihan, October 3).
Much of the talks concerned economic cooperation. In line with their earlier demonstration of intent to move towards economic integration in the Middle East, comprising also Lebanon and Jordan (Sabah, June 10), the Turkish and Syrian delegations discussed the details of creating a free trade zone, easing customs procedures, building new transportation networks including fast trains between Turkish and Syrian cities, among other initiatives. Moreover, they also considered cooperation in agriculture, environment, health, energy and other fields (Anadolu Ajansi, October 3).
The bilateral energy partnership was a major item on the agenda. Yildiz announced that Turkish and Syrian national petroleum companies agreed to form a joint oil exploration company. Syria also allocated seven fields to Turkey without a tender, where exploration will start as soon as both sides resolve the remaining details of their joint enterprise. Yildiz announced that the work on the connection of the Arab natural gas pipeline with the Turkish grid, which might eventually supply Nabucco pipeline with gas from Egypt through Syria, might be concluded within one year (Anadolu Ajansi, October 4).
However, for Ankara, such initiatives in the Middle East have a broader meaning than strictly commercial concerns. During the joint press briefing, Davutoglu emphasized Turkish views on security in the Middle East. Davutoglu maintained that two competing "visions" prevailed in the Middle East: one seeking to destabilize the regional order by sowing the seeds of conflict and supporting terrorism, and the other seeking to maintain regional peace and stability through mutual cooperation. He referred to the high level strategic cooperation councils Turkey launched with Syria and other neighbors as instruments that will contribute to the second vision. He also underscored how Syria joined Turkey in its commitment to a peaceful neighborhood through dialogue and cooperation (Dogan Haber Ajansi, October 4).
In Davutoglu's view, to the extent that regional countries could expand the scope of the second vision and build regional organizations, they will be able to narrow the scope of the first one, hence eradicate the sources of instability in the Middle East. If such regional cooperation succeeds, it will not only benefit the entire region, but bolster Turkey's own security by creating a belt of stability around the country.
Perhaps, the most immediate area where this approach has manifested itself is Turkey's fight against the Kurdistan Workers Party (PKK). Aware of the cross-border dimensions of the Kurdish problem and PKK terrorism, Ankara has been working to address this issue through both domestic reforms and regional diplomacy (EDM, September 29). Turkey wants to engage its Middle Eastern neighbors through various cooperation platforms in order to thwart any logistical, financial or manpower support the PKK might receive from the region. Especially in light of the Turkish government's recent initiatives to solve the Kurdish issue, Syria, perhaps, has been the most cooperative neighbor, as the Syrian government has repeatedly expressed its support for Ankara's Kurdish initiative as well as its right to fight against terrorism.
As an extension of these collegial ties, Atalay (playing a leading role in the Turkish government's Kurdish initiative) and Gonul held important talks with their counterparts during the meetings in Latakia. The head of the Syrian delegation, Hasan Turkmani, President Bashar al-Assad's aide, reiterated their willingness to deepen security cooperation with Turkey (Anadolu Ajansi, October 3). Last week, Turkmani, accompanied by some military officers, visited Ankara to discuss the Syrian contribution to Turkey's fight against the PKK (Anadolu Ajansi, September 29).
For its part, Syria also hopes to gain strategic leverage from its closer ties with Turkey, beyond the immediate economic benefits. Syria increasingly considers Turkey as a reliable ally against Israel, though Turkey's involvement in Syrian-Israeli relations has been confined largely to the role of a mediator. Turkey managed to facilitate indirect contacts between the Syrian and Israeli sides in the second half of 2008, which arguably came very close to reaching a settlement on the Golan Heights. This process, however, was interrupted by Israel's offensive on Gaza in December 2008-January 2009.
Israel's Palestine policy also opened a new era in Turkish-Israeli relations. Ankara and Tel Aviv were increasingly mired in a cycle of crises, which resulted in the replacement of the so-called Turkish-Israeli "strategic partnership" with a pattern of enmity. As a result, Israel lost its trust in Turkey and questioned the latter's impartiality. Turkish leaders repeated on many occasions their readiness to resume indirect talks with Ankara's support. Despite Damascus welcoming the Turkish proposal, the Israeli side continuously rejected it given its lack of trust in Turkey (EDM, July 23, 2009).
Recently, international efforts to revive the Syrian-Israeli dialogue have intensified. As France and the US, among others, have sought to convince Assad to agree to a new round of talks, Assad conveyed his willingness to see Turkey involved in this process (Zaman, September 17). Following the strategic council meeting in Latakia, the Syrian Foreign Minister, Velid el-Muallim, reiterated that Damascus views Ankara as an honest and reliable actor, while international efforts should focus on supporting Turkey's mediator role (www.sana.sy, October 4).
Although constantly glorifying Turkey's successful mediation in 2008, the Syrian side refuses to acknowledge that this was made possible by Israel's view of Turkey as an impartial broker that could open a channel between Tel Aviv and Arab capitals. Syria's insistence on Turkey's "impartial mediation," even after it is long foregone in Israel's eyes, serves only to underscore that, after all, Ankara is valuable to Damascus not as a reliable mediator per se, but as a reliable ally.