DEATH OF GEORGIA'S PRIME MINISTER ZHVANIA RAISES QUESTIONS
Publication: Eurasia Daily Monitor Volume: 2 Issue: 24
By: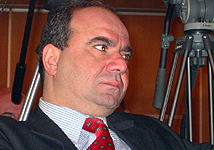 The sudden death of Georgian Prime Minister Zurab Zhvania last night (February 2) has plunged the country into shock. The news of Zhvania's death comes on the heels of the car bomb that exploded in Gori two days ago, killing at least a dozen people.
Official reports say Zhvania's death was accidental, the result of a faulty gas heater. Briefing the press today, Minister of Police and Public Order Vano Merabishvili reported that around midnight Zhvania had arrived at the apartment of his friend Raul Usupov, the deputy governor of Kvemo Kartli, in eastern Georgia. When Zhvania did not respond to telephone calls for several hours, his security detail began to worry. At 4:30 am, they broke their way into the apartment, where they found the bodies of Zhvania and Usupov. Merabishvili said the preliminary investigation has concluded that Zhvania and Usupov died from gas escaping from a cheap Iranian-made gas heater; the appliance is widely used throughout Tbilisi. "This is an accident," he declared. "I visited the site of the accident personally." Currently, specialists are inspecting the gas heater in Usupov's flat, while forensic experts are examining Zhvania and Usupov's corpses (Interpress, TV Rustavi-2, February 3).
Meanwhile, some Russian news agencies, drawing on their own sources in Georgia, are reporting that Zhvania and Usupov were gunned down and their bodies reportedly bear evidence of gunshot wounds (utro.ru, February 3).
Georgian President Mikheil Saakashvili convened an emergency meeting of the government. "I have lost a closest friend, reliable advisor, and great ally," Saakashvili said. He called on the population of Georgia to not succumb to panic and to "keep their wool on." Parliamentary speaker Nino Burjanadze has cancelled her scheduled trip to Italy and is returning to Tbilisi.
The 41-year-old Zhvania was one of the three leaders of Georgia's November 2003 Rose Revolution, which removed long-time Georgian strongman Eduard Shevardnadze from power. Upon his election as president in early 2004, Saakashvili initiated changes to the Georgian Constitution, according to analysts, to secure the post of prime minister for Zhvania, which he duly assumed in February 2004.
Zhvania, although considered to be Saakashvili's comrade-in-arms, has always cultivated his image as an independent player and a prominent liberal politician able to adapt to the rapidly changing political scene in Georgia. He was a leader of the United Democrats political party, which merged with the Saakashvili-led National Movement last year. Despite the merger and publicly demonstrated political partnership between Saakashvili and Zhvania, local analysts fully believed the two men would eventually go their separate ways. Analysts regarded the recent squabbles in the government between their proteges (EDM, December 13 and 15, 2004, January 11) as a reflection of a backstage power struggle between Zhvania and Saakashvili.
In recent weeks Zhvania had endured harsh criticism in connection with the controversial, Russian-dominated privatization of several key Georgian economic enterprises (see EDM, February 1)
Russian President Vladimir Putin has sent a letter of condolence to Saakashvili reading, "Zurab Zhvania was well-known in Russia as a supporter of friendly and good-neighbor relations between Georgia and Russia."
Zhvania's death will likely cause significant political problems. According to Georgian law, in the event of the death of a prime minister, then the president must dissolve the government immediately. Without Zhvania, his followers in the parliament and in the government will inevitably lose some of their influence.