IS RUSSIA ABOUT TO TURN ITS GAZE TOWARD THE EAST?
Publication: Eurasia Daily Monitor Volume: 2 Issue: 25
By: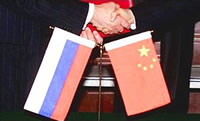 Three events this week indicate the fast-growing economic and geopolitical ties between Moscow and Beijing. The Russian government's announcement of a massive Chinese loan to Rosneft, a pledge by a Russian transportation giant to modernize its infrastructure to boost oil supplies to China, and a decision to hold regular Chinese-Russian security consultations all underscore the Kremlin's strategic objective, which appears to be twofold. Russia is anxious to consolidate its influence in East Asia at a time when its positions in Eastern Europe are weakening; it also seeks to balance the growing American presence in the South Caucasus and Central Asia.
On February 1, top government officials announced that a consortium of Chinese banks had offered a $6 billion loan to the state-owned oil company Rosneft. Due to the contradictory statements made by the representatives of different government bodies, it was not immediately clear whether the money was given to facilitate Rosneft's controversial takeover of Yuganskneftegaz, the embattled Yukos main production unit, or if the loan was some sort of deposit aimed at securing long-term oil supplies from Rosneft. What is absolutely clear, however, is that China's appetite for Russian oil is enormous and Russia is eager to deliver. In fact, right after the scandalous auction of Yugansk, Russian President Vladimir Putin hinted at possible Chinese participation in the development of that asset, and at the end of last year Russia's Industry and Energy Minister Viktor Khristenko publicly offered the China National Petroleum Corp. a 20% stake in Yugansk.
Russia's interest in intensifying energy cooperation with China was further accentuated the next day, February 2, when the board of directors of the state-run Russian Railways monopoly had a special meeting in the Siberian city of Chita to discuss ways to increase the oil deliveries to China by rail. Company representatives decided to boost the supplies from the projected 10 million tons this year to 15 million by 2006.
This same day in Moscow, Putin and a Chinese high-ranking official agreed to establish a mechanism for national security consultations, further strengthening close military cooperation between the two countries. China's State Councilor Tang Jiaxuan told the Kremlin leader that Beijing does not have such a consultation mechanism with any other country. He called Russia China's "main partner for strategic cooperation," adding that the two countries have close positions regarding key international and regional issues. Both Moscow and Beijing pledge their adherence to a "multipolar world," a term that refers to their opposition to a perceived U.S. domination in global affairs.
The rapprochement between the two former rivals appears to have gone so far that they even plan to have a joint Russian-Chinese military exercise set to begin in August. According to some international and local observers, the maneuvers are Russia's response to the cooling of relations with the United States and other Western states, most recently over the presidential election in Ukraine. Also, the Russian military regards the war games as a showcase for products it could sell to Beijing. Last month, Russia's air force commander, General Vladimir Mikhailov, said that state-of-the-art Tu-22M3 and Tu-95 strategic bombers would be used in the exercises, clearly counting on China's interest in buying them.
A number of Russian political scientists, particularly those specializing in East Asia, have long advocated a thorough review of Moscow's foreign-policy strategy. They forcefully argue that Russia is not only a European but also an Asian country and that the Asian element plays an increasingly important role. In the past century, as a result of the collapse of the Russian Empire and then of the Soviet Union, the country lost huge territories in its European part and, as some analysts contend, "moved toward the East."
"Russia is objectively becoming more Asian, both in its interests and in its problems," asserts Alexander Lukin, director of the Center for East Asian Studies at the prestigious Moscow Institute for International Relations. In a policy paper published in the January 19 issue of the Moscow Times, Lukin calls on the Russian political elite to pay more attention to the "growing giant of China" and to discard the myth that Russians, at least half of whom live in Asia, are a European nation.
To be sure, the idea of Russia's dual international identity has a long intellectual pedigree. As early as the 1830s, the former Decembrist and popular author Alexander Bestuzhev-Marlinsky described Russia's nature as "Janus-faced," that is, "gazing simultaneously on Asia and Europe." The 19th century also saw the emergence of a trend, whereby Russia, its westward geopolitical ambitions being thwarted by the European powers, would turn its gaze eastward. In the 1850s, irked by the perceived anti-Russian designs nurtured by hostile Europe, Alexei Khomyakov, the leading Slavophile, bemoaned what he called "our great and age-old blindness." "All our attention was directed toward European affairs," he wrote in a letter to a friend, "but our true advantages called us to stronger activity in the East." Indeed, after England and France defeated Russia in the Crimean War, the tsars "turned to the East" and began the conquest of Central Asia.
Are we now witnessing an eastward swing of the Russian geopolitical pendulum?
(Profil, January 31, Interfax, RIA-Novosti, February 1-2).