Declared Russian Troops Pull Out: Did the Kremlin Achieve What It Wanted?
Publication: Eurasia Daily Monitor Volume: 18 Issue: 67
By: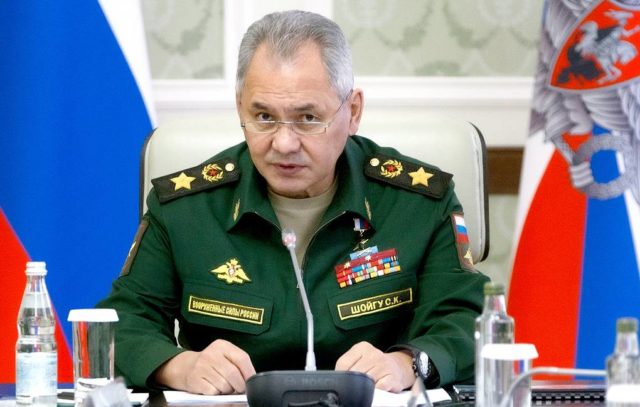 Russia's long-serving minister of defense, Sergei Shoigu, announced last week (April 22) that the Russian forces massed around Ukraine's eastern and southern borders would withdraw between April 23 and May 1 (TASS, April 22; see EDM, April 22). Moscow had dubiously asserted that this massive deployment of troops and heavy materiel to occupied Crimea and southwestern regions of Russia over the past several weeks was solely for the purpose of conducting military exercises (Topwar.ru, April 3; BBC News—Ukrainian service, March 13). But as the well-known saying goes, "You do not need to drink the whole sea to figure out if the water is salty." Even a basic, clear-eyed understanding of how such large-scale armed forces trainings are organized reveals that it is sufficient to deploy a nucleus headquarters charged with the planning and coordinating simulated combat actions in the planned theaters. These nucleus headquarters can certainly utilize some combat units that "play along" to create a realistic operational scenario. However, the main forces (units) taking part in the exercise tend to be trained in or near their areas of permanent deployment, as well as on maps (NV, April 26).
With that in mind, the activities of the Russian military machine over the past couple months look unusual on a number of counts. First it was striking that a significant proportion of the forces arrayed around Ukraine's borders originated from home bases beyond the Urals (Antikor.com.ua, April 5; FaceNews.ua, April 9). And clearly demonstrative was the movement of Russian railway echelons with heavy military equipment (Sevastopol.su, March 31; Vzglyad, April 1) as well as multiple warships and combat boats transferred from one theater to another (Mil.ru, April 8; see EDM, April 13). Most likely, these Russian military movements were aimed at identifying the vulnerabilities of Ukraine and the collective West for further, more precise actions against them in the future.
The Crimean direction and the adjacent waters of the Black Sea and the Sea of Azov deserve special attention beyond the focus accorded to the land-oriented buildup of Russian troops (RBC, April 21). Notably, the Opuk and Angarskiy training ranges in Crimea, the Donuzlav Lake coast, as well as the peninsula's isthmus, airfields and adjacent sea waters have all seen enormous concentrations of Russian inter-service offensive forces. This massing presently includes 21 battalion tactical groups, which is more than three times larger than the 22nd Army Corps, formed on the peninsula immediately after Russia's occupation in 2014. Additionally, it is composed of warships, naval landing craft and boats from the Russian Black Sea, Northern and Baltic fleets as well as the Caspian Flotilla; airborne and marine units; strike, transport and fighter aircraft, such as Su-30s; Iskander ballistic missiles and 203-millimeter artillery; along with forward logistics and medical support units (Babel.ua, April 8; Hromadske.ua, Pravda.com.ua, April 20). In general, the Russian forces deployed over the course of March–April to Crimea and adjacent maritime areas greatly exceed the needs of the peninsula's defense; and the operational structure of this grouping is exclusively offensive. This force projection remains in place to this day, with the exception of a combat aviation transfer from Crimea to airfields in Russia's Southern Military District—though these attack helicopter units can notably fly in and strike targets in the theater without having to first jump to Crimean airbases (Blackseanews.net, April 26).
In his recent public speech announcing the troop withdrawal, Minister Shoigu conspicuously said nothing about naval units or assets (TASS, April 22), implying that the reinforced amphibious-strike naval grouping in the Black Sea is not going anywhere for now (Blackseanews.net, April 26). In addition Moscow closed the passage of foreign military and government vessels in a number of areas around Crimea from April 24 to October 31, including in waters along the peninsula's southern coast, west of this occupied region, and near the Kerch Strait (Krymr.com, April 25). So effectively, the Russian blockade of the Sea of Azov is being strengthened. Under these conditions, it is premature to make any definitive judgements about the alleged Russian drawdown near Ukraine's borders.
A number of experts have posited that Russia's massive military deployment to Crimea is somehow connected with the fresh-water shortage problem on the peninsula (Krymr.com, April 23, 2021; Newdaynews.ru, February 11, 2021; ZN, September 25, 2020). But for the billions of rubles that Russia presumably spent on this spring's massive military deployment it would have been possible to build a seawater desalination facility in Crimea with a capacity of 20,000 cubic meters per day (RIA Novosti, March 13, 2021) or to restore the peninsula's section of the North Crimean Canal, which is needed to restart any water supplies from reservoirs in mainland Ukraine. Moscow has made no such moves, however. As such, the topic of securing Dnipro River water to supply the peninsula is being exploited by the Kremlin not as a real solution for providing water to the civilian population but as a possible excuse for a future Russian military advance against Ukrainian coastal regions. Moscow's stakes are much higher that just fresh water from the Dnipro: indeed, when the Kremlin authorities look at Ukraine, they by and large consider it within the broader context of the West and, first of all, the United States. It is thus worth recalling comments by Russian Deputy Foreign Minister Sergei Ryabkov, who, on April 13, urged the United States to "stay away from Crimea" (Korrespondent.net, April 13). The recent Russian military buildup has clearly shown that given the regional imbalance of power, the problem of water scarcity in Crimea could be used to legitimize Russia's aggressive military actions. The Kremlin will determine its own so-called "red lines," which will surely pertain to the US as well (NV, April 22).
As such, Russia's announced troop "withdrawal" should be approached with caution and a heavy dose of skepticism. Semantically, the Russian military-political leadership tends to see a withdrawal of forces following a genuine defeat rather than a compromise. The Russian troops, at least most of them, will, thus, likely remain where they are for now—especially when it comes to Crimea (Krymr.com, April 27). Belarus may come in into play as well (UNIAN, April 26). Certainly, traditional Russian maskirovka (deception tactics) will be at work (see EDM, April 26, 2021; NV, April 25, 2021; Ekho Moskvy, September 1, 2018), potentially as a smoke screen for the significant amphibious forces left in the Black Sea region. A sharp confrontation between Russia and the West is unlikely to occur under these conditions. But Moscow will not give up its geopolitical ambitions in the region or its threats to use force locally.