Crimea: The Expanding Military Capabilities of Russia's Area Denial Zone in the Black Sea
Publication: Eurasia Daily Monitor Volume: 18 Issue: 67
By: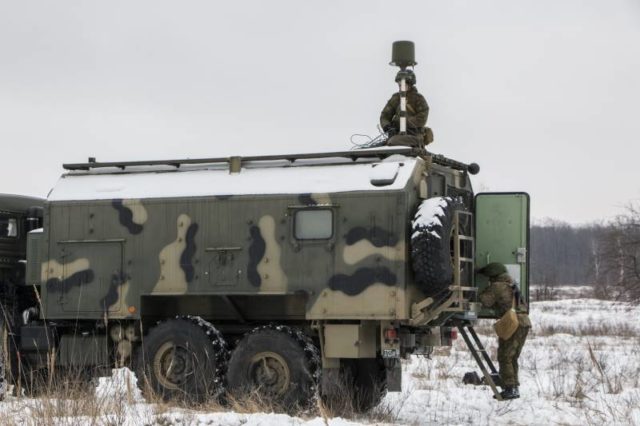 Two important and connected developments in the second half of April—military exercises in Crimea (RIA Novosti, April 22) and the wider growing tensions with Ukraine—cogently reiterated the military-political importance to Russia of this illegally annexed peninsula. Since 2014, Moscow has been heavily investing in building up its military posture there. And at the moment, Moscow's main objective along this vein for Crimea is to upgrade local anti-missile and anti-aircraft capabilities—and anti-drone operations in particular—in order to complete the formation of an area-denial zone centered on this strategically positioned region.
The implementation of this strategy started soon after the annexation of the peninsula, when, in late 2014, the Russian Black Sea Fleet received its first Murmansk-BN complex—the most up-to-date long-range (more than 5,000 kilometers) jamming system, designed to operate against high-frequency military satellite communications (Archive.is, December 4, 2014). But rapidly, the peninsula was also turned into one of the main testing grounds for anti-drone operations. The first major military exercises of this type took place in 2018 and involved more than 1,500 military personnel and 300 pieces of equipment. The main goal of these anti-drone warfare drills, which assembled large numbers of units employing Russia's most advanced electronic warfare (EW) models, was to practice spoofing, jamming and intercepting enemy radio signals. Some of the main EW systems employed included the RB-341В Leer-3, RB-301B Borisoglebsk-2 and R-330Zh Zhitel automated jamming stations, as well as the Krasukha ground-based radio-jammer system (TASS, September 26, 2018).
According to Russian sources, by 2020, Crimea—along with Kaliningrad oblast and the Kola and Kamchatka peninsulas—was equipped with all necessary means of EW to transform the region into what could be roughly translated as an "area denial zone" ("zona ogranichennogo dostupa" in Russian) (Vpk.name, November 23, 2020). Russian sources further claimed that thanks to all the steps Moscow had taken in the past six years to integrate the most up-to-date technology into Crimea's multi-layered defense system, "NATO [North Atlantic Treaty Organization] is incapable of effective intelligence gathering and reconnaissance operations near [the Crimean] coastline. Locally deployed EW complexes are not only diminishing the capabilities of [NATO] intelligence gathering gadgets but are also knocking out the settings of naval forces." Reportedly, this is achieved through the use of the following EW systems: the Krasukha-4 jamming station, the Pishal portable complex (specifically designed for anti-drone operations), the Rtut-BM jammer system; the aircraft-mounted Vitebsk system (equipped on the Ka-52 reconnaissance and combat helicopter, Mi-28 attack helicopter, Su-25 ground-attack fighter, Mi-8MTV military transport helicopter and Mi-8AMTSh assault transport helicopter), as well as the Khibiny complex, which makes the Su-34 fighter "virtually invisible to radar" (RIA Novosti, March 18, 2020).
These trends were heavily reinforced during 2021. According to Ukrainian sources, the beginning of the new year was marked by Russia specifically amassing anti-drone warfare capabilities on the peninsula. This is predictable considering that Ukraine has been acquiring battle-proven Turkish Bayraktar TB2 unmanned aerial combat vehicles (UCAVs) (see EDM, February 6, 2019 and November 16, 2020). The Bayraktar combat drones are, arguably, among the most dangerous weapons now in the Ukrainian Armed Forces' inventory. Russian Black Sea Fleet exercises from March 24 appeared to specifically address this issue through simulated anti-drone operations along the coast. During these drills, Russia's EW systems operated together with locally deployed anti-missile and anti-aircraft complexes: while the former concentrated on detecting enemy flying objects, the latter focused on destroying them. Based on these Russian maneuvers, Ukrainian experts concluded that in any potential military encounter near a coastline, Russia's naval forces—primarily, Project 11356Р/М frigates—would constitute the backbone of anti-drone operations (Defence-ua.com, March 30, 2021).
That said, there is every reason to believe that anti-drone warfare constitutes merely one—and not the most significant or daunting—aspect of Russia's militarization activities in Crimea. Indeed, Russian officials have announced that, in accordance with a decision adopted last year, a Yakhroma early-warning missile-defense radar will be established on the territory of the peninsula. The Yakhroma replaces the older Voronezh meter-wavelength radars and will be deployed to Crimea in 2021. Crucially, Russia is additionally planning to put up these new radar complexes in Armavir and Kaliningrad, thereby completing the work on building a two-range radar field. Reportedly, this system will be able to promptly spot and track ballistic missiles launched at the territory of Russia (or its allies) (Vzglyad, February 15). If these plans are fully achieved and the above-mentioned ("unparalleled in the world") system becomes a part of Crimea's multi-layered defense architecture, Russia's surveillance, intelligence-gathering and early-warning capabilities in its European part will be profoundly strengthened. Strategically, this will be a huge gain for Russia.
In tactical terms, Russia's likeliest next steps in Crimea might include a further military buildup that will be mainly concentrated on bolstering local anti-missile and anti-aircraft defense capabilities with a focus on long-range targets. Incidentally, this thesis was first voiced by the commander of the Southern Military District, Alexander Dvornikov, who stated earlier this spring that, "at some point in the future," Crimea's defense architecture could receive such pieces as the S-350 Vitiaz and the S-500 Prometheus surface-to-air missile and anti-ballistic-missile systems. He also noted that, as of today, S-400 complexes (protected by the Pantsir S-1 self-propelled medium-range surface-to-air missile and anti-aircraft artillery systems as well as the BAL and Bastion coastal defense systems) have already been deployed to Dzhankoi, Feodosia, Sevastopol and Yevpatoria. According to open-source Russian data, the S-500—and this information runs contrary to what can be found in Western sources—is capable of hitting objects located up to 3,500 kilometers away, thus allowing this system to destroy not only "aircraft [and] virtually all types of drones and hypersonic missiles" but also "targets located in outer space" (Rossiyskaya Gazeta, March 17).
Although Moscow has profoundly boosted Crimean defense capabilities since annexing this peninsula in 2014, some hidden "surprises" may still be in the offing. For instance, former commander of the Black Sea Fleet (1998–2002) Admiral Vladimir Komoedov hinted last year that Russia may purposefully not be activating some locally based EW systems, since this might expose them to NATO's and/or Ukraine's scrutiny (Vzglyad, March 16, 2020). The observed massive buildup of offensive forces in Crimea over the past couple months may, thus, be far from the full story.