Deepening Naval Cooperation between Islamabad and Beijing
Publication: China Brief Volume: 9 Issue: 13
By: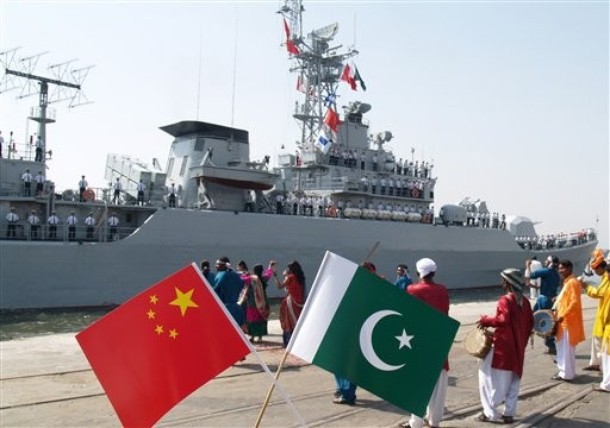 Chinese President Hu Jintao elevated the concept of "harmonious ocean" (hexie haiyang) in an unprecedented maritime parade during the 60th anniversary of the People's Liberation Army Navy (PLAN) at Qingdao on April 23. In Hu's speech, the Chinese leader proclaimed that "for now and in the future, China would 'never seek hegemony' (yongbu chengba), nor would it turn to military expansion or arms races with other nations" (Xinhua News Agency, April 23). In spite of these assurances, the PLAN's growing activism on the high seas has grown notably more pronounced from the Arabian Sea to the South China Sea. Despite the absence of a credible military threat in an era of peaceful development, Beijing "began a major military build up" [1]. The increased level of Chinese naval activities in recent years has unsettled the littoral states that line its expanding belt of maritime activities, particularly India, which has grown increasingly wary of PLA military modernization.
The growing presence of Chinese naval power around the Indian Ocean, which serves as the conduit between the Gulf states and Southeast Asia, is deepened by its support facilities in Myanmar (Burma), Bangladesh, Sri Lanka, and the deepwater facility in Pakistan's Gwadar port. Indian military experts have pointed out that these bases have the effect of "virtually encircling India" (Hindustan Times, March 17), and senior officials have expressed explicit concerns about these developments. According to Indian Defense Minister M.M. Paalam Raju, "We [India] are taking steps [to see] that Chinese influence does not pose a threat" (Zeenews.com, June 1). The increased naval cooperation between Pakistan and China in recent years and the development of the Gwadar naval base are becoming a magnet of growing strategic concerns for India that may not only transform the regional military balance by sparking an arms race but also significantly reshape the regional security architecture.
The extent of China's current power projection capabilities remains an open question. According to Chinese specialists, "China's sea power and the expansion of its navy are limited" beyond Taiwan, the Nansha Islands (Spratlys) and the Diaoyu (Senkaku) Islands [2]. For the time being the PLAN has no choice but to "face an ambition-capability gap in terms of using military power to secure its foreign energy investments or to defend critical sea lanes against disruption" [3]. Adding to its Malacca dilemma, which has been well documented in the Chinese media, some noted analysts have also recently pointed to a Hormuz conundrum for the PLAN to bypass the sea lanes of communications (SLOCs) toward the Middle East (China Brief, September 22, 2008).
In an effort to deal with these "strategic bottlenecks" from the Malacca Strait to the Hormuz Strait, China has been strengthening bilateral relations with Pakistan with a focus on naval cooperation and the development of the Gwadar port, which is located 400 kilometers from the Hormuz Strait. According to General Pervez Musharraf, the former Pakistani President, "Pakistan provides a natural link between the SCO (Shanghai Cooperation Organization) states to connect the Eurasian heartland with the Arabian Sea and South Asia" (Guardian, June 16, 2006). As one Pakistani expert stressed, Gwadar port in Pakistan not only offers China a transit terminal for crude oil imports from the Middle East and Africa to Xinjiang to meet its soaring energy demands—which is indispensable both for its economic development and domestic stability—but also provides a strategic location from which to monitor U.S. naval activity in the Persian Gulf; to follow Indian activity in the Arabian Sea; and to assess future U.S.-India or U.S.-Japan naval cooperation in the Indian Ocean [4].
Thus Chinese development of the Gwadar port can not be simply evaluated on commercial and economic terms, since the port is a dual-use infrastructure that could provide military access for Chinese naval projection and a base for its strategic warships [5]. If the PLAN deploys its submarines off the Gwadar port in Pakistan, this will allow the PLAN to bypass the strategic bottleneck presented by the Malacca Strait, while strengthening its power projection capabilities in the region [6]. Moreover, China's deepening bilateral naval cooperation with Pakistan can offer a strategic maritime buffer zone as well as a useful political and diplomatic outlet toward Islamic states in the Middle East [7]. Pakistan is an active member of the OIC (Organization of the Islamic Conference) and oil-rich moderate Gulf States regard it "as a counterweight to Iran and Iraq" [8].
Increased naval cooperation between Pakistan and China hints at an evolving Chinese naval strategy, which seems to be transitioning from the late Chinese patriarch Deng Xiaoping's instruction of "hiding real capabilities to bide our time" (taoguang yanghui) to "making some contributions by seizing opportunities" (yousuo zuowei). By the same logic, as China continues naval expansion toward Islamabad, "its strategic goals may shift, which in turn could require the development of new capabilities" [9].
Since 1999 the PLA has initiated the new strategy of sanda sanfang (three attacks and three defenses), which refers to attacks against stealth aircraft, cruise missiles and armed helicopters, and defense against precision strikes, electronic jamming and electronic reconnaissance and surveillance. This program was originally initiated by the PLA after its study of air combat in the Yugoslav War. According to a 2007 report by the U.S. Office of Naval Intelligence, "the PLA Navy is actively involved in developing and training with its own combat methods for the new 'Three Attacks and Three Defenses'" [10]. In an era of information warfare, growing naval cooperation between Pakistan and China will likely be focused on conducting cooperative naval intelligence, gathering strategic information and obviating an enemy's surveillance activities.
In this regard, China's basing activities not only in Gwadar but also in Hambantota of Sri Lanka could be linked with the PLA Navy's overall strategy of keeping the ocean(s) [beyond the Taiwan Strait] 'peaceful and harmonious' in terms of Chinese national interests (The Times of India, April 26). According to Chen Hu, "China needs the Oceans … The Oceans also need China … Hexie shijie [harmonious world] can not exist without hexie haiyang" (Zhongguo Haijun Wang [China Navy Net], April 25). The concept of hexie haiyang [in the Indian Ocean] was loudly echoed by Pakistan with the tacit support of Beijing. More recently, Pakistani Defense Minister Ahmad Mukhtar reinforced the image of the burgeoning cooperation between the two country's naval powers, saying "I [Pakistan] want your [Chinese] warships to stay in Pakistan, for they are really amazing" (Zhongguo Ribao Wang [China Daily Net], March 12).
China's naval cooperation with Pakistan has gradually developed since October 2003, when the Chinese and Pakistani navy held training exercises in the East China Sea near Shanghai, which was the PLAN's first military training exercise with a foreign nation. In November 2005, the PLAN conducted a non-traditional military training exercise with Pakistan in the Arabian Sea. In July 2007, the PLAN undertook its first multinational military training exercise at sea near Pakistan. According to Ye Hailin, a researcher in the Institute of Asia-Pacific Studies at the Chinese Academy of Social Sciences (CASS), 'the Indian Ocean with Chinese characteristics' has emerged since 2007 when two Chinese guided-missile frigates, Lianyungang and Sanming, participated in the first AMAN 07 multinational naval exercise in Karachi (Dongfang Zaobao, March 13). In an interview with the official Xinhua News Agency, PLAN Commander Admiral Wu Shengli stated that, "Since the new century, the Chinese Navy has conducted 37 joint military drills with its foreign counterparts in areas including non-proliferation of weapons of mass destruction, security defense of sea-land-air channels, antiterrorism and joint search and rescue." Admiral Wu added that the PLAN was on the way of becoming an "ocean-going iron Great Wall" (Beijing Review, May 4).
The significance of Sino-Pakistani naval cooperation was underscored by an assessment made by Pakistan's Admiral Afzal Tahir in 2008: "Pakistan's Navy and the PLAN have been continuing a friendly relationship, this not only is a crucial part of our bilateral relations but also will bring a positive outcome to us. This is my strong and unchanging belief" (Dongfang Zaobao, April 8, 2008). In March 2009, the PLAN's most advanced indigenous built Type 052B (or Guangzhou) missile destroyer, which is stationed at the Sanya naval base on Hainan Island, participated in the second AMAN 09 multinational naval exercise held by Pakistan from March 9 to 12. According to Li Ping, the captain of the destroyer, "sending Guangzhou, our most advanced homemade destroyer," with the slogan of 'Together for Peace,' "showcases China's full respect for Pakistan's sea …" [11]. According to Li, "AMAN 09 will enhance our capabilities in coping with changes in military technology, multifaceted security challenges as well as diverse military missions. Non-traditional military tasks, which diverge from the military's traditional tasks of confrontation and war, range from antiterrorism and anti-piracy to international humanitarian aid and disaster relief" (Beijing Review, March 13).
Furthermore, the Pakistan Navy recently indicated that it will receive two of four F-22P frigates from China in August and December of this year. Each frigate is equipped with modern weaponry and sensors, as well as anti-submarine Z9EC helicopters. Two helicopters have reportedly arrived in Pakistan. The third F-22P Frigate was reportedly launched at Hudong Shanghai on May 28, and construction of a fourth ship started in March of this year at the Karachi Shipyard and Engineering Works, and will be delivered to the Pakistan Navy in April 2013 (Associated Press of Pakistan, June 4). In an effort to neutralize China's growing military influence in the regional balance, India has ordered three new Phalcon Airborne Warning and Control Systems (AWACS) for $1.1 billion from Israel in 2004. The first of three AWACS was delivered on May 27, 2009 and the remaining two planes are expected to reach India in 2010 (Jerusalem Post, May 24). New Delhi, in tandem with Indo-Israeli military cooperation, recently deployed four Sukhoi fighter aircraft on Tezpur airbase in Assam along the Chinese border. It is reported that India plans to acquire over 200 Russian-made Sukhoi by 2014 (Daily Times, June 16).
Deepening naval cooperation between Beijing and Islamabad complicates the changing maritime balance of power in the strategic area between the Indian Ocean and the Persian Gulf. China's rising naval influence from the Taiwan Strait to the Strait of Hormuz via the Indian Ocean aims not only at enhancing its military capability for strategic peripheral denial but also at developing "politically useful capabilities to punish American forces if they were to intervene in a conflict of great interest to China" [12]. In particular, China's visible maritime investment and naval presence in the Indian Ocean, under the aegis of Pakistan and the SCO, increases its strategic ability to affect vital sea lanes to the Persian Gulf while keeping the Taiwan Strait harmonious [13]. Therefore, it remains to be seen whether the evolving naval connections between Pakistan and China could become the hidden teeth of the Dragon along the Indian Ocean between Tehran and Taipei.
Notes
1. Arthur Waldron, "China's New Navy," Looking Forward (December 15, 2005), at https://www.strategycenter.net/printVersion/print_pub.asp?pubID=86
2. Zhang Wenmu, "Sea Power and China's Strategic Choices," China Security (Summer 2006), p. 25, at https://ww w.wsichina.org/cs3_2.pdf.
3. David F. Helvey, China's Energy Consumption and Opportunities for U.S.-China Cooperation to Address the Effects of China's Energy Use, Testimony for the U.S.-China Economic and Security Review Commission, June 15, 2007, p. 6, at https://www.uscc.gov/hearings/2007hearings/written_testimonies/07_06_14_15wrts/07_06_15_h elvey_statement.pdf.
4. Muhammad Ijaz Butt, Focus on China: Relations with Pakistan, Domestic Concerns (Lahore: Advance Publishers, 2007), pp. 125-128.
5. Lisa Curtis, China's Military and Security Relationship with Pakistan, Testimony for the U.S.-China Economic and Security Review Commission, May 20, 2009, p. 3, at https://www.uscc.gov/hearings/2009hearings/written_te stimonies/09_05_20_wrts/09_05_20_curtis_statement.pdf.
6. Mohan Guruswamy, Jeevan Prakashi Mohanty and Ronald Joseph Abraham, "Will India Catch Up with China?" in V. P. Malik and Jorg Schultz, eds., The Rise of China: Perspectives from Asia and Europe (New Delhi: Pentagon Press, 2008), p. 173.
7. Shigeo Hiramatsu, Chugoku no anzen hosho senryaku [China's Security Strategy] (Tokyo: Keiso Shobo, 2005), p. 59.
8. Thomas Parker, "China's Growing Interests in the Persian Gulf," The Brown Journal of International Affairs, Vol. 7, No. 1(Winter/Spring 2000), p. 241.
9. Taylor Fravel, "China's Search for Military Power: Internal Control, Peripheral Denial and Limited Force Projection," presented at International Symposium on Security Affairs 2007: "China's Rise and Its Limitations: China at the Crossroads," hosted by National Institute for Defense Studies, Ministry of Defense of Japan, Tokyo, Japan, February 1, 2007.
10. U.S. Office of Naval Intelligence, China's Navy 2007, p. 27, at https://www.fas.org/nuke/guide/china/oni2007.pdf.
11. "Together for Peace," MAG: The Weekly Defence(April 18, 2009), at https://www.magtheweekly.com/52/defence.php.
12. Thomas J. Christensen, "Posing Problems Without Catching Up: China's Rise and Challenges for U.S. Security Policy," International Security, Vol. 25, No. 4(Spring 2001), p. 9.
13. Richard D. Fisher, Jr., Chinese Naval System Modernization Trends, Testimony for the U.S.-China Economic and Security Review Commission, June 11, 2009, p. 4, at https://www.uscc.gov/hearings/2009hearings/written_testimonies/09_06_11_wrts /09_06_11_fisher_statement.pdf