Defending Uzbekistan's Sovereignty in Face of the Ukraine Crisis—A Net Assessment of Developments in Uzbekistan Since the Start of 2014
Publication: Eurasia Daily Monitor Volume: 11 Issue: 184
By: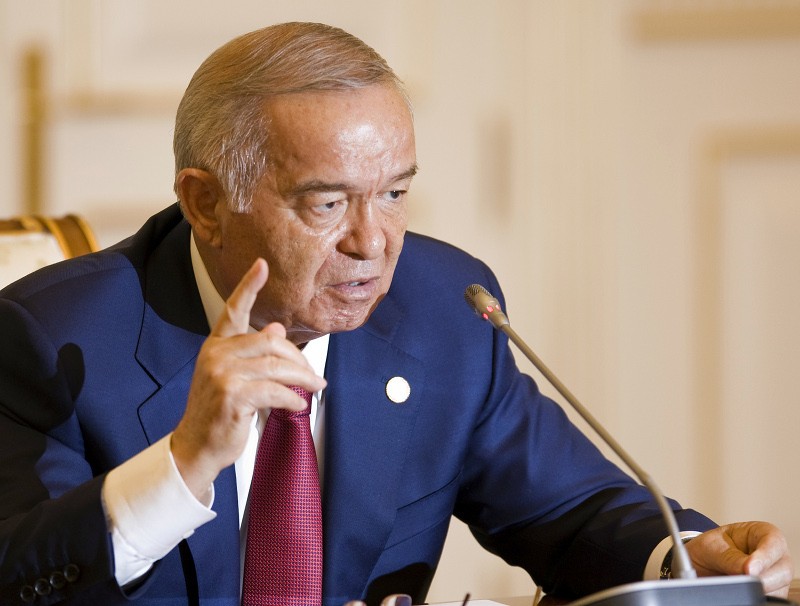 The involvement of Russia in the current turbulent situation in southeastern Ukraine most likely did not surprise Uzbekistan's government, as it saw the parallels with the wars in Georgia in 2008 and in Transnistria in 1990. For President Islam Karimov, the situation in Ukraine most likely reconfirmed that Vladimir Putin is not one to shy away from military actions to keep the countries of the former Russian Empire and later Soviet Union under Moscow's sphere of influence. According to experts, Karimov believes the issue of protecting Russians abroad is merely an instrument or tactic being used as a pretext for Russia's interventions, including military.
No matter how great Uzbekistan's fears are regarding the threat to its indivisibility and sovereignty due to Moscow's aggression, for economic reasons, this Central Asian republic will not shut the door completely on Russia—at least not abruptly. After all, the Russian Federation remains Uzbekistan's largest bilateral trade partner. Neither does Russia want to lose Uzbekistan. In fact, the last speech by President Karimov, during the most recent Commonwealth of Independent States (CIS) summit, called for finally launching the CIS Free Trade Zone (FTZ) (press-service.uz, October 10), a Russia-driven project aimed at canceling import tariffs and export duties, which Uzbekistan signed on to as the ninth participant in May of 2013 (see EDM, October 4, 2013). In the same speech, Karimov described the FTZ as a union that does not distress domestic markets—an oblique criticism of the forthcoming Eurasian Economic Union (EEU). Furthermore, he added an overt criticism, calling the EEU a union without foundational precepts.
Notwithstanding the economic and political pressures exerted by Russia, Tashkent is doing everything in its power to stay outside Moscow's sphere of influence. As Uzbekistan's biggest bilateral trade partner, Russia can indeed pressure a recalcitrant Tashkent by cutting back investments and bilateral trade. The country most able to help Uzbekistan avoid full submission to Russia is China, which has started to economically eclipse Moscow's influence in Uzbekistan and the rest of Central Asia. And this past August, in the latest China-Uzbekistan bilateral meeting in Beijing, the two sides approved a five-year development plan and agreed to give priority to building line D of the China–Central Asia natural gas pipeline (xinhuanet.com, August 19). Whether it was coordinated or not, Uzbekistan will be phasing out its supply of natural gas to Russia, and redirecting it mainly to China by 2021 (RIA Novosti, October 8). Furthermore, even with China as the leading economic alternative, over the course of the past nine months, Uzbekistan has been actively reaching out to new investors and markets to expand investment opportunities with Europe (Latvia, Spain), South Korea, Japan and Turkey (jahonnews.uz, September 26, June 18, May 28, July 15; press-service.uz, August 6).
Tashkent's caution in expressing its opinion on the Ukraine situation was seen in its clear, though vaguely worded, call in May for the respect of state sovereignty and a non-military resolution to the conflict (see EDM, May 2, 2014). Tashkent's abstention in the March 27 United Nations General Assembly vote on the status and results of Crimea's March 16 referendum sent an even stronger message of disapproval of Russia's actions in Ukraine. Karimov recently revisited the Ukraine issue during the Shanghai Cooperation Organization (SCO) meeting of the heads of member states in Dushanbe, September 18, where he supported the Minsk agreement on the resolution of the situation in Ukraine (see EDM, October 3). In the same speech, he said that peace should be reached between Russian and Ukraine by way of negotiations (press-service.uz, September 19), thus recognizing Russia's full-fledged participation in the confrontation. However, at this month's meeting of the heads of the CIS, the Uzbekistani president expressed an ambiguous opinion in which he voiced his irritation at the absence of Ukrainian President Petro Poroshenko, who supposedly was expected to have attended the summit (Ukraine is still a member of the CIS, and was the only country represented by an ambassador rather than its head of state). President Poroshenko's presence could have resulted in greater clarity to the Ukraine problem, Karimov said, adding that while the Ukrainian president frequently visits European countries, only a few CIS leaders have so far met Poroshenko in person (press-service.uz, October 10).
Watching the developments in Ukraine unfold over the past year, Uzbekistan's government has been occupied with the problem of trying to pursue a politically independent path from Russia. But considering that Uzbekistan is virtually alone in its region, with nearly all of its neighbors closely allied with or dominated by Moscow, the country is attempting to figure out how much longer it can retain the strength and resources to push back against Russian influence.