Uzbekistan Seeks to Reinvigorate Its Diplomatic Clout in the Region (Part One)
Publication: Eurasia Daily Monitor Volume: 11 Issue: 175
By: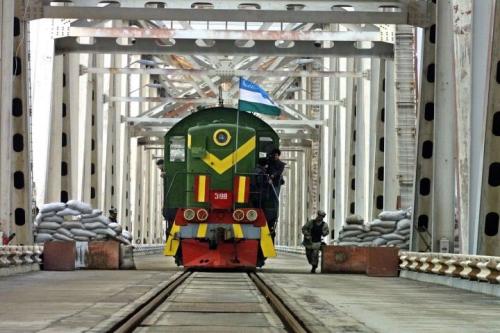 Tashkent's recent diplomatic efforts to serve and actively pursue its vital national interests may best be described by the mantra "a strategy is always square, but tactics are always round." The attendance of the president of Uzbekistan, Islam Karimov, at the most recent summit of heads of states of the Shanghai Cooperation Organization (SCO), in Dushanbe, on September 11–12 might best illustrate this notion (see EDM, October 2). There, the Uzbekistani president met on the summit's sidelines with his Iranian, Russian and Tajikistani counterparts—Hassan Rouhani, Vladimir Putin and Emomali Rahmon, respectively. But this year, these meetings represented a clear reinvigoration of Uzbekistan's foreign policy, both bilateral and multilateral, in the directions of Central Asia, Eurasia and the Persian Gulf.
The SCO summit allowed for the first face-to-face meeting between Karimov and Rouhani since the latter's inauguration as president of Iran. Cognizant of Iran's staunch ideological foundation and its complicated ties with the West, the leader of the secular and ever-vigilant Uzbekistan focused mainly on cooperation in transportation issues. Being one of only two double landlocked countries in the world—the other is Liechtenstein—Uzbekistan crucially needs safe transit arteries to expand its foreign trade, which is a vital source of its state revenue. Consequently, Uzbekistan has quietly been pursuing an initiative to link Central Asia with the Gulf via the so-called Uzbekistan-Turkmenistan-Iran-Oman (UTIO) land, rail and sea route (trend.az, September 4).
According to Uzbekistan's Ministry of Foreign Economic Relations, Investments and Trade, the UTIO parties signed an Intergovernmental Agreement on April 25, 2011, in Ashgabat, on Uzbekistan's initiative, to establish a new transport corridor. Better known as the Ashgabat Agreement, the initiative seeks "to create a reliable communication link for passengers and goods transportation between Central Asia and ports of the Persian Gulf and the Sea of Oman" to boost trade and economic cooperation, transit flows and provide access to global markets (mfer.uz, accessed October 3). The corridor will reportedly facilitate the transit of 3–5 million tons of cargo annually and could reach as high as 12 million tons (Press TV, August 6). On August 6, 2014, the foreign ministers of all four UTIO countries met in Muscat, Oman, to further review and discuss ways to speedily implement this transit project (Times of Oman, August 6). Kazakhstan already is part of a 677-kilometer-long North-South trans-national railroad corridor that connects Kazakhstan, Turkmenistan and Iran to the Gulf, which will to be launched by March 2015 (Press TV, September 8). Iranian Foreign Minister Mohammad Javad Zarif stated that a "reliable [North-South] transit corridor is needed to handle the transfer of commodities between the Persian Gulf and the Central Asian states" (Press TV, August 6). Following two decades of hesitation, Tashkent's final movement forward on the UTIO project suggests the country feels it can no longer bow to Washington's pressure against working together with Iran, ahead of Uzbekistan's own need to secure its national interests.
This change reorients Tashkent's long-run, foreign transportation strategy away from its other preferred corridor development projects, which remain suspended due to ongoing dangerous hotspots in areas where these transit routes were supposed to extend. Uzbekistan had previously also advocated transport routes including a North-South transit corridor to Bandar Abbas, Chahbahar, Gwadar and Karachi ports via Afghanistan, as well as a route to Urumqi in China via the Kyrgyz Republic, which has been considered unattainable since the early 1990s. Indeed, Kyrgyzstan's blocking of this project, in addition to other bilateral disputes (see EDM, February 13), have made it impossible for Karimov to meet with the Kyrgyz leadership. Meanwhile, a corridor to the Ukrainian Black Sea port of Ilyichevsk, via Kazakhstan and Russia, has been halted by the war in Ukraine. That said, Tashkent has been actively cultivating the Northern Distribution Network transit corridor (established by the US to supply Western forces in Afghanistan), which reaches, ports in the Baltic Sea via Kazakhstan, Russia and Latvia (mfer.uz, accessed October 3).
Still Tashkent will most likely remain alert to the so-called "cultural aspects" that may affect its growing collaboration with Iran. For example, in November 2013, authorities in Uzbekistan sentenced Ravshan Gulyamov, the head of the Samarkand chapter of the Iranian-Uzbek Friendship Society, to five years in prison for proselytizing in Samarkand and Jizzakh provinces. An investigation by law enforcement revealed that the Iranian diplomatic mission in Tashkent had supplied Gulyamov with thousands of print and digital media sources that insulted Sunni Muslims (mail.ru, November 22, 2013).
At the September 2014 SCO summit, Karimov also met with Putin. Despite the ups and downs in Tashkent's relations with Moscow, Russia remains Uzbekistan's largest foreign trade partner. In 2013, bilateral trade turnover reached $7.1 billion (mfa.uz, accessed October 3). Surprisingly, during his SCO summit speech, Karimov appeared to break with previous Uzbekistani policy regarding a resolution to the Ukraine crisis by saying: "In any negotiations processes on the Ukrainian crisis, the ages-old interests of Russia that have evolved historically throughout many centuries should also be taken into account. Ignoring these interests would be a serious oversight" (press-service.uz, September 12).
Until these brief remarks by Karimov, the Uzbekistani foreign ministry has released just two statements on the Ukraine crisis, on March 4 and 24. If the former expressed a deep anxiety and concern (jahonnews.uz, March 4), the latter called for direct bilateral talks in search of a mutually favorable compromise solution (mfa.uz, March 24). Both texts avoided making any controversial statements that any of the conflicting sides could object to. They both referred to the United Nations Charter and the norms of international law. One could infer from these diplomatic documents that Tashkent was calling on Russia to adhere to its pledges, made in the 1994 Budapest Memorandum, to safeguard Ukraine's territorial integrity. And indeed, in his SCO remarks, Karimov cited only the foreign ministry's March 4 statement, while omitting reference to the one released on March 24, which had not explicitly condemned the infringement of Ukraine's sovereignty. Consequently, these two foreign ministry documents, coupled with Karimov's speech, arguably represent Tashkent's vacillation in finding an appropriate bilateral relationship with Moscow (kremlin.ru, September 11).