Uzbekistan Seeks to Reinvigorate Its Diplomatic Clout in the Region (Part Two)
Publication: Eurasia Daily Monitor Volume: 11 Issue: 217
By: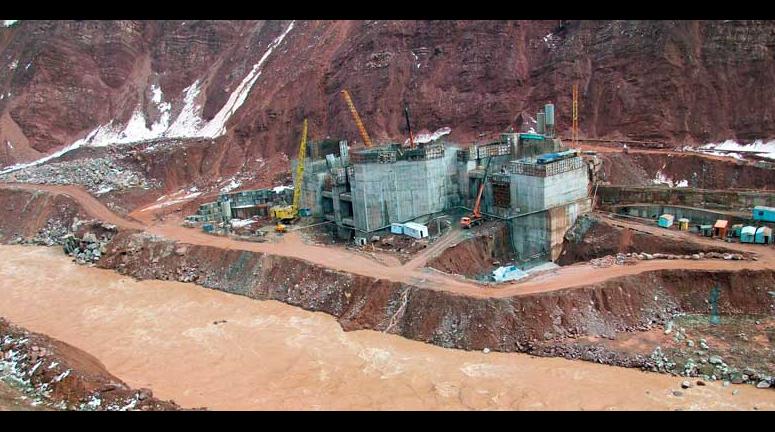 Since the fall of 2014, Tashkent has been boosting diplomatic engagement with its neighbors (see Part One in EDM, October 3). In particular, Uzbekistan's President Islam Karimov met with President Emomali Rahmon of Tajikistan in Dushanbe on September 11 (press-service.uz September 13, 2014), and visited Turkmenistan on October 23–24 (press-service.uz October 25), and Kazakhstan on November 24–25 (press-service.uz November 26). Two critical issues have pushed Uzbekistan to reinvigorate its diplomatic efforts in its immediate neighborhood—the future of water and energy use in Central Asia, as well as the forthcoming pull-out of Western military forces from Afghanistan.
In July 2014, to Uzbekistan's utter indignation, the World Bank's Fifth and Final Riparian Meetings on Rogun Assessment Studies, held in Almaty, technically gave a green light to the construction of the Rogun Hydro Power Project in Tajikistan (worldbank.org, July 18). Appealing also on behalf of other downstream Central Asian countries like Kazakhstan and Turkmenistan, Uzbekistan found the World Bank study's conclusions "unsatisfactory and insufficient to form a qualified opinion" and categorically affirmed that "Uzbekistan will never under any circumstances provide support for this project" (mfa.uz, August 1). Tashkent's discontent was mainly twofold—construction work at the Rogun site was never halted, even as Tajikistan waited for the feasibility study's conclusion, and the World Bank allegedly did not take into consideration Uzbekistan's concerns over the project's environmental implications or considered building a series of smaller hydro-power stations instead.
Interestingly, Tajikistan is the only case in which Uzbekistan seeks outside backing via multilateral and international engagement. Tashkent prefers to deal with all other countries and address issues of global politics on a bilateral basis. But the current tangle of contradictions regarding Central Asia's water and energy resources has arisen due to the gradual dissolution of the Central Asian Power Grid System, from which the downstream states of Turkmenistan, Kazakhstan and Uzbekistan withdrew (the first in 2003, and the latter two in 2009) due to the upstream Kyrgyz Republic and Tajikistan both syphoning off electricity without due payment. This Grid System is still Central Asia's most important energy and water dispatcher network, which links the entire region, and it functioned in central Tashkent throughout the Soviet period (Russiancouncil.ru, April 2, 2012). Consequently, not only has the transit of Turkmenistani electricity to Tajikistan and the shipment of Kyrgyzstani electricity to Kazakhstan been paralyzed, but the supply of electricity to Uzbekistan's southern provinces has also partly malfunctioned due to the Grid System's fragmentation.
Issues of water use and the energy deadlock are particularly acute between Uzbekistan and Kyrgyzstan and Tajikistan—even though bilateral Treaties of Friendship, Good-Neighborhood and Cooperation, and Eternal Friendship have been in force for decades among these three neighbors. Nonetheless, diverse national interests regarding the use of upstream hydro-power stations for energy by Kyrgyzstan and Tajikistan, as opposed to downstream Uzbekistan and Turkmenistan's use of the water for irrigation leads to serious regional conflicts. And this situation is further exacerbated by the downstream agrarian communities' rampant inefficient water use (Nature.com, October 1).
After the United States' National Aeronautics and Space Administration (NASA) released the latest satellite images of the shrinking Aral Sea (nasa.gov, September 26), Uzbekistan convened a major international conference in Urgench on mitigating the consequences of this environmental catastrophe (AralConference.uz, October 28–29). In his video message to the conference participants, United Nations Secretary-General Ban Ki-moon, recalling his visit to the Aral Sea in 2010, admitted that "the root of the problem is poor water management" (un.org, October 28).
On the territorial defense and security front, Uzbekistan's primary concern is the fact that 8 out of its 12 provinces border on Tajikistan (Ezilon.com, Maps). Tashkent considers Tajikistan to still be seriously vulnerable to militant incursions, such as those that occurred in 2000. Uzbekistan considers the Tajikistani-Afghan border the weakest point in its immediate neighborhood security strategy. As a result, Tashkent completely sealed off and mined the difficult-to-access sections of its interstate border in areas of elevation above 3,500 meters (unog.ch, March 13, 2013). Direct air flights, rail and shuttle routes between Uzbekistan and Tajikistan were shut down earlier and are still not available; and Tashkent introduced a visa regime with its eastern neighbor.
Uzbekistan considers the situation in Afghanistan especially grave. And fears of spillover of militant activity after the Afghan drawdown by Western forces likely remind Uzbekistan's authorities of the unsettling events of December 1991. At that time, just prior to Uzbekistan's presidential elections, supporters of the militant organization Adolat (predecessor to the Islamic Movement of Uzbekistan—IMU) seized the mayor of Namangan and demanded the proclamation of an Islamic state. Recently, to beef up internal security and maintain enhanced public order, Uzbekistan has adopted a new directive, which authorizes the government to set up civilian volunteer squads. These civilian squads will assist the border troops in early warning and conflict prevention in cases of smuggling and trafficking of illegal arms, ammunitions, drugs, extremist religious literature and wanted criminals (Lex.uz, September 30).
Indeed, Tashkent's concerns about a growing militant threat has forced it to be ever more proactive in its security and counter-terrorism policies. Illustratively, in January 2014, Afghan politician and leader of ethnic Uzbeks in Afghanistan, General Abdul Rashid Dostum (he has since become vice president in the new Ashraf Ghani administration), paid an unannounced, unofficial visit to Kazakhstan and Uzbekistan (see EDM, March 10; Fergananews.com, February 1; Afghanistan.ru, February 3). Some observers suggested that the three parties might have been testing the waters regarding the creation of a cordon sanitaire along the borders of Central Asia and northern Afghanistan—the latter area is de facto controlled by Dostum—in case of a sharp rebound in Taliban and militant activity following the Afghan drawdown (ng.ru, April 2). Additionally, in October of this year, the Committee for Religious Affairs, which is connected to the Cabinet of Ministers of Uzbekistan, admitted that there are fighters from Central Asia within the ranks of the Islamic State organization. This was the first such announcement since the conflict in Syria and Iraq has exploded (Religions.uz, October 31).
As security and economic issues in the Central Asian region continue to grow in importance, Uzbekistan has apparently come to realize that it needs to boost its own diplomatic efforts to ensure that the country's national interests are properly defended. This has involved not only stepping up Tashkent's bilateral relations with its neighbors, but has also convinced the country to seek more multilateral solutions in addressing such key matters as regional water usage and trans-border electricity shipments. Uzbekistan's success in these efforts will, in large part, determine the country's further development trajectory.