Uzbekistan Seeks to Shore up Strategic Alliance With Kazakhstan
Publication: Eurasia Daily Monitor Volume: 11 Issue: 217
By: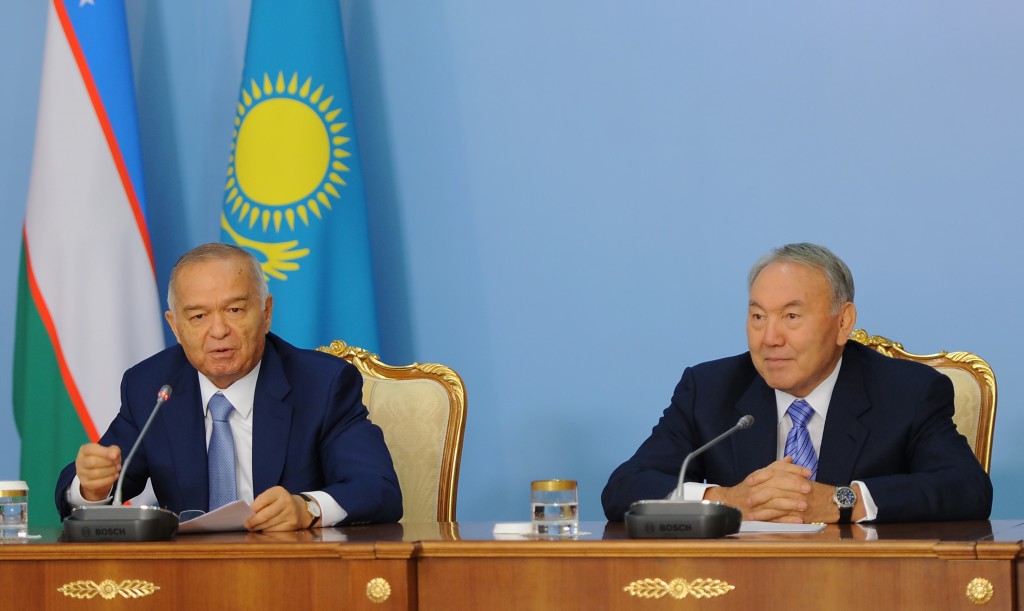 On November 24 and 25, Uzbekistan's president, Islam Karimov, paid an official visit to neighboring Kazakhstan, where he spent long hours with his local counterpart, Nursultan Nazarbayev. The last time Karimov went to Astana was in September 2012, followed by Nazarbayev's reciprocal visit to Tashkent last June. The two leaders maintain a cordial working relationship, being Central Asia's longest-serving rulers and colloquially known because of this as post-Soviet "patriarchs." Also, both are the oldest presidents in the whole of Central Asia, with Karimov and Nazarbayev turning 77 and 75 next January and July, respectively (akorda.kz, November 24; press-service.uz, June 13, 2013; akorda.kz, September 6, 2012).
While Karimov is rarely seen going abroad on state trips these days due to his age and reportedly deteriorating health condition, his two-day trip to Kazakhstan was visibly more of a courtesy visit than a business one, unlike those made by Western leaders who usually fly in for a few hours only to witness the signing of important contracts. In fact, the only practical result of the Karimov-Nazarbayev meeting was the adoption of a bilateral cooperation agenda for 2015–2016 at the level of foreign ministries and the signing of a protocol amending a 1997 agreement on the protection of industrial property. Neither of these documents should have required two presidents in attendance—and even less so, two full days of discussions without a clear agenda (tengrinews.kz, November 25).
Karimov's foreign policy move thus reflects Tashkent's mounting preoccupation with the state of its external partnerships, at a time when Central Asia is once again being shaken by fierce geopolitical and economic headwinds. As Russia's GDP is set to decrease by 0.8 percent in 2015, according to the Russian Ministry of Economy's revised estimate, labor migrants from Central Asia, especially Tajikistan and Uzbekistan, will certainly encounter new employment problems. Last year, the flow of remittances from Russia to Central Asia already shrank for the first time since 2009, leading a growing number of migrants to return home in search of opportunities that hardly exist. Undoubtedly, the Karimov regime takes the risk of socioeconomic troubles seriously, having largely failed during the past two decades to create an open, investor-friendly market economy in Uzbekistan (gazeta.ru, December 2; vz.ru, September 18).
With this in mind, Islam Karimov expectedly put on the table his proposal to intensify trade and economic cooperation with Kazakhstan, which remains Uzbekistan's largest trading partner in Central Asia. According to Kazakhstani statistics, bilateral trade turnover grew 6.7 percent year-on-year in 2013 to $2.1 billion and was at $1.5 billion in January–September 2014. The Uzbekistani authorities have their own trade figures, which differ significantly from those of Kazakhstan's Agency for Statistics, as is the case with other Central Asian republics as well, all of them using various methodologies. Thus, according to Uzbekistan's government, bilateral trade grew last year by 14 percent in annual terms to $3.2 billion. Whichever data is closer to reality, it inevitably falls short of the $5 billion target, which the two states set before themselves in late 2012 (gazeta.uz, November 26; kapital.kz, November 22; 12uz.com, December 12, 2012).
Kazakhstan's lower growth forecast for 2014—downgraded by the World Bank from 5.7 percent this spring to 4.1 percent in November—is unlikely to strengthen Uzbekistan's trade hand. While it was widely argued a few years ago that Tashkent's choice to stay outside of the Russia-Kazakhstan-Belarus Customs Union and the Eurasian Economic Union (EEU) could severely limit its trade options within the Commonwealth of Independent States (CIS), this assumption no longer seems worthy of consideration. With Russia's and Kazakhstan's economies both headed for a slowdown, such countries as Uzbekistan, whose trade mostly hinges on the former Soviet bloc, will be the first to suffer from the former's deepening macroeconomic woes (bnews.kz, November 19).
Regional security is another strategic issue on the Uzbekistani president's mind. Karimov and Nazarbayev both have expressed anxiety with regard to the growing presence of multiple radical groups across Central Asia. The Islamic State (formerly known as the Islamic State of Iraq and Syria—ISIS) is increasingly viewed in Tashkent and Astana as a formidable challenge to domestic stability. Last month, the National Security Committee of Kazakhstan (KNB) said that over 300 Kazakhstanis were fighting in Iraq and Syria, almost half of them women. As for Uzbekistan, the Islamic State has recently received support from the Islamic Movement of Uzbekistan (IMU) some of whose military leaders said they will be joining Islamic State forces with a view to further spreading its influence to Afghanistan and Central Asia (tengrinews.kz, November 18; RIA Novosti, October 6).
Despite their long-standing rivalry for regional preeminence, Uzbekistan and Kazakhstan, both faced with similar strategic challenges and dilemmas, have increasingly been moving toward an alignment of their respective positions on a host of issues. Last summer, they concluded a strategic partnership agreement as a supplement to the mostly ineffective eternal friendship treaty of 1998. Besides converging stances on terrorism, religious extremism and separatism, they are firmly opposed to the uncontrolled expansion of Kyrgyzstan's and Tajikistan's hydropower capacities, fearing the eventual consequences of such projects for downstream agriculture in the Aral Sea basin. Moreover, Karimov and Nazarbayev are both confronted with the nearing prospect of succession and, therefore, are particularly keen to preserve the influence of their respective clans and to assure domestic stability in times of economic hardship (avesta.tj, September 9, 2012).