Defense Minister Alasania's Ouster Underlines Profound Crisis of Georgia's Political Elites
Publication: Eurasia Daily Monitor Volume: 11 Issue: 201
By: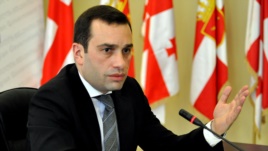 The November 4 sacking of Georgian Defense Minister Irakli Alasania by Prime Minister Irakli Garibashvili (Imedi TV; Rustavi 2, November 4; see EDM, November 5) and Alasania's Our Georgia–Free Democrats party's subsequent departure from the ruling Georgian Dream (GD) coalition to the opposition (Channel 1 TV, November 5) sparked a political firestorm in Georgia. Or more precisely, Georgian media sources and the political elites—both of which often gloss over meaningful political issues and are frequently ready to paint false impressions of urgency—have blown this event out of proportion.
The ouster of a cabinet minister, even one as relatively popular as Alasania was (Civil Georgia, August 27), is not a rare occurrence in politically unstable Georgia, where government members are constantly being sacked and new ones appointed. Moreover, the gradual disintegration of GD has long been anticipated (see EDM, January 17, 2013). Hence, it should not have come as a surprise to anyone that one of the ruling coalition's members finally broke away—or more exactly, was pushed out. Furthermore, in Georgia, disgruntled former members of the government habitually move into the opposition to take political revenge on their former political partners and try to recapture power. Overall, former defense minister Alasania's ouster is the continuation of a regular, although ugly trend in Georgian politics that, from time to time, claims new political victims.
Nevertheless, Alasania's departure from the government—as routine an occurrence as it might be—underlines a deeper crisis that overwhelms Georgia's political elites. It is this very predictability of the eventual exit (whether forced or not) of a government minister and his or her defection to the opposition, which indicates that the Georgian political system is sick. Indeed, politics in the country appears to be locked into a "magic circle," whereby same politicians, over and over again, serve in different governments, defect to the opposition, challenge their former political partners, oust them, and, once in power, start another cycle anew.
What is more, these constantly rotating political actors are devoid of effective political programs. They regularly make a flurry of unrealistic promises, which the impoverished, crises-ridden society readily believes (or pretends to believe) and supports. And once back in power, these political actors turn out to be inept leaders, whose rule continues to drive the country deeper into crisis. This has been Georgia's story for many years already. The country's political system no longer appears able to produce able leaders who can govern effectively and address the country's socio-economic and political malaise.
A brief review and analysis of Alasania's political career substantiates the above point and clearly shows what is wrong with Georgia's political culture. In the early 2000s, Alasania served as a deputy security minister under then-president Eduard Shevardnadze's administration. However, he defected; and once Mikheil Saakashvili became president as a result of the 2003 Rose Revolution, Alasania became the head of the Abkhaz Autonomous Republic's government in exile. Later, Saakashvili appointed him Georgia's permanent representative to the United Nations. However, in 2008, he defected from Saakashvili's government as well, and moved into the opposition, hoping that after that year's disastrous Georgian-Russian war, Saakashvili would fall from power, giving Alasania the chance to himself become president. He badly miscalculated, however, and had to remain in the opposition for five years, often allying with various marginal political figures outside the government. Georgian billionaire Bidzina Ivanishvili's arrival on the political stage was salvation for Alasania, as it gave him a renewed lease on political life. In 2012, he became the defense minister in the newly-elected GD-led government, from which he was sacked last week.
Alasania's current political platform is largely shallow, lacking substance and full of empty promises. Now in opposition, Alasania tries to make Georgia's pro-Western foreign policy orientation and Euro-Atlantic integration as his key rallying point, arguing that the government is jeopardizing it (Rustavi 2, November 3–5, 8). Although the majority of Georgians do support the country's integration with the European Union and the North Atlantic Treaty Organization (NATO), it is difficult to imagine that the public will follow Alasania simply because they think Georgia's pro-Western orientation is under threat. This issue is unlikely to be compelling enough for Georgian society to rise up against the current government. Alasania picked the weakest possible issue on which to build his political base.
On domestic issues, his political program is virtually silent. On November 8, right after the split from the coalition, at his Free Democrats (FD) Party Congress, Alasania vowed to reach out to "teachers, scientists, business people, non-governmental organizations" and create a society free of "hatred, tension, disrespect and revenge" (Imedi TV; Channel 1 TV, November 8). Neither he, nor anyone around him bothered to explain what they mean by this; how they plan to achieve it; and more broadly, how he is going to address the country's multiple, profound socio-economic and political problems. Even more so, Alasania will find it difficult to criticize the government for the deepening crisis in the country, as he was, until recently, part of that very government and system where rampant nepotism, mismanagement and dysfunction prevailed.
Overall, Alasania's departure underlines and symbolizes the deep crisis of Georgia's political system: it simply no longer produces effective leaders to guide or rule the country. Former-government-functionaries-turned-opposition-politicians try to fill the political arena, regularly offering only empty promises to the public. And with Alasania's move into the opposition, Georgian society is most likely poised to experience yet another cycle of hollow pledges and consequent disappointments.