Despite Yevkurov's Best Efforts, Prospects for Peace in Ingushetia Remain Dim
Publication: Eurasia Daily Monitor Volume: 8 Issue: 115
By: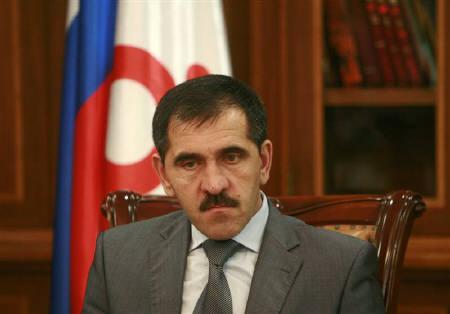 On June 11, the head of Ingushetia, Yunus-Bek Yevkurov, met with parents of suspected rebels, along with the heads of municipal entities and law enforcement agencies, in Magas, the republic's capital. Yevkurov called on the parents of the suspected rebels to convince their children to reject armed insurgent activities or, if they are unable to do so, inform authoritative elders, the authorities and the public. "Find enough courage in yourself to admit that your son poses a danger to the public," he said, adding "Let people know about him so that they guard their children from your son's subversive influence." At the same time, Yevkurov acknowledged that "part of [Ingush] youth does not trust anyone: neither the authorities, nor the [officially approved Islamic] clergy, nor the parents, nor the clans' elders." The head of Ingushetia promised to guarantee "safety and lawful rights" of those who would surrender (www.ingushetia.ru, June 11).

Despite some evident successes, Yevkurov's experience of calming Ingushetia is still debatable. On the one hand, the number of violent incidents in the republic decreased in the past year and a half. However, on the other hand, the "quality" of these incidents increased in a way and the foundations for long-term stability in the small republic remain shaky. On June 12, another clash between police and rebels group took place, leaving one rebel dead and two policemen in critical condition (www.kavkaz-uzel.ru, June 12).

On June 14, Russian Interior Minister Rashid Nurgaliev stated that the number of terrorism-related attacks in Ingushetia decreased from 84 in 2010 to just six since the start of 2011. According to Nurgaliev, 24 rebels were killed in the republic in the first half of 2011 in comparison to 66 in 2010. Nurgaliev conceded, however, that despite the government's struggle with the insurgents, they still managed to stage "a range of brazen and cynical attacks," including the bombings of the central market in Vladikavkaz, North Ossetia, and Domodedovo airport in Moscow (https://ug.rian.ru/incidents/20110614/82143545.html).

The paradox of the statistics concerning Ingushetia's insurgency is that the suicide bombing attack at Domodedovo airport, which was carried out in January 2011 and killed 37 people, may have been more important to the Russian public and politics than what had happened inside Ingushetia in the previous years. On June 8, a Moscow court issued arrest warrants for two people from Ingushetia, Rustam Altemirov and Islam Yevloev, in connection with the Domodedovo attack (www.kavkaz-uzel.ru, June 8).

Kavkavsky Uzel (Caucasian Knot) estimates that 37 people died in attacks in Ingushetia in the first three months of 2011 (www.kavkaz-uzel.ru, June 14). The Ingush human rights organization Mashr estimates that the number of killings in Ingushetia decreased from 304 in 2009 to 160 in 2010. However, the number of people who were kidnapped and disappeared in the republic stayed almost the same: 14 in 2009 and 13 in 2010 (https://docs.google.com/gview?url=https://www.mashr..org/wp-content/uploads/2011/05/Spisok-propavshih.pdf&pli=1).

The prospects for the government's ongoing struggle with the rebels in Ingushetia are far from clear. On June 14, the Federal Security Service (FSB) in Ingushetia reminded this republic's residents that a counterterrorist operation regime remained in effect in large sections of Ingushetia (https://www.mvd-ing.ru/news/detail.php?ID=769). On June 13, President Dmitry Medvedev appointed Aleksandr Trofimov as the new head of Ingushetia's police. In April, Trofimov was appointed to a senior position overseeing local police operations in Dagestan, but for some reason he has been moved to Ingushetia. His predecessor, Viktor Pogolov, had been in his position for little more than a year (www.rian.ru, June 13). It was not immediately clear why the swap took place, but it probably reflected Moscow's continued dissatisfaction with the security situation in Ingushetia.

On June 8, the Russian website Lifenews.ru unveiled a list of 52 people who, it said, were "ready to launch terrorist attacks in any part of Russian Federation." Quoting sources in the Russian security services, the website emphasized that most of the people in the list came from Ingushetia. The security services source added that some of the people on the list had been "liquidated," but that the list was updated on regular basis (https://lifenews.ru/news/60641). Ingushetia's police frantically denied the claims, saying that only three surnames in the list were Ingush and suggesting that the rest of the potential attackers had nothing to do with Ingushetia (www.kavkaz-uzel.ru, June 9).

Meanwhile, independent news sources in Ingushetia have been severely undermined by a government campaign of intimidation and pressure. The flagship Ingush opposition website, Ingushetiya.ru, was deprived of its domain several years ago. The new opposition website Ingushetia.org split after its owner, Magomed Yevloev, was killed by a police officer in 2008. Ingushetiyaru.org largely republishes other publications' materials and often cannot even be accessed.

But the most overlooked case of pressure is perhaps linked to the treatment of bloggers who cover events in Ingushetia. On June 10, a court in Moscow sentenced Aleksei Dudko, an ethnic Ukrainian convert to Islam, to six years in prison. Dudko was a close friend of Magomed Yevloev and covered events in Ingushetia and Chechnya under a pseudonym. Although his blog entries were sometimes very controversial, he was sentenced for possession of illegal arms and drugs, accusations that he and his lawyers brush aside (www.kavkaz-uzel.ru, June 11). Along with tax evasion, possession of illegal arms and drugs is one of the most widespread charges used by the police in Russia to put pressure on civil activists.

The situation in Ingushetia appears to have calmed down a little. However, the accuracy of this assessment is undermined by the virtual absence of local independent news sources. Also, no pressing issue of Ingush society seems to have been solved so far, like the lagging economy, return of refugees and high unemployment rate, so the current quietude in the republic resembles more an armistice than a lasting peace.