Will Kyiv Seek Alternatives to Russian Gas or Make Concessions to Moscow?
Publication: Eurasia Daily Monitor Volume: 8 Issue: 115
By: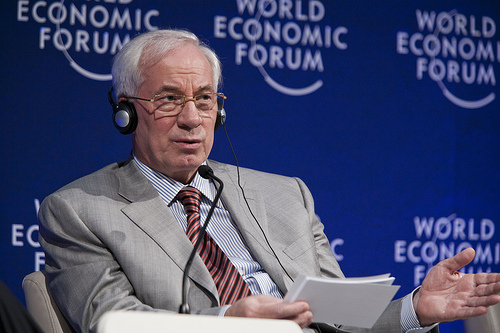 Kyiv's recent attempt to persuade Moscow to lower the price of gas for Ukraine proved to be a fiasco. Russian Prime Minister, Vladimir Putin, made it clear to his visiting Ukrainian counterpart Mykola Azarov on June 7 that Moscow was happy with the current situation when the global growth of energy prices makes Russian gas more expensive each quarter. Putin hinted that Moscow could make concessions if Kyiv agreed to either join the Moscow-dominated Customs Union or merge the national oil and gas company Naftohaz Ukrainy with Gazprom (EDM, June 10). There are two scenarios for Kyiv: either accepting Moscow's conditions or explore alternatives to Russian gas.
Judging by recent statements of Ukrainian officials, Azarov's fiasco prompted Kyiv to move from words to action as far as alternatives to Russian gas are concerned. "We are making very serious efforts [to obtain] gas supplies from other countries," Azarov told an economic forum in Vienna last week. Azarov said that this year Ukraine would launch a liquefied natural gas (LNG) terminal project whose capacity should reach 10 billion cubic meters (bcm) of gas per annum and that Ukraine was in talks on gas supplies with Central Asian countries (UNIAN, June 8).
Vladyslav Kaskiv, the head of the State Agency for Investment and National Projects, said on a visit to the US that the LNG terminal was a matter of national security as Russia refused to lower the price of gas. Kaskiv said that he discussed the project with Exxon Mobil, Halliburton and Chevron and that Kyiv would accept bids to conduct feasibility studies by the end of June (www.lb.ua, June 13, quoting Bloomberg). Azarov and Kaskiv announced plans to build the terminal on the Black Sea last year. The plan is to receive tankers with LNG from Azerbaijan which last January in Davos agreed to supply 7 bcm of LNG to Ukraine in 2014-2015, when Kyiv plans to launch the first stage of the terminal. However, it is not clear whether Azerbaijan can guarantee stable supplies and if not, where Ukraine will buy LNG.
The issue of Central Asian gas is even more complicated. Ukrainian Coal and Energy Minister, Yury Boyko, reportedly asked Gazprom to allow Ukraine to buy 25-30 bcm of gas from Central Asia at $200 to $220 per 1,000 cubic meters of gas compared to $350 which Ukraine is expected to pay Gazprom in the third quarter of this year. If Russia did not allow the transit of Central Asian gas to Ukraine through its territory, Boyko threatened to raise transit fees for Russian gas pumped to Europe through Ukraine's pipelines (Kommersant-Ukraine, June 8). However, Putin reminded Azarov that stable gas transit fees were part of the January 2009 gas agreement so Russia could retaliate by further raising prices if Ukraine raised the fees (UNIAN, June 7-8).
Ukraine pins hopes also on its own resources. Kyiv has been in talks with multinationals such as Exxon Mobil and Chevron to explore shale gas deposits in Ukraine, and last February Boyko signed documents in the US according to which Ukraine will share information on its unconventional gas reserves with the US in order to assess how much unconventional gas it has. Ukraine is about to boost oil and gas extraction in the Black Sea basin. Chornomornaftohaz, a branch of Naftohaz Ukrainy, early this year acquired a rig for deep drilling with which Chornomornaftohaz hopes to almost double its gas extraction to 1.8 bcm by 2015. The government also plans to boost the share of renewable energy sources such as wind and solar energy in the energy balance from some 0.5 percent to 10 percent by 2015 (Zerkalo Nedeli, May 27; Ekonomicheskie Izvestia, June 14).
Although all these measures should reduce Ukraine's dependence on Russian gas, they have significant drawbacks. First, even if most of them are implemented, dependence on Russian gas will hardly be reduced significantly because Ukraine has to import too much gas, 35 bcm to 45 bcm per annum. Second, this will take years to implement while Ukraine has to cope with high gas prices now. For example, the planned LNG terminal would start working at full capacity only by 2020. Third, Ukraine needs considerable investment to develop alternative sources. The government will pay $400 million for the oil rig for Chornomornaftohaz, the LNG terminal should cost at least $1.5 billion, and the state renewable energy program costs some $1 billion this year alone (Ekonomicheskie Izvestia, June 14). By contrast, Ukraine stands to lose "only" $1.1 billion to $1.2 billion this year as a result of the steep Russian gas price growth, which was not expected last year when the state budget was drafted (Zerkalo Nedeli, June 10).
In this situation, Ukraine will either swallow the pill and continue paying Gazprom according to the 2009 contract, hoping that energy prices will fall next year or make a major concession to Russia. Ukraine will hardly join the Customs Union as this would derail its free trade talks with the European Union, which are close to completion (EDM, May 25). The Segodnya daily, which is close to Ukraine's ruling Party of Regions, suggested on June 14 that Gazprom will be offered some share in Ukraine's gas pipelines, a scenario which different Ukrainian governments have opposed for years.