SCO Fails to Turn Into an "Eastern NATO"
Publication: Eurasia Daily Monitor Volume: 8 Issue: 116
By: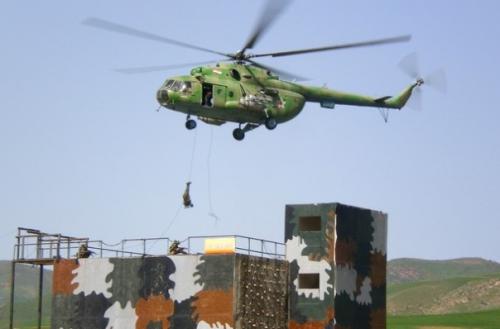 The Shanghai Cooperation Organization (SCO) comprising China, Kazakhstan, Kyrgyzstan, Russia, Tajikistan, and Uzbekistan was officially created on June 15, 2001. At the time the Taliban ruled Afghanistan, while the secular dictators of the impoverished, weak and corrupt former Soviet Central Asian "Stan" states were panicking. A radical Islamist insurgency, supported by the Talibs and (or) Osama bin Laden then resident in Kabul, could engulf one or several "Stan" states, eventually destabilizing the entire region. The SCO was formed to promote security and economic cooperation to fight the terrorist threat and poverty in the "Stan" states and make them less susceptible to Islamist Salafi agitation.
Following 9/11 the US "war on terror" began. The US and allied forces ousted the Taliban (and bin Laden) from Kabul and the seemingly imminent threat to Central Asia diminished. The SCO continued to function, but without a clear objective. Annual summits were held and tons of different communiqués signed. Regular antiterrorist military exercises were held. Economic aid was provided and China built pipelines to import Central Asian oil and gas, but after ten years the overall achievements of the SCO are not impressive: the masses in Central Asia are still impoverished, as the fruits of economic development are highjacked by a small corrupt authoritarian elite. The regular military "antiterrorist" exercises by Russian, Chinese and local troops are no guarantee that the SCO is indeed ready to act decisively in a time of crisis.
In April 2010, the then Kyrgyz President Kurmanbek Bakiyev was overthrown during a revolution that left some 90 dead and 1,500 wounded. The Kyrgyz revolution was followed by bloody ethnic strife between Kyrgyz and Uzbeks in June 2010, in the densely populated Ferghana Valley. This week speaking at the SCO summit in Astana, dedicated to the 10th anniversary of the organization, the Kyrgyz President Rosa Otunbayeva thanked the SCO for aid that "prevented a humanitarian catastrophe in Kirgizstan." But the host – Kazakh President Nursultan Nazarbayev was not impressed: "We have seen conflicts and coups in neighboring Kyrgyzstan and our organization [SCO] failed to do anything." Nazarbayev proposed creating a special SCO consultative body or "conference" to strengthen regional security and "take preventive measures in potential hot spots" (RIA Novosti, June 15). Of course, the summit did not create any special "conference," Nazarbayev was proposing and anyway, yet another bureaucratic SCO entity would hardly be of much help.
During the ten years of the SCO, Russia has been unsuccessfully trying to transform it into an "eastern NATO" – a continental military and political alliance aimed primarily to oppose Western (US) influence. Moscow has supported the expansion of the SCO: Iran, India and Pakistan that have observer status in the SCO have applied to become full members. The expansion of the SCO's membership is seen in Moscow as a way to dilute Chinese influence and boost Moscow's role, but the acceptance of new members has been vetoed by Beijing (Kommersant, June 15). The Iranian President Mahmoud Ahmadinejad visited Astana, as in other SCO summits, made his usual anti-American and anti-Israeli proclamations and returned to Tehran empty handed, as before (RIA Novosti, June 15).
China and the "Stan" nation's leaders seem intent to concentrate on the SCO core mission to maintain stability in Central Asia. As public pressure is mounting in the West to speed up disengagement from Afghanistan after the killing of bin Laden, the Central Asian autocrats see the danger as a resurgent Taliban again active in the north of Afghanistan near the former Soviet border of Central Asia. The "Arab Spring" revolutions have demonstrated the vulnerability of dictatorial regimes of long-serving autocratic leaders. At such a time the rulers of Central Asia need all the aid they can receive from anyone, including the West and are not interested in Moscow's out of area issues. The summit in Astana did pass a resolution about "the one-sided and unlimited building by one state or a group of states of missile defenses may impede strategic stability and international security." This was hailed in Moscow as a coup, though it does not seem to be more than lip service (RIA Novosti, June 15).
After the summit in Astana, Chinese President Hu Jintao visits Moscow and St. Petersburg. The 10th anniversary of the Treaty of Good-Neighborliness and Friendly Cooperation between Russia and China will be commemorated and more importantly an agreement is planned to be signed to sell China 68 billion cubic meters of Russian natural gas annually over the next 30 years from 2015. Russia's gas monopoly Gazprom is already building an expensive pipeline to bring gas from Sakhalin to Vladivostok and the Chinese border. Another "Altai" gas pipeline is planned to be constructed to pass the Sino-Russian border between Mongolia and Kazakhstan. The agreement will diversify Chinese gas supplies and Russian gas exports, but Gazprom wants to sell China gas at expensive prices, as to Europe. Independent Russian experts say this is impossible: until 2020 at least China does not need Russian gas at all, having abundant supplies from other sources, including pipelines from Central Asia and Burma. Beijing is ready to buy gas at prices that make its extraction and transportation from Russia senseless. Experts believe corrupt Gazprom officials yearn for the gas deal with China to misappropriate billions during the building of money-losing pipelines (Kommersant, June 14).
Of course, this will all be true, if a revolution does not destabilize, say, Uzbekistan – the most densely populated, impoverished and potentially unsafe of all the "Stan" nations, ruled by an aging dictator Islam Karimov. Uzbekistan has its own gas but also serves as a major transit corridor for gas from Turkmenistan to China. The fall of Tashkent – the traditional capital of the entire region – into the hands of revolutionaries (possibly Islamists) would undermine not only the other "Stan's" but also the economic and political stability of Russia and China, but it is not clear, what they will do in an emergency. Does Russia have the trained expeditionary forces to intervene? Does China have the political will to do so? The SCO summit did not really provide answers to Nazarbayev or anyone.