Dispatch from Beijing: PLA Writings on the New Silk Road
Publication: China Brief Volume: 15 Issue: 4
By: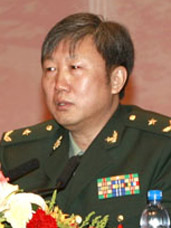 Chinese President Xi Jinping's "New Silk Road" has become a signature policy initiative, with over 50 countries participating and a new $40 billion Silk Road Fund to ensure its success (see China Brief, December 19, 2014; Xinhua, February 5). First espoused in 2013 by President Xi, the Silk Road Economic Belt and the 21st Century Maritime Silk Road, also known as "one belt, one road," places China's growing economy at the center of a global trading network. While there is no public military component to the New Silk Road, the People's Liberation Army (PLA) has become an active participant in China's internal debate over its future shape and implications.
By far the most prolific PLA author on the New Silk Road is Major General Ji Mingkui, a professor at China's National Defense University (NDU). Ji's writings see the New Silk Road as an economic panacea to the vast majority of China's diplomatic and security problems with its neighbors, and also carry an underlying current of strategic competition for influence with the United States and Japan. Ji claims that the "Maritime Silk Road will promote regional security and cooperation, cool the South China Sea issue and be beneficial to realizing the Asian Dream" (China.org, November 19, 2014). Reflecting the role the New Silk Road plays in Ji's version of U.S.-China competition, he notes that increasing Chinese investment in the region will be good for "creating a new image of China," and that as the U.S. Rebalance to Asia "loses energy, Beijing is winning influence in Asia, and Beijing is already the main economic driving force in the region." Ji later wrote that the China-Thailand railway project functions as a "bridge" between the land and maritime silk roads, and since Thailand is the transpiration hub of Indochina, all other high-speed rail projects must comply with this railroad building standard. This, argues Ji, will "restrain Japanese influence in Indochina—if Japan wants to strengthen cooperation with Vietnam, it will be forced to consider cooperation with China to join the standard" (China.org, December 12, 2014; China.org, December 24, 2014). In order to overcome geopolitical risks and historical or cultural issues that might impact its success, Ji suggests that China "should mobilize the forces of overseas Chinese in countries along the route and encourage them" to use their "social resources to promote official and personal multi-level international cooperation" (China.org, December 1, 2014).
Following President Xi's visit to the Maldives and Sri Lanka, Ji wrote that the trip "built the foundation for the Silk Road Economic Belt," while also saying China and India can turn the New Silk Road into the "Community of Common Destiny Road" (China.org, September 19, 2014). Turning to Central Asia, Ji contends the Silk Road Economic Belt provides new momentum for the Shanghai Cooperation Organization's (SCO) development and that the recent 2014 heads of government meeting "started the process of Silk Road Economic Belt security building" (China.org, December 16, 2014). Reflecting this linking of economic and security issues, Ji added that the Silk Road provides an opportunity for the SCO to expand from the security field to economic development and realize the benefits of both.
Other PLA experts often follow Ji's implicit but clear link between the New Silk Road, security cooperation and countering U.S. influence. Colonel Bao Shixiu, a Senior Research Fellow at the Academy of Military Science (AMS), couched the New Silk Road as part of an arrangement between China and its neighbors for Beijing to provide economic opportunities in return for security cooperation (YouTube, June 15, 2014). Colonel Bao said China is "ready to share its [economic] opportunities with [its] neighbors" through the New Silk Road, but "at the same time, it needs their cooperation in addressing problems such as terrorism, cross-border crime and drug trafficking." He then quoted President Xi's speech at the Conference on Interaction and Confidence Building Measures in Asia (CICA) in May 2014—"security problems in Asia should be solved by Asians themselves"—and added that "outsiders should consciously exit the game" (see China Brief, May 23; Ministry of Foreign Affairs, May 21). Ji also wrote that the "one belt, one road" initiative "will create new growth and new space for cooperation; the mainland's concept of pursuing development through cooperation and interconnection is directly changing people's security perception, breaking the hegemon's dominance and monopoly" (China.org, June 23, 2014).
PLA experts also often seek to demonstrate China's history of pacifism and allay fears that the New Silk Road will be used to promote China's growing military power by citing Chinese Ming dynasty explorer Zheng He's voyages along the ancient Silk Road, echoing a common Chinese refrain. Most prominently, Sun Sijing, a member of the Central Military Commission, used the ancient Silk Road to contrast Chinese exploration against Western colonization. He said China "brought the world culture, friendship and wealth; not war, killing and enslavement." Sun added that Zheng He "did not seize one inch of land, and did not seek maritime hegemony," but instead "sowed seeds of peace and civilization" (Academy of Military Science, November 2, 2014). Zhou Bo, an honorary fellow at the AMS, sought to dispel a link between the "String of Pearls" theory and the Maritime Silk Road (China-US Focus, February 11, 2014). Zhou argued that China is not pursuing the "String of Pearls" because Beijing can accomplish its goals of economic gains and secure sea lines of communication (SLOCs) through trade and international anti-piracy missions, respectively. Zhou believes that the New Silk Road, among other major initiatives, will "fundamentally change the political and economic landscape of the Indian Ocean and benefit all countries in the region" and "help to mitigate security concerns." Mirroring Sun, Zhou wrote that Zheng He's "voyages were not aimed for conquest of peoples or of territory" and he "didn't venture to establish bases either."
This ties into a discussion of how the New Silk Road supports China's peaceful development. Writing in the People's Daily, two scholars at NDU assert that China has "broken with the old historical logic of 'a strong country must be a hegemon,' " stating that " 'one belt, one road' is a road of peace" and "brings the China Dream and the world's dream closer together" (People's Daily, December 24, 2014). They argue that "building 'one belt, one road' helps relevant countries promote joint security through cooperation, effectively manage differences and disputes, advance every country's coordination and harmony, and makes countries along the route walk the road of peaceful development." They also contend that "at the same time, [the New Silk Road] has important significance for guaranteeing China's strategic security; expanding its strategic space, stable energy supplies and guaranteeing its economic security; and breaking through the strategic encirclement and containment of China." Likewise, Ji argues that the New Silk Road is "a new model of international cooperation and standards that breaks from the model of Cold War thinking" and "can reduce differences and unhealthy competition" (China.org, December 1, 2014).
PLA experts have also been involved in conferences on the New Silk Road to promote their ideas on the topic, inside and outside of China. Scholars from the AMS participated in a discussion on the Maritime Silk Road in Fujian province (CASS, September 16, 2014). Colonel Bao Shixiu, quoted above, spoke at the Schiller Institute in New York on the "New Silk Road and New Asian Security Architecture for Asia" (YouTube, June 15, 2014). Zhu Chenghu, a professor at NDU, participated in a conference on U.S.-China relations and the New Silk Road in Xi'an (Xi'an Jiaotong University, January 16, 2015). Zhang Xiaotian, a Ph.D. at NDU, spoke on the challenges to "one belt, one road" at Tsinghua University (Tsinghua University, 2014).
The PLA's evident interest in the New Silk Road does not necessarily suggest there is an unspoken military component to President Xi's initiative, but rather that analysts should also be conscious of the PLA's thinking on the issue and how the military's outsize influence in decision-making may affect policy going forward.