Documentary Appears About Azerbaijani Fighters in Syria
Publication: Eurasia Daily Monitor Volume: 11 Issue: 136
By: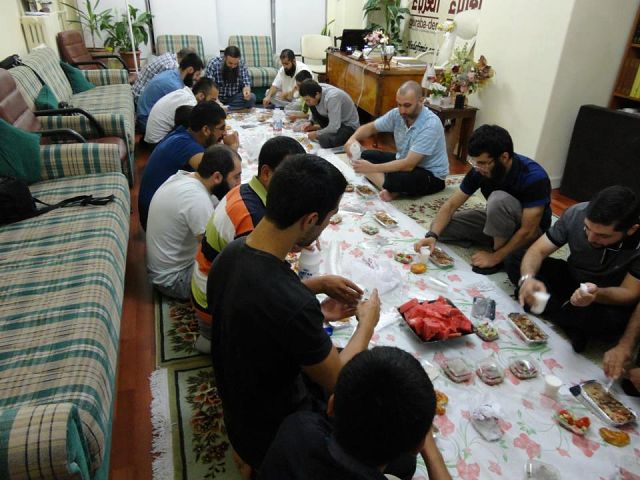 As the Syrian conflict enters its fourth year, more media attention has recently been devoted to the growing number of Azerbaijanis fighting in the war. Increased appearances by Azerbaijanis in various videos, online discussions and news releases have attracted wider attention from journalists to find out what they are fighting for in Syria, who are they aligned with and how can this flow of Azerbaijanis to Syria be stopped.
One of the most detailed of such reports, entitled "On the Thunder Path," appeared in February 2014 on the TV channel ANS and showcases a dangerous trip by journalists to Syria from Turkey. The report highlights the porousness of the Syrian-Turkish border and the lack of guards (YouTube, February 16). Evidence presented during the trip suggests that there is an obvious deficit of knowledge about the conflict that leads Azerbaijanis to take different sides in this confrontation of powers and interests. Upon her return, the leading reporter in the ANS reportage, Qanira Atasheva, wrote that during their stay in Latakia, located north-west of Damascus, she witnessed three bomb attacks. But, according to her, despite all of the horrors taking place in the country, local civilians tried to help them and showed hospitality. During the trip, the ANS journalists interviewed many different people about their opinion on Azerbaijanis fighting in Syria. Most of the responses were identical: "The religion in your country has gone out of control," says a Turkish man called Yahya. He then commented that radical Wahhabi groups have been influencing these processes; and foreign fighters coming to Syria are either radical Wahhabis or radical Shias (medianews.az, February 14).
In a response to this television story, a number of Syrian fighters released statements threatening the lives of Azerbaijani journalists. According to the Azerbaijani news portal faktxeber.com, the anger was sparked due to the fact that while mentioning the number of Azerbaijanis dead, Atasheva did not call them "martyrs"—those who sacrifice their lives for the religious commandment. Moreover, irritations occurred because she spoke "against their ideology and appearance" (faktxeber.com, February 14). Notably, in January 2014, the Caucasus Muslim Board released an official statement (fatwa) condemning any sort of involvement in armed conflicts under the name of religion, and, consequently, it denied calling Azerbaijanis who fight abroad "martyrs" (anspress.com, January 28).
Another interesting figure who recently emerged in the news was Hattab al-Azeri, an Azerbaijani fighter stationed near the city of Hama. In addition to posting online threats against ANS journalists, he also recently appeared on a YouTube video that shows the takeover of oil fields controlled by the Free Syrian Army as well as the seizure of a military tank by his group. According to al-Azeri, the Islamic Front (Jabhat al-Islamiyya, a militant coalition that formed in Syria in November 2013) serves the interests of the United States and is aligned with Saudi Arabia. His Facebook account reports that he is from Azerbaijan's Siyazan region, located close to Dagestan, and that he is currently in coalition with the al-Nusra Front. He actively posts videos and promotes al-Nusra operations in Syria, while attacking the Bashar al-Assad regime and lambasting Azerbaijani law enforcement for its secularism and attacks on religious freedom as well as democratic principles. Al-Azeri most likely relocated to Syria in early 2012. In one photo, Hattab al-Azeri appears with other Turkish, Uzbek, Azerbaijani, Arab and Kazakh fighters. A previous report by Jihadology states that al-Azeri has appeared in videos before asking for financial support in the Azerbaijani language (jihadology.net, January 28).
To date, al-Azeri has appeared in two videos: one where he briefly asks for financial support and a second showing his group's occupation of oilfields near the city of Hama. This is a sign that his faction is developing rapidly. And now that al-Azeri's group is in possession of a military tank, the threat it poses has risen even further, not too mention its prestige among the ranks of foreign fighters. Moreover, his continuous online posts about Azerbaijan's current religious situation may result in even more danger to the national security of Azerbaijan and recruit additional fighters to come to Syria to fight on behalf of the rebels.
Little concrete evidence exists as to how many Azerbaijanis are currently fighting al-Assad's forces. At the beginning of the year, political scientist Arif Yunis stated that over the past several months many dead bodies were brought to Azerbaijan from Iran. He suggested they could be members of Azerbaijan's Shia community who were fighting in Syria. But there is no proof or evidence of this claim (haqqin.az, January 24). However, it is clear that not all Azerbaijanis in Syria are fighting on the side of al-Nusra. According to the APA news service, a new video came out on the webpage of the rival group Islamic State of Iraq in Syria (ISIS) that depicts two Azerbaijani militants driving around the streets of Raggah. In their speech, they mention how blessed ISIS is to be able to gain control of the city (apa.az, March 15).
Meanwhile, authorities in Azerbaijan and Turkey are working closely together to prevent further travels of Azerbaijani men to Syria. In a press conference during his visit to Ganja on February 19, 2014, Turkish Minister of Foreign Affairs Ahmet Davutoglu stated that Ankara is ready to work with Baku on matters that would stop Azerbaijanis' participation in the Syrian conflict (trend.az, February 19). Turkey and Azerbaijan share a visa free regime for travel between both countries. So imposing a new policy to track future Azerbaijani fighters in Syria could result in tensions among Azerbaijani tourists traveling in Turkey. Also, as stated in Atasheva's video report on ANS TV, the Turkish-Syrian border is quite challenging, vulnerable and almost impossible to fully control. Consequently, both Azerbaijan and Turkey have limited capacity to track fighters going to Syria, especially now that all officially registered Azerbaijanis in Syria have been evacuated and the Embassy of Azerbaijan in Syria has relocated to Lebanon. However, the Azerbaijani Ministry of Foreign Affairs is working on new policies, while the Ministry of National Security is actively investigating this matter and arresting those who have returned home (see EDM, February 5).
As the number of Azerbaijani jihadists fighting in Syria continues to rise, it is important to research whether there are certain powerful religious groups or financial means that induce the regional Muslim youth in Azerbaijan and other parts of the Caucasus to take up arms in the Middle East. Further steps will need to be taken to dissuade aspiring jihadists from the Caucasus to travel there and fight. If these steps are not properly explored, such groups of foreign fighters from the Caucasus will likely continue to grow.