Donetsk, Luhansk 'People's Republics' Announce Local Elections Outside the Minsk Process
Publication: Eurasia Daily Monitor Volume: 12 Issue: 128
By: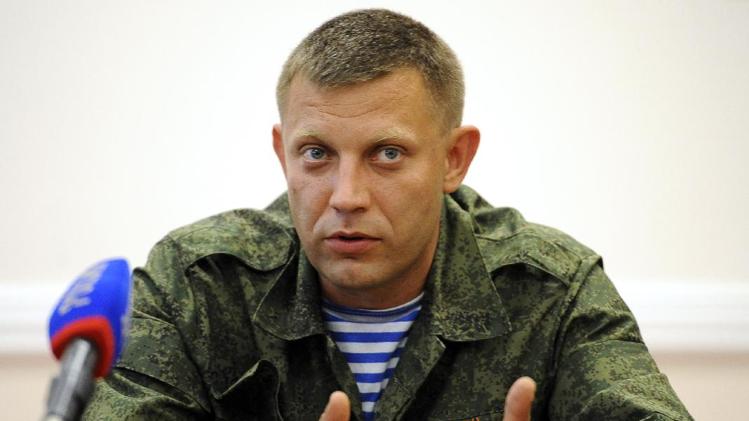 The "people's republics" of Donetsk and Luhansk ("DPR, LPR") have announced their intentions to stage local elections, outside Ukraine's constitutional and legal framework, on their respective territories. This move continues the hollowing out of the September 2014 Minsk agreement by decisions of Moscow, Donetsk and Luhansk. Staging these local elections would mark a further step toward official secession by these territories, after their secession de facto from Ukraine.
Moscow has undoubtedly authorized the "DPR-LPR" to issue those election announcements. It is a retaliatory move. Kyiv has successfully resisted pressures to legalize the "DPR-LPR," negotiate their "special status," and coordinate with them to "decentralize" Ukraine's overall administrative-territorial structure by constitutional amendments. Russia had imposed these requirements on Ukraine in the Minsk armistice. It hoped thereby to obtain blocking powers in Ukraine's political system and to turn decentralization into a centrifugal "federalization."
Kyiv, however, countered that the "DPR-LPR" leaderships were not legitimately elected, represented a foreign power, and would not conceivably allow correct elections to be held in that territory. And instead of accepting their inputs into Ukraine's constitution, Ukraine drafted its own constitutional amendments on decentralization and publicized them on July 1. They provide the basis for local elections to be held throughout Ukraine in October (UNIAN, July 1, 2).
On July 2 and 6, respectively, "presidents" Aleksandr Zakharchenko in Donetsk and Igor Plotnitsky in Luhansk retaliated. They announced that the "DPR" and "LPR" would stage their own local elections, separately from Ukraine's elections, on October 18 and November 1, respectively (Donetskoye Agentstvo Novostey, Luganskiy Informatsionnyi Tsentr, July 1, 2, 6, 7).
Those voting dates are chosen to impress on Ukraine that it is losing these territories. Ukraine itself has scheduled its country-wide local elections for October 25. Parallel elections to be held in the Russian-controlled territories by unilateral decisions, under their own "legislation," would further seal their separation from Ukraine.
According to Zakharchenko and Plotnitsky, their elections would be conducted on the basis of the "DPR-LPR's" proposals to amend Ukraine's constitution and electoral legislation. Those proposals included a "special status" for these territories to be enshrined in Ukraine's constitution. Donetsk and Luhansk had addressed those proposals to Ukraine's Constitutional Commission in May; and tabled them in the Minsk Contact Group's working subgroup for "dialogue on the modalities of conducting local elections." This forum's title reproduces the wording of the Minsk agreement, tendentiously implying that the staging of such elections was a done deal, and only modalities remained to be discussed, to wit, by Kyiv directly with Donetsk-Luhansk.
The Minsk agreement, however, stipulated local elections to be held on the basis of Ukraine's legislation in these territories. The anticipation was that Ukraine could be pressured to change its laws by negotiation with Donetsk-Luhansk, and on that basis consent to elections being held there. Ukraine, however, does not recognize the Donetsk-Luhansk leaders as legitimate in any form and has ignored their May proposals to amend Ukraine's constitution and legislation (see EDM, May 19, 22, 26).
The Minsk agreement envisaged local elections in those territories and their "special status" as the outcomes of a process of negotiations. With those negotiations deadlocked, Donetsk and Luhansk are reduced to posing as defenders of the Minsk agreements. According to their negotiators, Denis Pushilin and Vladislav Deynego, the "DPR-LPR are proceeding to implement the Minsk agreement unilaterally, beginning with the local elections" (Interfax, July 6).
In their election announcements, Zakharchenko and Plotnitsky promise that international observers from the Organization for Security and Cooperation in Europe's Office of Democratic Institutions and Human Rights (OSCE-ODIHR) as well as "other" international organizations would be provided with full access to observe those elections. Those "other" are probably the same Kremlin-friendly groups in Europe that monitored the Crimea referendum and the "DPR-LPR presidential" elections in 2014, pronouncing them democratic.
The ODIHR had seriously considered monitoring local "elections" in these territories in fulfillment of the Minsk agreement. The Normandy Group and Minsk Contact Group negotiators prodded Kyiv to agree with Donetsk-Luhansk on holding illegitimate "elections" there, so as to legitimize the Donetsk and Luhansk proto-states. Kyiv, however, has resisted this scenario by attaching irrefutable democratic pre-requisites to the holding of such elections. And following Zakharchenko's and Plotnitsky's announcements, ODIHR commented that it can only monitor elections by invitation of central governments, not local ones (Ukrinform, July 3).
Apart from the election announcement, the "DPR" (but not the "LPR") proclaims through Zakharchenko that a "special regime of self-administration is in force on its territory, based in part on the Ukrainian law on special status [for Donetsk-Luhansk], on article 11 of the Minsk agreement, and on our proposed amendments to Ukraine's constitution" (Donetskoye Agentstvo Novostey, July 6, 7). That Ukrainian law, however, is only potentially applicable in the future, subject to multiple conditions; article 11 of the Minsk agreement has practically lapsed, as Ukraine would not negotiate with illegitimate Donetsk-Luhansk authorities about Ukraine's constitution; and for the same reason, Kyiv has ignored the "DPR-LPR"-proposed constitutional amendments (see above on all three points).
Zakharchenko's introduction of a new special regime does not seem to change anything in practical terms in the "DPR," certainly not immediately. This announcement seems, rather, a symbolic declaration of secession on a "legal" level. It proclaims that the territory's "special status" will be based on its own unilateral acts, no longer to be negotiated with Kyiv (as the Minsk armistice stipulates). For its part, the "LPR" is still too disorganized and un-institutionalized to declare any new order or status. Plotnitsky and the Russian military are currently in the process of streamlining various armed groups and fiefdoms in breakaway Luhansk into a more coherent proto-state.