Dramatic Demographic Changes Threaten Stability in Kazakhstan
Publication: Eurasia Daily Monitor Volume: 20 Issue: 172
By: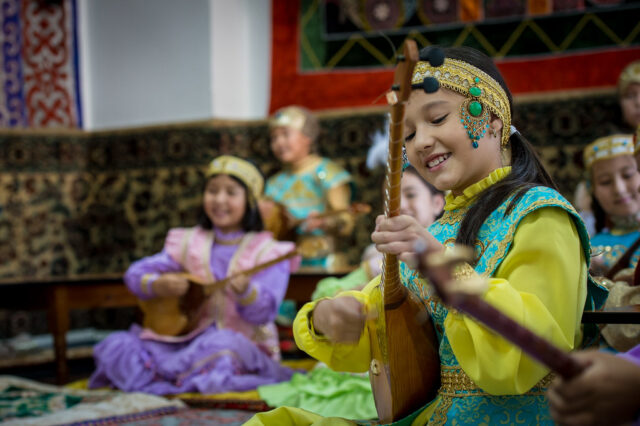 The population of Kazakhstan will exceed 20 million people for the first time, and more than 70 percent of its residents will be ethnic Kazakhs sometime in November (Kazakhstan Today, November 1). Coinciding with this welcome boom are developments that threaten the stability of the country and could be exploited by outside powers. Some see the changes in the composition of the Kazakh nation as leading to conditions for a series of revolts akin to the Arab Spring. Such dangers also include the decline of the ethnic Russian population in Kazakhstan and rising nationalism among Kazakhs, expressed in verbal attacks on Moscow and fears that Russia may try to seize the northern portion of Kazakhstan. Growing regionalist and tribal divisions within Kazakhstan and a rising tide of nationalism among the non-Russian, non-Kazakh population have hurt the domestic security situation. The ongoing debate among Kazakhs over whether their country should assimilate non-Kazakhs or promote a multinational civic nation could enflame societal tensions.
These developments are a point of pride for many Kazakhs, but they also undergird growing fears from some analysts of the region. Kazakh commentator Adil Urmanov says that Kazakhstan's rapid population growth and increasing urbanization may lead the country on the same demographic path that triggered the protests and revolutions of the Arab Spring. He argues that the combination of these two trends is creating a critical mass of unemployed or underemployed young people in Kazakhstan's cities, just as it did across the Arab world a decade ago. Unless Astana addresses these challenges, Urmanov suggests, Kazakhstan could dissolve into chaos (Caravan.kz, October 30). Other Kazakh commentators have echoed his fears (Qmonitor, September 27), but up to now, this apocalyptic vision has not attracted much attention outside of Kazakhstan.
The ignorance of the outside world to the developing conditions in Kazakhstan could lead to serious destabilization. The other five demographic changes taking place in the country and the political responses of its people, government, and neighbors undergird this possibility. First among these is the declining population of ethnic Russians in the country. From a plurality in the mid-1980s to fewer than 16 percent now, this is the result of Russian flight and the vast differences in birthrates between the aging Russian population and the much younger, Muslim Kazakh community. That has led to a hollowing out of the northern portions of the country where ethnic Russians had traditionally dominated, as Astana has been unable to attract enough ethnic Kazakhs to fill this void (Central Asian Bureau for Analytical Reporting, April 13; see EDM, October 17; Voenno-Politicheskaya Analitika, November 4).
Second, the decline in the percentage of ethnic Russians has contributed to a new assertiveness among the Kazakhs. The political leadership is confident that it can become more independent of Moscow. Some in the population seem increasingly ready to attack the remaining ethnic Russians by means of notorious "language patrols" that shame residents into speaking only Kazakh or engage in witch hunts against supposed Russian secessionists (see EDM, December 2, 2021). This trend has been reinforced by a sharp decline in the number of ethnic Kazakhs living in Russia (QMonitor, February 2). The decline in the population of ethnic Russian has not lessened Kazakh fears that Moscow may try to seize the areas in the north previously dominated by Russians. Instead, such fears have grown in the wake of Vladimir Putin's expanded invasion of Ukraine and are now shared by more than a third of Kazakhstan's population, though officials in Astana dismiss the reality of such a threat (Demoscope, May 17; Novaya gazeta, July 13).
Third, as the share of ethnic Kazakhs in the population has grown, divisions within this group appear to have increased along regional or tribal lines. Kazakhstan is an enormous country, and some regions have numerous complaints about the central government. Regional leaders increasingly reflect the views of their respective populations rather than those of Astana (Qmonitor, August 25). At the same time, the historical tribal confederations of the past have unexpectedly become more significant. For hundreds of years, Kazakhs have been divided into three great tribal confederations known as zhus. Almost every ethnic Kazakh knows whether they are a member of the Older, Lesser, or Middle zhus. Major government jobs are often handed out on the basis of those identities. The previous divide in Kazakhstan between ethnic Russians and ethnic Kazakhs overshadowed these historical identities. Now, government officials and the population are increasingly hearkening back to their roots, something that some say is undermining the unity of the nation (Fond ctrategicheskoi kul'tury, March 13).
Fourth, the non-Russian, non-Kazakh populations have become increasingly important in domestic matters. These groups now number almost as many as the ethnic Russians and have become increasingly assertive and even violent, forcing outside observers to more seriously consider their influence (Window on Eurasia, February 11; see EDM, October 17). Many observers had hoped that the clashes among these groups several years ago would be a wake-up call for Astana, but that has not happened. Some now predict that more violent clashes are likely to occur in the future (Window on Eurasia, February 18, 2020; QMonitor, February 8).
Fifth, all these demographic developments have intensified a debate over whether Kazakhstan should seek to assimilate the remaining minorities or promote a multi-ethnic civil society. Most ethnic nationalists in Kazakhstan favor the former, while most of the political class backs the latter (QMonitor, July 24). President Kassym-Jomart Tokayev has straddled this divide. In recent months, Tokayev said that he aims to ensure that everyone in Kazakhstan speaks Kazakh, something Russians generally oppose. He has also insisted that everyone should avoid identifying as a member of a particular ethnic group and instead embrace Kazakhstanets, a term designating a citizen of Kazakhstan. Kazakh leaders began to push this term in the 1970s. Russians, other ethnic groups, and many ethnic Kazakhs have not objected to its use (Telegram.me/Qazstat, April 30; BIZNES Online, April 30; Fergana, May 1).
Demography is only destiny over the long term. The culmination of these developments, however, suggest that changes in Kazakhstan's population could become quite significant, particularly if they come together and are exploited by Russia or another outside power. If that happens, these developments could transform not only Kazakhstan but the wider geopolitics of Central Asia.