Dubious Outcomes of Kerry's Meeting With Putin in Sochi
Publication: Eurasia Daily Monitor Volume: 12 Issue: 93
By: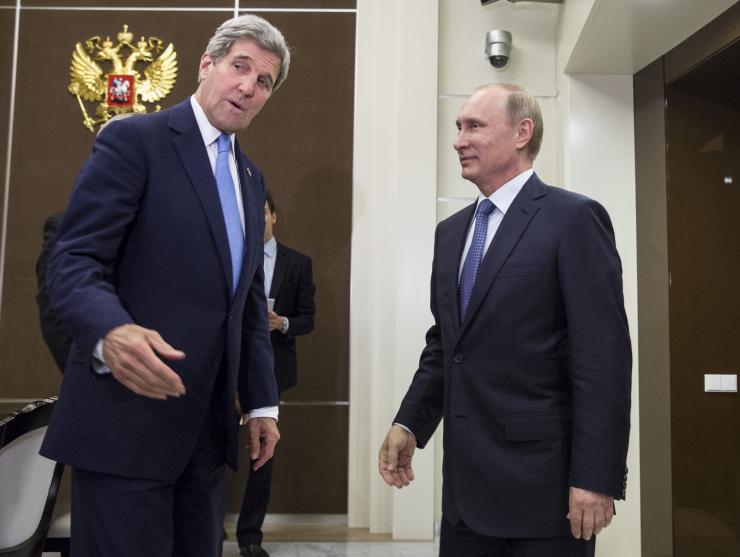 Russia is slowly recovering from this month's (May 9) celebrations of the Soviet Union's victory over Nazi Germany 70 years ago, but remains reluctant to take stock of the problems that are looming large over the immediate future (see EDM, May 11). The propaganda story is typically self-serving: Russia has allegedly succeeded in re-asserting its major role on the international arena, and the wavering West was so impressed with the glorious parade on the Red Square two weeks ago that Russian-Western dialogue has resumed. German Chancellor Angela Merkel did, indeed, pay a visit to Moscow, but she showed no doubt: Her words about the annexation of Crimea and Russia's aggression in eastern Ukraine, which she described as "criminal" and "unlawful," were carefully edited out in the official Russian translation of her speech (Moscow Echo, May 12). The ensuing visit of US Secretary of State John Kerry to Sochi brought no open disagreements of this kind, but neither did it produce any breakthroughs (Novaya Gazeta, May 13). In fact, it remains rather unclear what has transpired from his talks.
The very fact of Kerry's trip remained in doubt until his landing in Sochi (plans for such a visit were canceled several times in the last two years). And it was not certain whether President Vladimir Putin would find a moment for a meeting. In the end he did, and their discussion actually lasted more than four hours—on top of Kerry's earlier four-and-a-half-hour meeting with Russian Foreign Minister Sergei Lavrov (Kommersant, May 12). It is safe to assume that Putin did most of the talking. A wide range of issues was touched upon, but the topic of Ukraine dominated. And while both sides solemnly swore a commitment to implementing the Minsk Two agreements, they knew perfectly well that the deal could not be implemented in its key parameters and that the ceasefire was non-existent (Carnegie.ru, May 12).
From Sochi, Kerry traveled a short distance to Antalya, Turkey, for a ministerial session of the North Atlantic Treaty Organization (NATO). There, he briefed his allied counterparts on the long discussions he had in Russia, which had yet to yield any real fruit and left open the key question about whether Putin's promise to keep the conflict "frozen" can be trusted (Slon.ru, May 14). Responding to Moscow's concerns, Kerry and Merkel warned Ukrainian President Petro Poroshenko against breaking the "pseudo-peace," but Poroshenko's main fear is, in fact, the West failing to provide Ukraine with any effective support against the expected Russian summer offensive (Newsru.com, May 14). NATO takes this threat seriously, and Secretary General Jens Stoltenberg detailed the Alliance's efforts at building collective deterrence to Russian aggression. Furthermore, he emphasized the risks of militarization of the illegally occupied Crimea and the irresponsibility of Moscow's experiments with nuclear weapons (Ezhednevny Zhurnal, May 14). NATO also expanded its cooperation with the European Union aimed at countering the particular threat of "hybrid wars"—increasingly Russia's instrument of choice in exploiting the presumed weaknesses in Western unity (Rbc.ru, May 14).
Putin's garrulousness, meanwhile, betrays his apparent uncertainty about confronting the West. Some of the most serious doubts are being raised by Russia's economic performance. Thus, Putin is trying to convince every interlocutor that a recovery is underway (Forbes.ru, May 14). The government puts out conveniently improved statistics, but capital continues to pour out of the country. And the elliptical talks about a possible lifting of some sanctions fail to induce any improvement in the investment climate (Rbc.ru, May 15). Putin may not be aware that the industrial behemoth Uralvagonzavod—the producer of the prototype T-14 tanks and T-15 infantry fighting vehicles on the Armata platform, which were the stars of this year's Victory Day parade on Red Square—is facing bankruptcy (Gazeta.ru, May 15). He must know, however, that Russia's Proton rocket had yet another failure last week, just days after the failure of the Progress space vehicle to deliver supplies to the International Space Station (RIA Novosti, May 16). It is possible to ignore the chains of accidents and to focus on good news, like the relative stabilization of the oil prices and the ruble, but no amount of pep-talk can dispel the specter of stagnation.
Putin can fake confidence in Russia's resilience, but he also has been trying to stimulate it with mobilization rhetoric. Anti-Americanism remains his most reliable means of keeping the masses firmly behind his policies. Therefore, he cannot be completely satisfied with the results of a recent Russian poll in which only 19 percent provide a firm "Yes" to the question about whether the United States poses a threat to Russia; 40 percent say "Probably, Yes," while 31 percent of Russians reportedly see little or no such threat (Levada.ru, May 12). It is also remarkable that nearly half of those who admit the existence of this threat believe it is mainly manifested in "creating obstacles for Russia's development." And this points again to Russia's position of weakness in international economic competition, which more than two decades ago determined the fate of the Soviet Union and is a key parameter of the new confrontation (Nezavisimaya Gazeta, May 15). In this context, the most striking data in the report "Putin. War," prepared by the late Boris Nemtsov and published last week by his comrades (see EDM, May 14, 15), is about the costs of the aggression against Ukraine, which keep climbing as Russia has to pay the bills for sustaining the "rump Novorossiya" and for deploying new troops into the war zone (Vedomosti, May 12).
Putin refuses to discuss the parameters and prospects of this intervention and is probably disinclined to acknowledge calculations of these costs. But the facts on the ground are growing to a critical mass that will make further denials and procrastinations impossible. If Kerry succeeded in dissuading Russia's mistrustful and deceitful ruler from launching a summer offensive in the war, his visit was worth the time. It is, however, entirely possible Putin may conclude that the Secretary of State's attempted dissuasion was a cover-up for the US and NATO's inability to stop his offensive—such a calculation could compel another forward push by the Kremlin. Deterrence works when the potential aggressor can live with the status quo, but Putin cannot know how fast economic corrosion will eat away at the pillars of his power. His choices are rational, but the quality of his rationality is suspect.