Dutch Foreign Minister Visits Kazakhstan
Publication: Eurasia Daily Monitor Volume: 11 Issue: 35
By: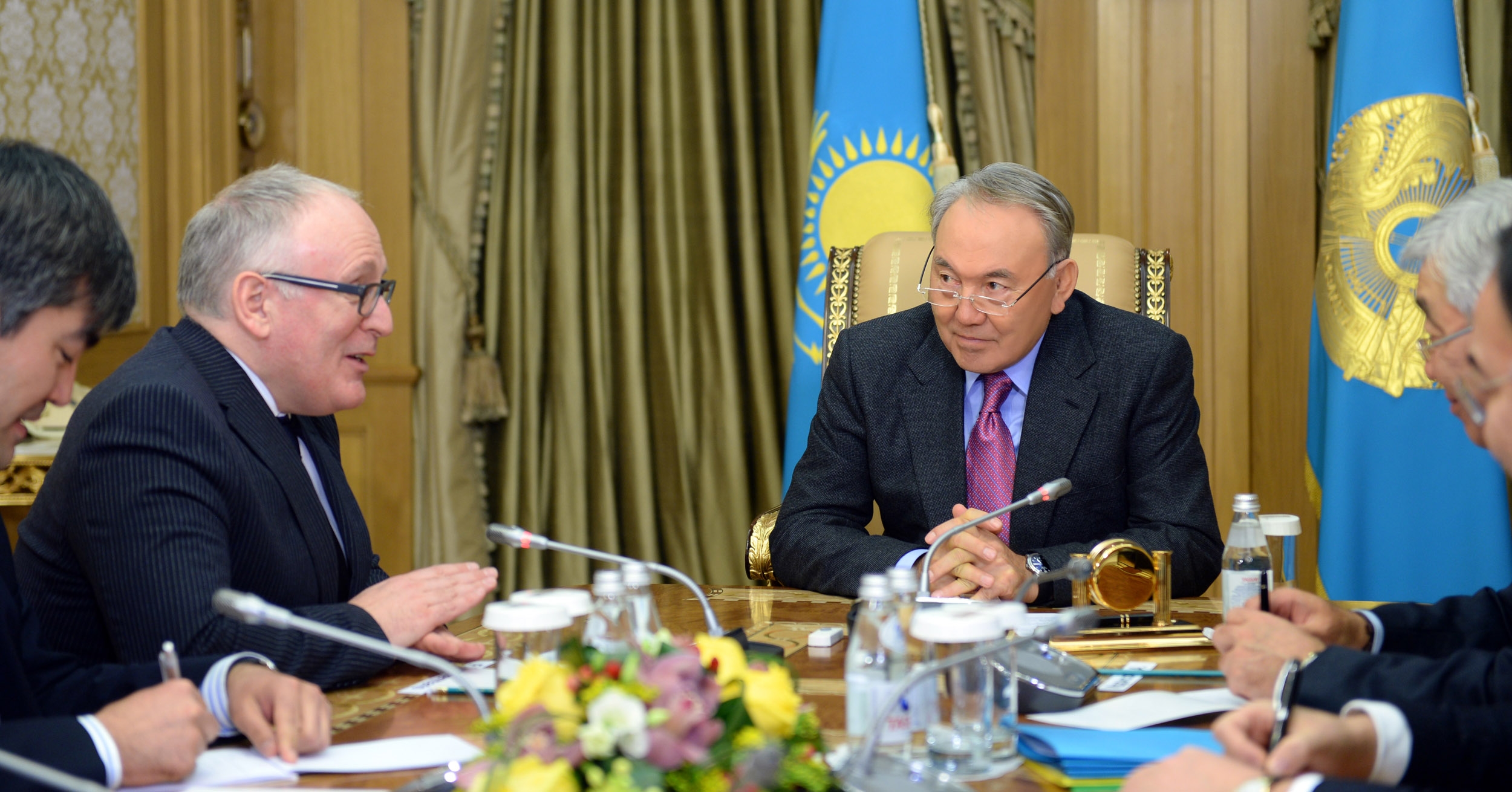 On February 3, Dutch Foreign Minister Frans Timmermans made his first official visit to Kazakhstan. In Astana, he met with President Nursultan Nazarbayev, Speaker of the Senate of Parliament Kassym-Jomart Tokayev, Deputy Prime Minister Bakhytzhan Sagintayev, Foreign Minister Erlan Idrisov and other senior Kazakhstani officials (Astana Calling, February 10). Timmermans told Nazarbayev, "We believe that we, as country with access to open seas and developed port infrastructure, and Kazakhstan, as a country with huge potential, can achieve major results if we pool our efforts together" (Astana Times, February 3).
Senior officials from one country regularly visit the other. For example, an earlier Dutch Foreign Minister visited Kazakhstan in 2007, while the Kazakhstani Foreign Minister went to the Netherlands in 2009. Dutch Prime Minister Mark Rutte attended the Organization for Security and Cooperation in Europe (OSCE) summit in Astana in late 2010. The head of Kazakhstan's largest investment fund visited the Netherlands the following year (Government of The Netherlands, 2012).
According to the Kazakhstani Ministry of Foreign Affairs, on this latest occasion, Timmermans and Idrisov discussed the upcoming March 2014 Nuclear Security Summit in The Hague, and how to promote mutual political, cultural and economic cultural ties, especially in the fields of agriculture, green energy, research and innovation, as well as the civilian space industry (Trend, February 3). Timmermans said that his country "wants to be Kazakhstan's partner in eliminating nuclear weapons from this world and also in creating possibilities for the peaceful use of nuclear energy (Astana Times, February 3). The two countries have cooperated on various disarmament issues in the past. For example, in 2011, they co-organized an international conference in The Hague on promoting nuclear disarmament (Astana Calling, February 10).
The Netherlands has decided to make the security of radiological sources, which can be used to manufacture hybrid "dirty bombs" that use conventional explosives to spew radioactive material, an important focus of the summit. Even before then, fears that Soviet-era materials left in Kazakhstan could wind up in the hands of terrorists have led the Dutch, along with the United States, to launch a program to help Kazakhstan identify and secure vulnerable radiological sources (National Nuclear Security Administration, May 4, 2011). From 2011 to 2012, the Dutch contribution to this joint initiative included training courses for Kazakhstan's nuclear workers, advanced equipment to identify radiological objects, as well as secure vehicles for the Mangyshlak Atomic Energy Complex and for Kazakhstan's Institute of Atomic Energy National Nuclear Center (CA-News, August 9, 2012). In March 2013, the Dutch renewed their commitment to this initiative, contributing an additional $650,000, bringing their total contribution to $2,340,000.
President Nazarbayev has said that he will attend the March 24–25 Nuclear Security Summit (Tengri News, January 31). The Nazarbayev Center and other Kazakhstani institutions are helping the Netherlands prepare to host what will be the world's third Nuclear Security Summit, following the inaugural summit in Washington in 2010 and the summit in Seoul in 2012 (Kazakhstan Today, February 2, 2012). Nazarbayev attended both of these earlier summits as well. After his trip, Timmermans praised Kazakhstan's contribution to countering nuclear terrorism through its collaboration in securing loose nuclear and radioactive material as "a concrete way of making the world a safer place" (Netherlands Embassy in Astana, February 5).
For his part, Idrisov characterized the Kazakhstani-Dutch bilateral relationship as "outstanding, especially in the economic sphere (Astana Times, February 3). In 2013, total Dutch direct investment in Kazakhstan up to that year amounted to about $48 billion (Tengri News, January 31). There are more than 1,000 companies registered in Kazakhstan with Dutch capital, including many small and medium-sized businesses, though only 700 appear active (Government of The Netherlands, 2012). While primarily working in Kazakhstan's massive energy sector, these firms also can be found in agriculture, transportation and other spheres (Astana Times, February 3).
The exceptionally high figure for Dutch direct investment in Kazakhstan is misleading; the provisions of a 1997 tax and investment treaty make it easy for multinationals to invest in Kazakhstan through Dutch holding companies. Even so, the Royal Dutch Shell company is a key member of the multinational consortium developing the Kashagan oil field, and Shell is also developing the Zhemchuzhina oil field. The Dutch firm Dietsmann is also prominent in Kazakhstan's oil industry. Other major Dutch companies active in Kazakhstan include ABN AMRO Bank N.V., Agip Caspian Sea B.V., Lucarco B.V, and Floodgate Holding. Smaller Dutch firms engage in mining, agricultural development, engineering, dredging and transport. In accordance with Kazakhstani preferences, Shell and other Dutch companies try to rely on local businesses and labor as much as possible (Kazakhstan General Newswire December 5, 2008). Those industries that are in some measure ancillary to the oil industry have also benefited. As a result of increased Kazakhstani use of the Caspian, the Kazakh-British Technical University in Almaty established, in 2013, the Kazakhstan Maritime Academy, and decided to hire Dutch experts as instructors (Trend, May 27, 2013).
The Netherlands is the main recipient of Kazakhstan's outward foreign direct investment (OFDI). In 2012, Kazakhstan's $11.7 billion invested in the Netherlands represented more than half its total OFDI (International Monetary Fund, 2012). Trade between Kazakhstan and the Netherlands is also large, amounting to some $10 billion in 2013 (Tengri News, January 31). This figure represents an increase of some 35 percent over the previous year (Central Asian News Services, February 3). Oil accounts for most of Kazakhstan's exports to the Netherlands, while chemicals and machinery are the leading Dutch imports into Kazakhstan (Government of The Netherlands, 2012). In recognition of their mutual economic ties, Nazarbayev proposed to Timmermans that they establish a Kazakhstani-Dutch Business Council (Tengri News, January 31).

Moreover, Deputy Prime Minister Sagintayev told Timmermans in their meeting that Kazakhstan was eager to obtain Dutch technologies and learn from the Dutch experience in supporting small and medium businesses, maritime transport, renewable energy, environmental protection, space exploration and health care. Timmermans said that the Netherlands also wanted to share green technologies such as water management (Central Asian News Services, February 7). When he met with Dutch entrepreneurs in Kazakhstan, Timmermans cited "ample opportunities here for the Netherlands, especially in agriculture, energy and water-management" (Netherlands Embassy in Astana, February 5). Kazakhstan has made green energy a focus of the upcoming EXPO 2017 in Astana as well as of its 2050 national development strategy. Consequently, the opportunities for fruitful cooperation between the two countries are, indeed, based on a wide and varied foundation.