Economic and Security Ties Overshadow US-Kazakh Political Differences
Publication: Eurasia Daily Monitor Volume: 9 Issue: 28
By: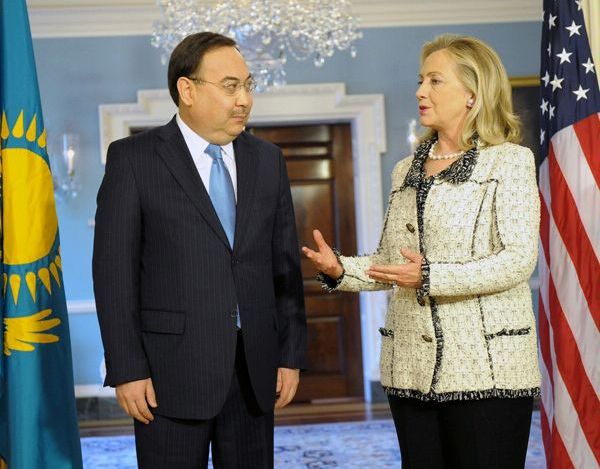 From January 31 through February 1, Yerzhan Kazykhanov made his first visit to Washington as Kazakhstan's new Minister of Foreign Affairs. He met Secretary of State Hillary Clinton and a number of influential US government and business leaders. The parties generally agreed that economic and security relations between the two countries were strong, but the Americans repeatedly encouraged Kazakhstan to make more progress on democracy and human rights to build a solid foundation for the next two decades.
In his February 1 meeting with Clinton, Kazykhanov delivered a letter from President Nursultan Nazarbayev to Barack Obama that underscored the value of the past partnership between their two countries and called for deeper cooperation in the future (Kazakhstan Ministry of Foreign Affairs, February 2). Kazykhanov and Clinton agreed on the transformation of the Kazakhstan-US Annual Bilateral Consultations into a Kazakhstan-US Strategic Partnership Commission. Kazykhanov and Clinton also discussed regional security issues, focusing on their "common interests and efforts for a stable, secure and prosperous Afghanistan that can promote the goals of regional economic integration and stability" (Kazakhstan News Bulletin, February 1).
Kazakhstan's support for NATO's Afghanistan mission has become even more important since Pakistan closed its border with Afghanistan to NATO supply convoys following a late November 2011 cross-border exchange that killed 24 Pakistani soldiers. At present, NATO countries send all of their supplies to their contingents in Afghanistan through the alternative Northern Distribution Network (NDN), which passes through Russia and other former Soviet republics. All of the NDN routes traverse Kazakhstan.
Kazykhanov also met with Deputy Secretary of Energy Daniel Poneman, Deputy Secretary of Defense Ashton Carter, Ranking Member of the Senate Committee on Foreign Relations Richard Lugar, and Ileana Ros-Lehtinen, chair of the House Committee on Foreign Relations (Kazakhstan News Bulletin, February 3). Kazykhanov also met executives of major US companies at a luncheon discussion with the US-Kazakhstan Business Association. On January 31, Kazykhanov keynoted a conference held by the Atlantic Council to mark the twentieth anniversaries of Kazakhstan's independence and the establishment of Kazakhstan-US relations.
Kazakhstan made several gestures around the time of Kazykhanov's visit to promote a successful trip. The authorities announced they would release Yevgeniy Zhovtis from prison as part of a government amnesty program. Zhovtis was imprisoned after killing a pedestrian in a car accident, but Clinton and other US officials had urged his early release given suspicions that political factors had influenced his trial (Human Rights First, February 2).
Furthermore, after five years of negotiations, Air Astana, Kazakhstan's leading air carrier, signed the largest contract in the history of Kazakhstan's civil aviation on February 4, and purchased four Boeing 767-300ER and three Boeing 787 Dreamliner planes for $1.3 billion (Astana Calling, February 7). According to Kazykhanov, US-Kazakhstani trade amounted to $2.5 billion during the January-November 2011 period, a 26 percent increase over the same 11-month period in 2010 (Kazakhstan Ministry of Foreign Affairs, January 31). Kazykhanov also noted that US foreign direct investment in Kazakhstan since 1993 had exceeded $20 billion.
Secretary Poneman told the conference that Kazakhstan and the United States were continuing to cooperate well on nuclear security and nonproliferation issues. Recalling such past achievements as their collaboration in removing all the nuclear weapons that Kazakhstan inherited following the Soviet Union's disintegration, Poneman said that the two countries were now collaborating to prevent further nuclear proliferation. Poneman also related how US corporations had played a crucial role in developing Kazakhstan's oil and gas reserves. He hoped that they could help Kazakhstan bring even more energy to world markets as well as make greater use of renewable energy sources (Atlantic Council, January 31).
In his meeting with Clinton, Kazykhanov spoke of the "successful cooperation between Kazakhstan and the United States on nuclear nonproliferation and upcoming meeting between [the] two presidents on the sidelines of [the] Seoul Summit," which will occur this March in Seoul (State Department, February 1). At the April 2010 Nuclear Security Summit in Washington, Presidents Nazarbayev, Obama, and Medvedev cooperatively managed the international response to the crisis in Kyrgyzstan.
At the conference, Robert Blake, Jr., the senior State Department official responsible for Central Asian affairs, praised Kazakhstan for its post-Soviet transition to a successful market economy, "substantially reducing poverty and laying a solid foundation for the creation of a real middle class." He endorsed Kazakhstan's efforts to join the World Trade Organization and adhere to the OECD Declaration on International Investments and Multinational Enterprises, since these steps would strengthen US-Kazakhstani commercial ties. Yet, Blake regretted that Kazakhstan had not made more progress in realizing its "stated commitments to reform and to uphold human rights and democratic principles" (US Department of State, January 31).
When he spoke at the Atlantic Council, Richard Morningstar, the US special envoy for Eurasian energy, remarked that the best way to move Kazakhstani leaders in a more democratic direction was to appeal to their self-interest. Along these lines, Blake told the audience that greater political democracy would "provide the institutional basis for long-term stability, predictability and development that the people of Kazakhstan deserve" (Atlantic Council, January 31).